Dragon Boat Festival craft is a fun hands-on way to celebrate this major Chinese holiday.
Growing up, I remember my mom and grandma wrapping 粽子(zòngzi/rice dumplings) for Dragon Boat Festival or 端午節(Duānwǔ jié).
The smell of steamed bamboo leaves and sticky rice would fill our home. I would wait in anticipation to dig into the delicious dish I would get only once a year. The salted duck yolk was my favorite!
But the amount of time it takes to prep, wrap and cook traditional zongzi is pretty challenging with little ones. So I came up with a simple felt zongzi wrapping activity for my daughter to share the holiday with her.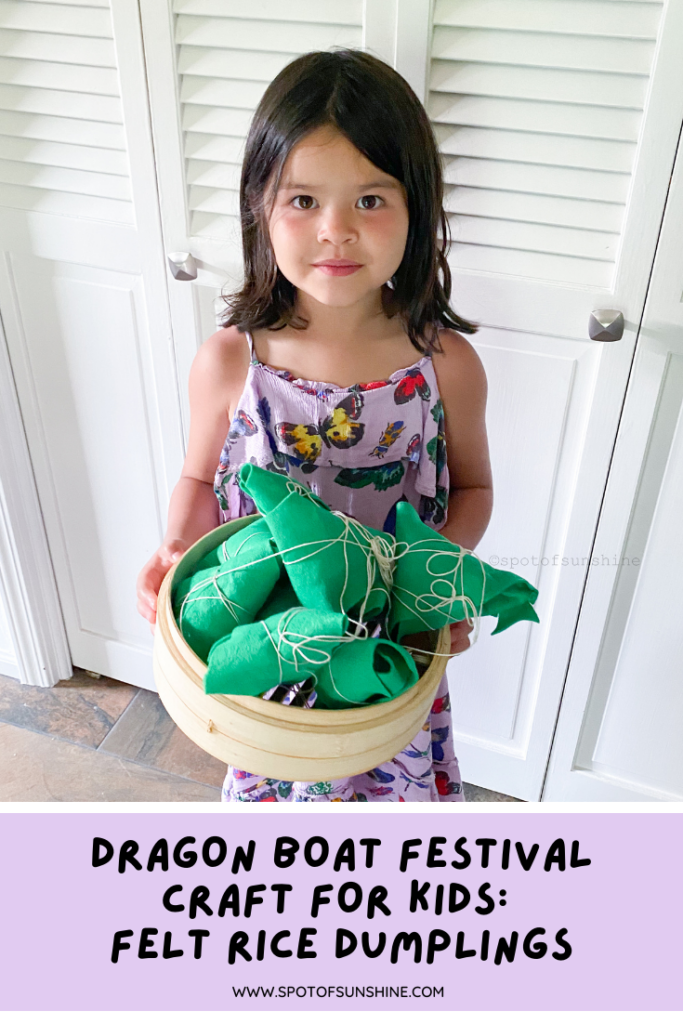 Why Celebrate Dragon Boat Festival with Kids?
Hands on activities are a great way to engage kids in the culture, which gives language context.
Language is alive, it's relational. To truly understand a language, one must engage in the culture.
Celebrating major holidays like Dragon Boat Festival is a wonderful way to help kids experience the culture and cultivate interest in the language.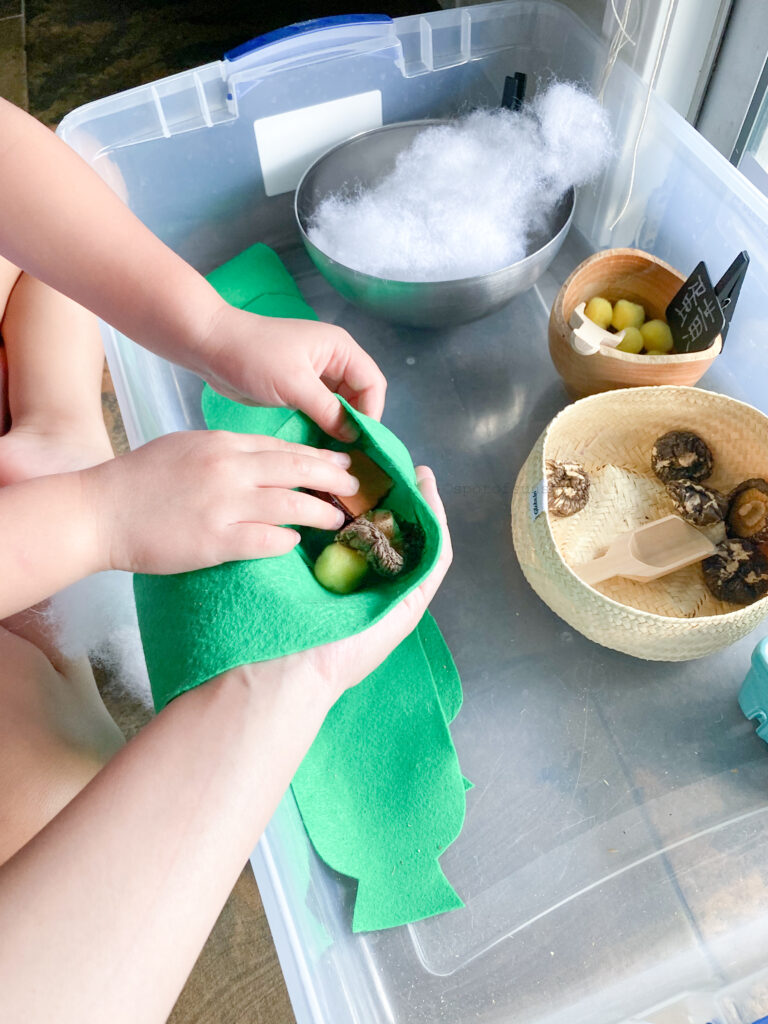 Origin of Dragon Boat Festival
Although there are many origins to the Dragon Boat Festival Holiday, the main one is to commemorate 屈原 (Qūyuán), a loyal politician and poet from the Zhou Dynasty (340–278 BC).
To learn more about the Dragon Boat Festival, be sure to check out my post with family friendly YouTube videos on the holiday.
Below are the detailed instructions to my easy Dragon Boat Festival craft for kids, teaching them how to wrap zongzi without the mess and time consuming prep.
Dragon Boat Festival Craft Instructions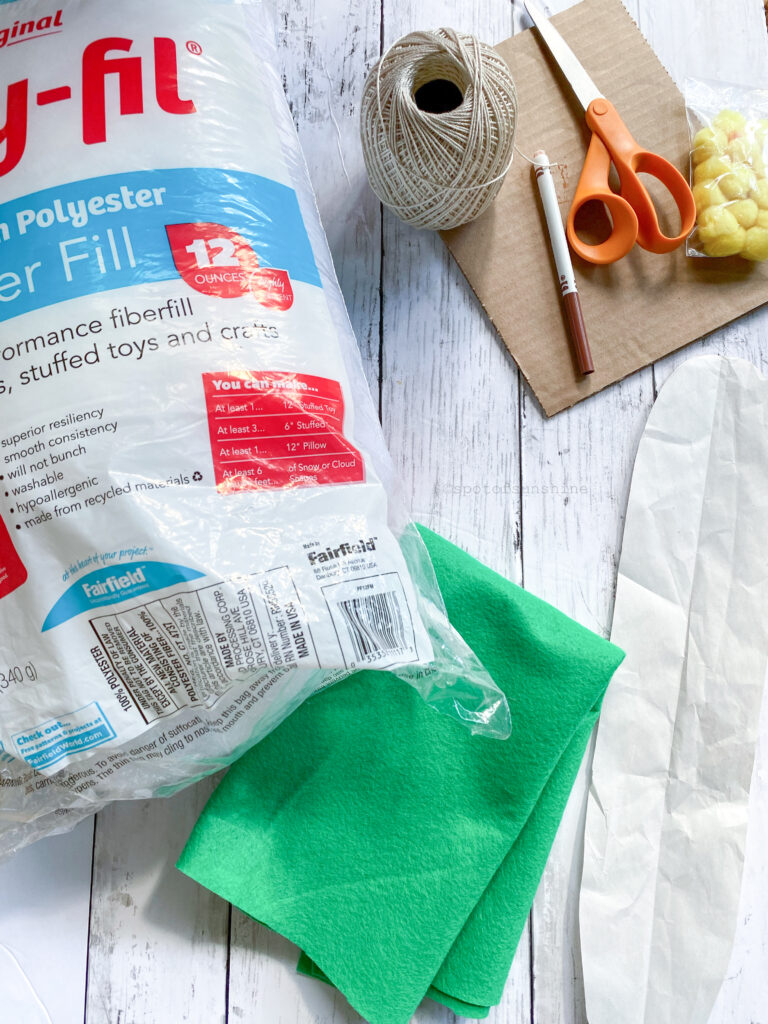 Materials:
green felt (I bought half a yard at our local craft store which is more than enough to make 6 zongzi. If you want to make more, just buy more felt)
cotton stuffing (to act as rice)
yellow pom poms for egg yolk (I used 1″ ones)
cardboard squares for pork belly
dried shittake mushroom
string for wrapping. I used baking twine because that's what I saw my mom and grandmother use but you can use any string that you have around the house and are easy for your child to tie
chalkboard labels to write the ingredients in Chinese to make the activity print rich
large bin to put all the "ingredients"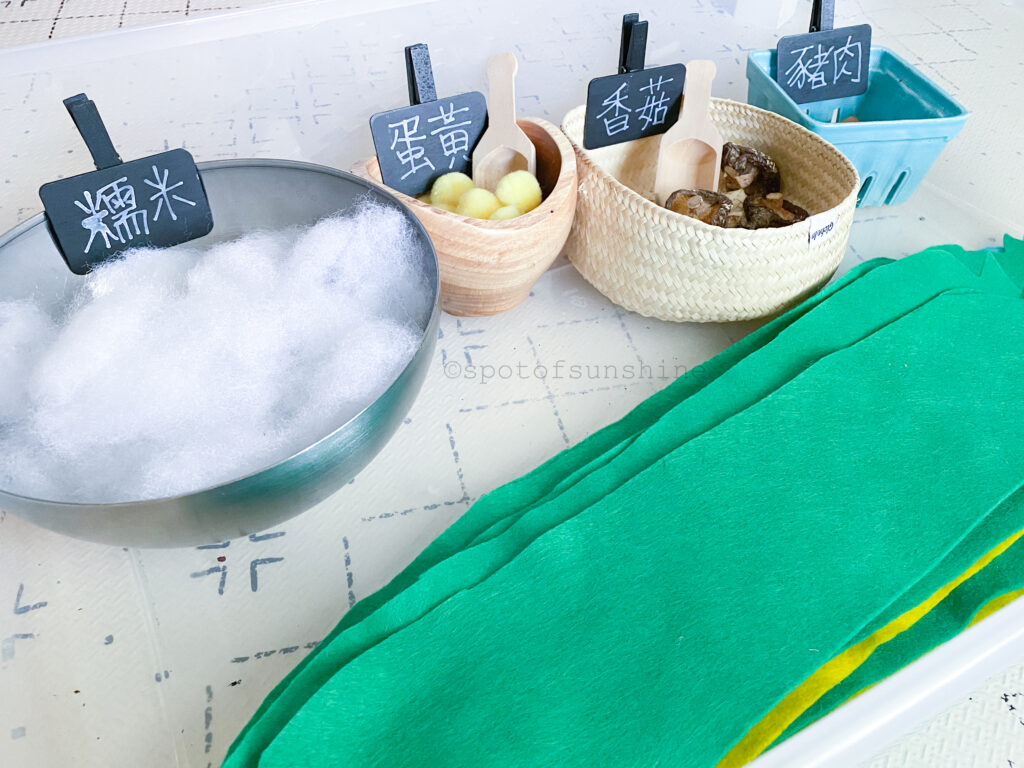 Instructions
Fold and divide up the felt into equal hot dog lengths of approximately 19″ x 4″ (48 cm x 10 cm) and cut into a bamboo leaf shape
Set up rice dumpling/zongzi "ingredients" in the large bin. Label with chalkboard labels to make the activity print rich to encourage Chinese character recognization
Cut and wrap cooking twine so kids can tie completed rice dumplings on. Tie or hook it onto something stable like a door handle or a chair.
Demonstrate how to wrap the rice dumplings first so your child will know what to do. Below is a video to show you how.
Have fun celebrating Dragon Boat Festival with your kids!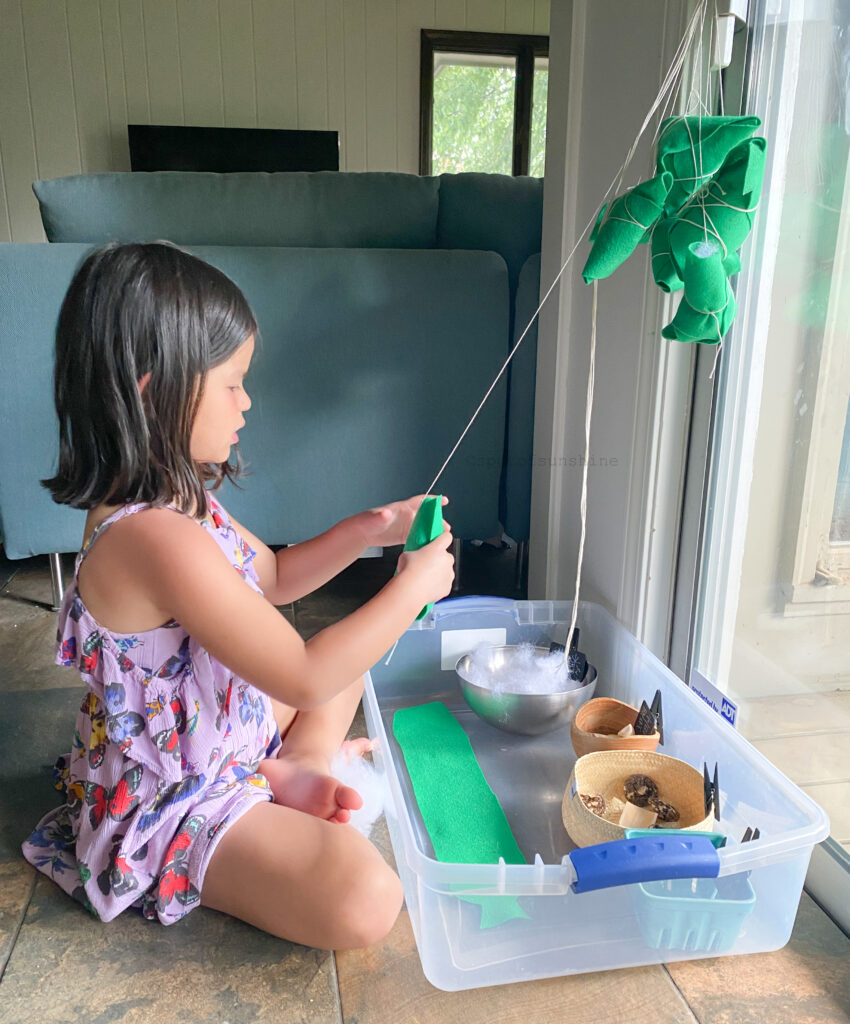 More Dragon Boat Festival Crafts & Activities for Kids
Don't Do It Alone!
For more support from likeminded parents, please join us at Christian Parents Raising Bilingual Children in English & Chinese.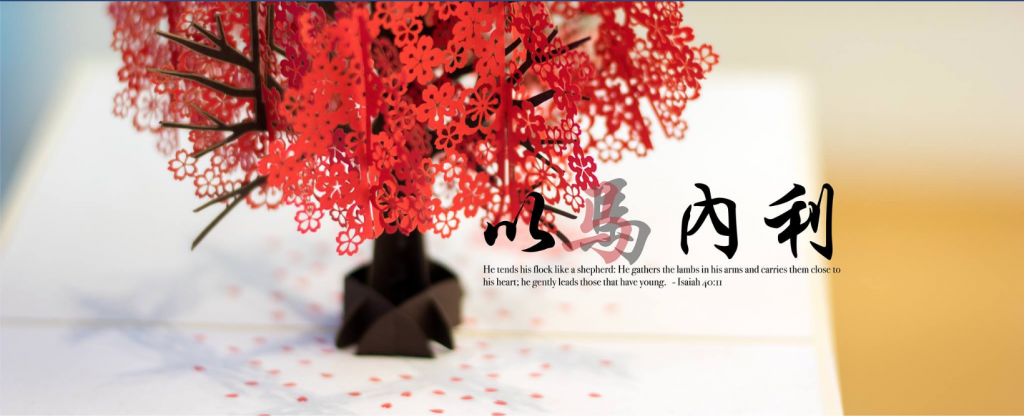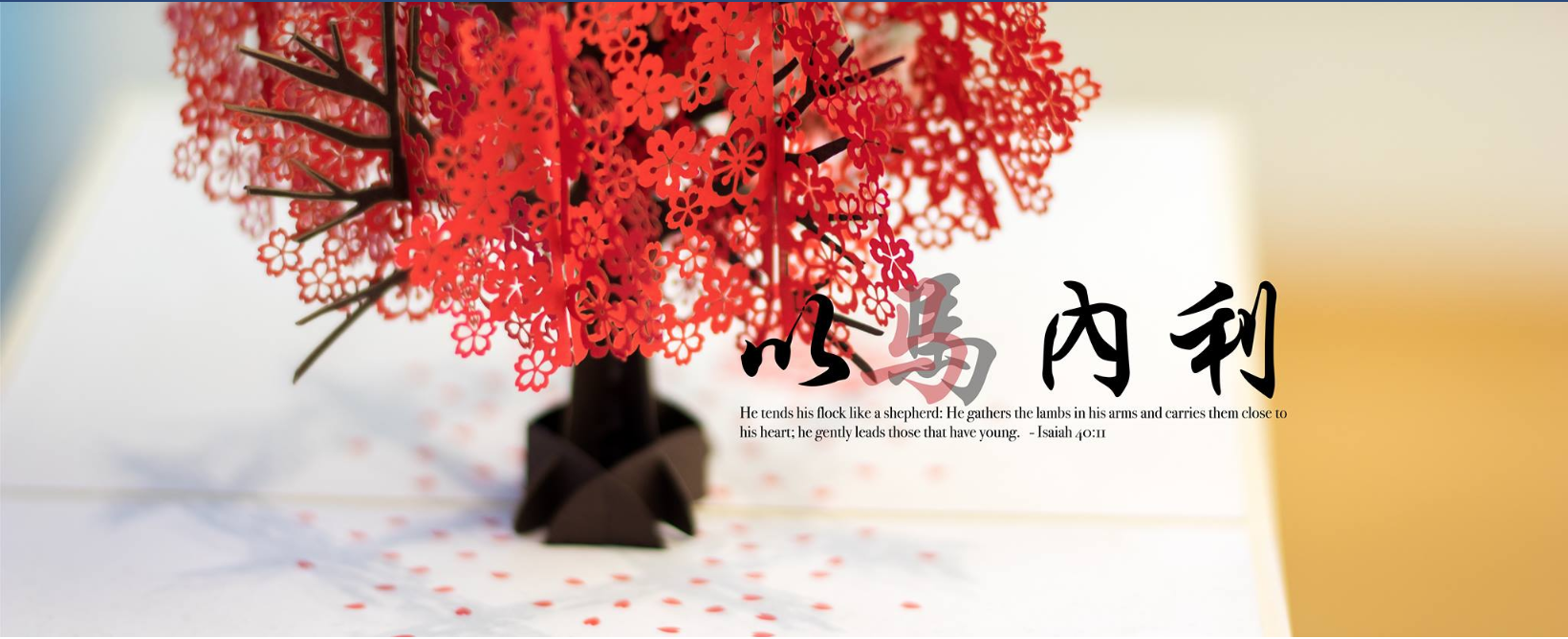 Another great FaceBook groups for parents raising bilingual kids: Raising Bilingual Parents in Chinese & English
Follow me on my FaceBook Page & Instagram where I share more fun & doable Chinese activities.