Chinese Podcasts are an easy way to create an immersion environment at home to improve both you and your children's Chinese.
With Chinese podcasts, both you and your kids can pick up Chinese without much effort from you! #winning!
You can play it anywhere and listen to it while you do the dishes. You can even slow down the speed to help with comprehension. 
It's a great form of educational entertainment for kids. Best of all, it's FREE!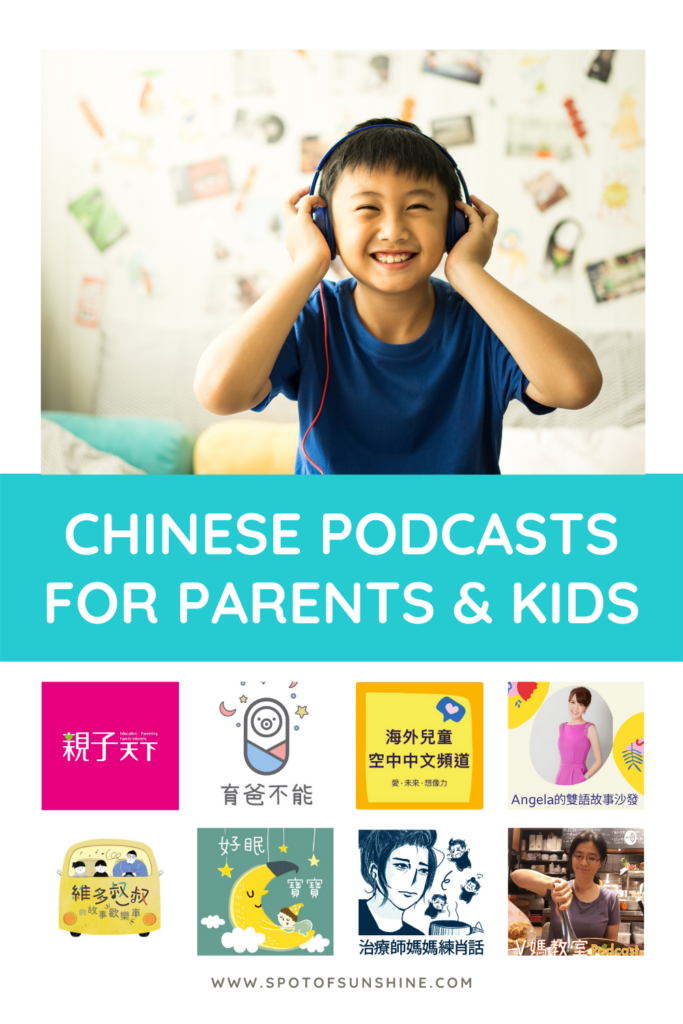 Lately, there has been a sudden surge in podcasts from Taiwan probably due to COVID. I'm thrilled that there are A LOT more to choose from now. 
Since Taiwanese accent is more familiar to me, I would like to expose my daughter to it as well. 
For Chinese accented podcasts and stories, be sure to check out the Ximalaya app.
Just a year a go, looking for Taiwanese podcasts or podcasts geared towards parents was challenging. Now there's a plethora to choose from! Whoohoo!
Below is how to use Chinese podcasts to your advantages and a list of ones I recommend for parents and kids.
How to Use Chinese Podcasts to Optimize Language Input!
While Kids Play: You'll be surprised how much children LOVE listening to audio stories. They can draw, play with toys, put together puzzles and be picking up Chinese at the same time without much effort from you!
During Quiet Times: You probably need a break and there's no better way to get a break than knowing your child is being exposed to something educational while you rest. During my daughter's one hour quiet time in the afternoon, she listens to stories in her room and plays with her toys.
In the Car: Want to focus on driving and not hear your kids ask you for the billionth time, "when will we get there?" Then play some Chinese podcasts that tells stories! My daughter loves listening to stories in the car and asks for them all the time.
At the Grocery Store/While You Run Errands: Keep your kids entertained and learning Chinese while you grocery shop. My daughter enjoys listening to stories while I grocery shop.
Chinese Podcasts for Kids
Click on title or image to be taken to the podcast site
This is our current favorite Chinese story podcast. They do a great job making stories interesting with realistic sound effects and music. My daughter's currently hooked on this and asks to listen to it all the time!
Geared toward kids of Chinese descent/those learning Chinese who live overseas. It's a great interactive podcasts for children. The host is a Taiwanese Mandarin teacher who currently lives in Japan. She speaks slowly and enunciates her words really well. She also asks kids questions. She shares their answers in the podcasts. Great way to motivate children to speak Chinese and share their personal experiences. 
Great for new learners. She reads some of the stories in both English and Chinese. First a phrase in English than one in Chinese. Episodes with bilingual stories indicated by English titles for the books. Hosted by anchorwoman & fellow mommy, Angela Lu. 
Another great quality Mandarin story time. I like that she reads in a soothing voice and in a slower pace. Easier for Chinese learners to follow along.
I love this great podcast hosted by Grace Wong of Speech Therapy Mom and her friend. This podcast is ideal for young and early learners. They read Chinese translation of popular English children's books like "The Very Hungry Caterpillar" and "Little Blue Truck." These books are simple and easier to understand. Give them a try!
Chinese Podcasts for Parents
Great podcasts to help you improve your Chinese while listening to topics that are relatable and/or entertaining.
Click on title or image to be taken to the podcast site
Parenting expert V媽 answers parenting questions. I love how soothing and encouraging she is. She focuses on gentle/positive parenting methods. Great for picking up Chinese parenting phrases. So glad I found her! She's super popular on FB, has about 30K followers. I can totally see why.
Created by a popular parenting magazine from Taiwan, their podcast was recently added to American podcast platforms. Lots of interesting & quality interviews centered on parenting and kids.
Host Peggy is a Taiwanese mom who is a certified children's sleep specialist. She shares tips on how to improve your child's sleep (and ultimately yours as well) in each episode. 
Mama Lili who is an occupational therapist along with her friend Michelle talk about all things parenting. Entertaining, relatable short episodes. This is my current favorite.
Two dads talking about "dad stuff." From reviewing products to talking about the day to day #dadlife, this would be a great podcast for the bilingual dads out there.
A mom and dad duo talking about many aspects of parenting and life in general. Really entertaining and fun to listen to.
Hope you and your kids enjoy these podcasts. I'm sure as you take time to listen to them, your Chinese will improve!
Be sure to share this post with other parents so they know about them. Chinese podcasts are difficult to search for.
If you come across more Chinese podcasts for parents or kids that you love, please let me know so I can keep adding new ones!