Mid Autumn Festival is one of my favorite holidays and it's also one of the major Chinese holidays.
I have fond memories celebrating with my cousins at my grandparents' house in Taiwan.
Running around their house with my paper lanterns, lighting sparklers on the front porch are some of the memories I want to share with my kids.
Below are some easy ways to celebrate as a family including moon cakes, lanterns, videos, recommended books and lantern riddles!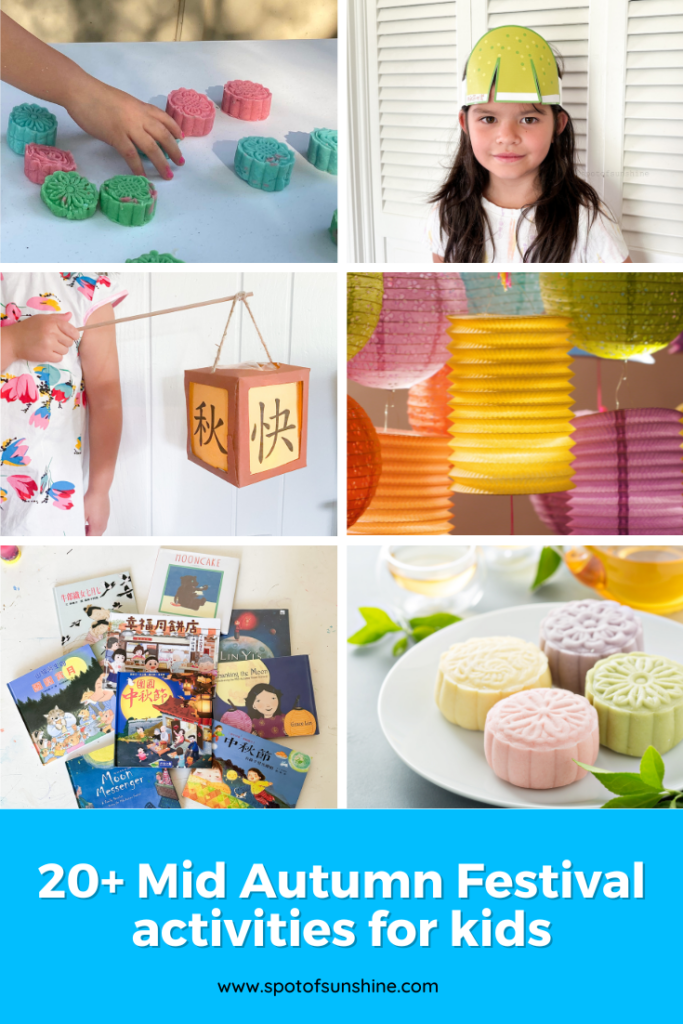 Importance of Celebrating Mid Autumn Festival as a Family
When teaching your child Chinese, it's important to celebrate the major holidays.
By participating in the traditional festivities and customs, children can gain a deeper understanding of the culture, values, and history.
This firsthand experience goes beyond language learning and helps children develop a broader cultural perspective, providing greater context for the language.
These holidays also often involve specific vocabulary, phrases, and idioms that may not be encountered in everyday language
Children can see and hear how these words and phrases are used in real-life situations, which enhances their language acquisition skills and makes learning more engaging and practical.
1. Learn About the Holiday 中秋節的來源
If you need a refresher on the holiday or to learn it for the first time, there are lots of great resources out there.
If you're like me and need a refresher or just don't know much about Mid Autumn Festival, Time wrote a great article on it, you can read it here.
Another easy way to learn about the holiday is by watching one of the kid friendly videos on Mid Autumn Festival below:
Puppet performance of the origin of Mid Autumn Festival with English and traditional Chinese subtitles with zhuyin. I liked how the video was short and to the point not to mention adorable.
This is a fun and silly live action reenactment of the story behind Mid Autumn Festival from one of the popular kid channels in Taiwan. (Chinese)
Netflix also has a wonderful movie coming out for this year's Mid Autumn Festival called Over the Moon! Audio available in Mandarin Chinese! We're looking forward to watching this as a family.
Brookie Kids has an interactive story where kids get to learn about the holiday through listening and speaking.
They reached out to me and gifted us access to their Mid Autumn Festival game.
My daughter tried it and enjoyed it.
It's a great interactive game to get more listening, learn some characters and some speaking practice in.
It's made for intermediate level learners who are already able to understand a good amount of Mandarin.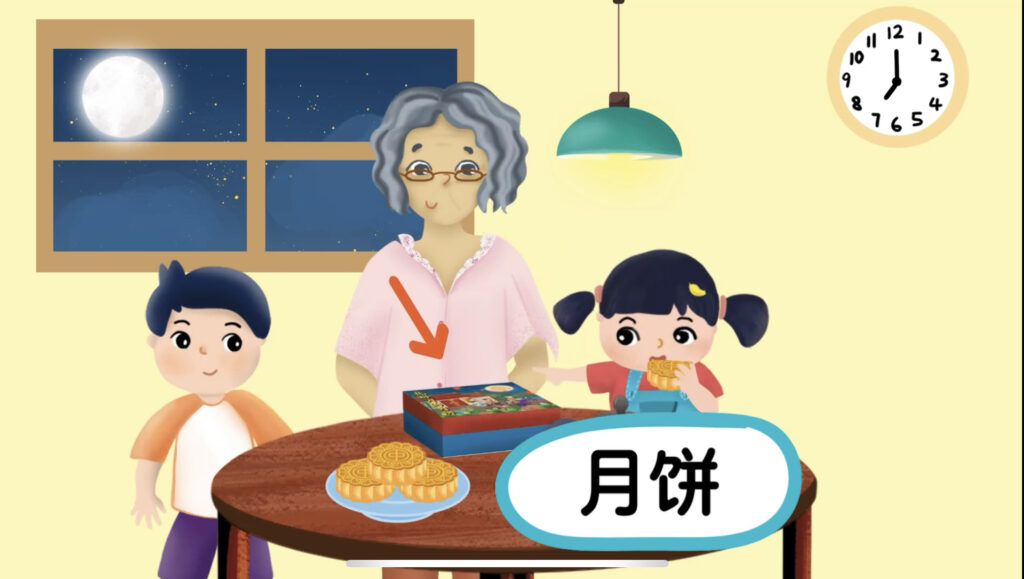 2. Make Moon Cakes 做中秋月餅
Play Dough Moon Cakes
I purchased this mold from Amazon and used some store bought play dough to make moon cakes.
For older kids, you can have them add play dough egg yoke and red bean paste that are usually found in these moon cakes. But I just went for a the simple straight forward one colored moon cakes.
These are fairly easy and requires low prep. My three year old did need some assistance from me.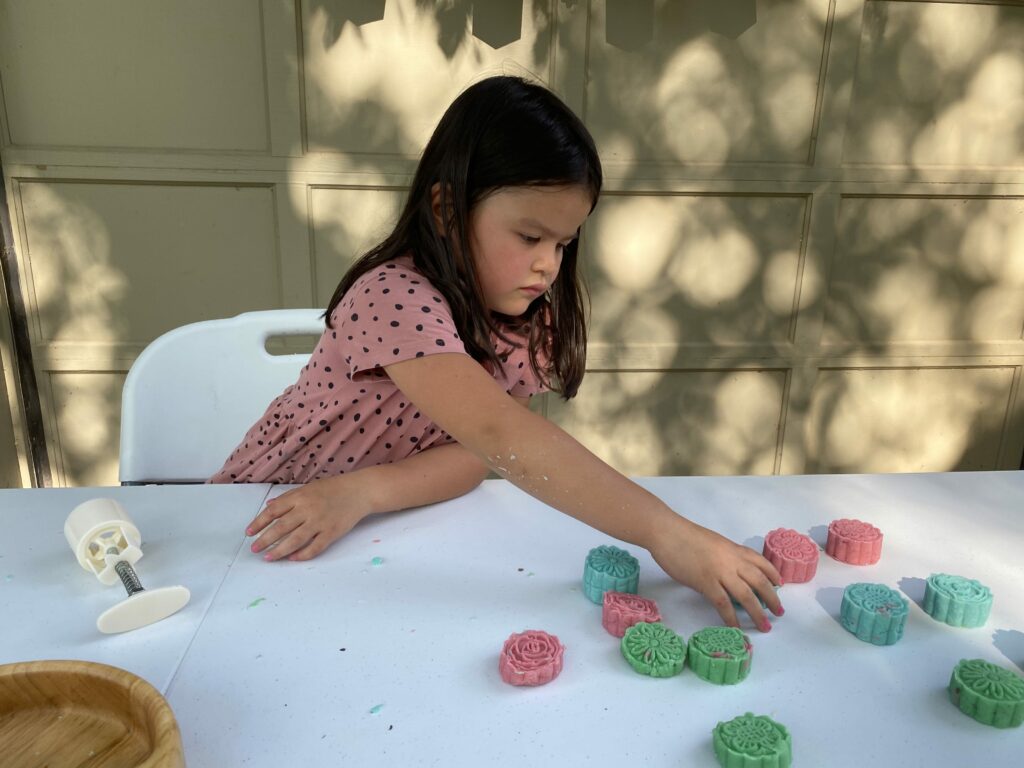 Easy Kid Friendly Moon Cake Recipe
Here's an easy moon cake cookie recipe you can try from Mama Baby Mandarin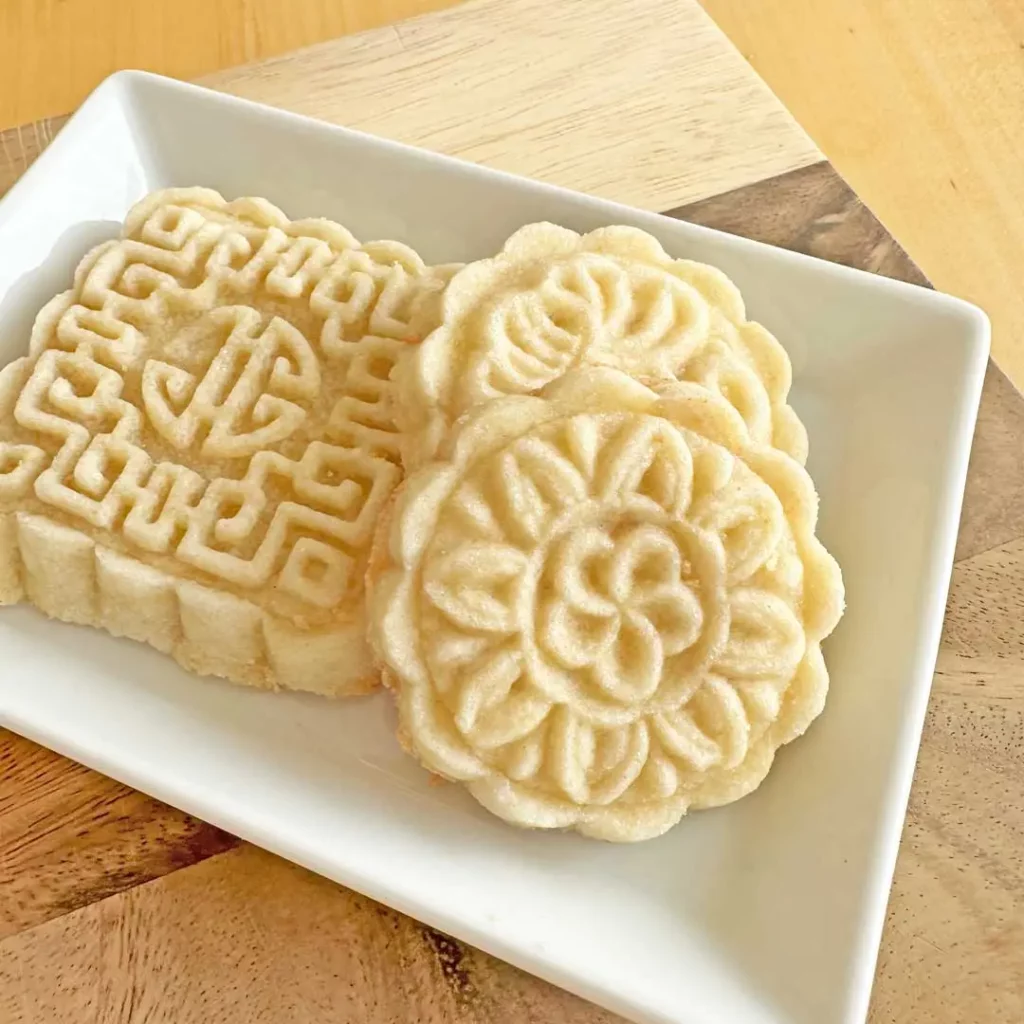 Taste Test Moon Cakes
Here's a fun way to try moon cakes. Get a package of moon cakes. You can usually find them at your local Asian grocery store or at Costco.
Do a simple taste test and vote one which one is everyone's favorite.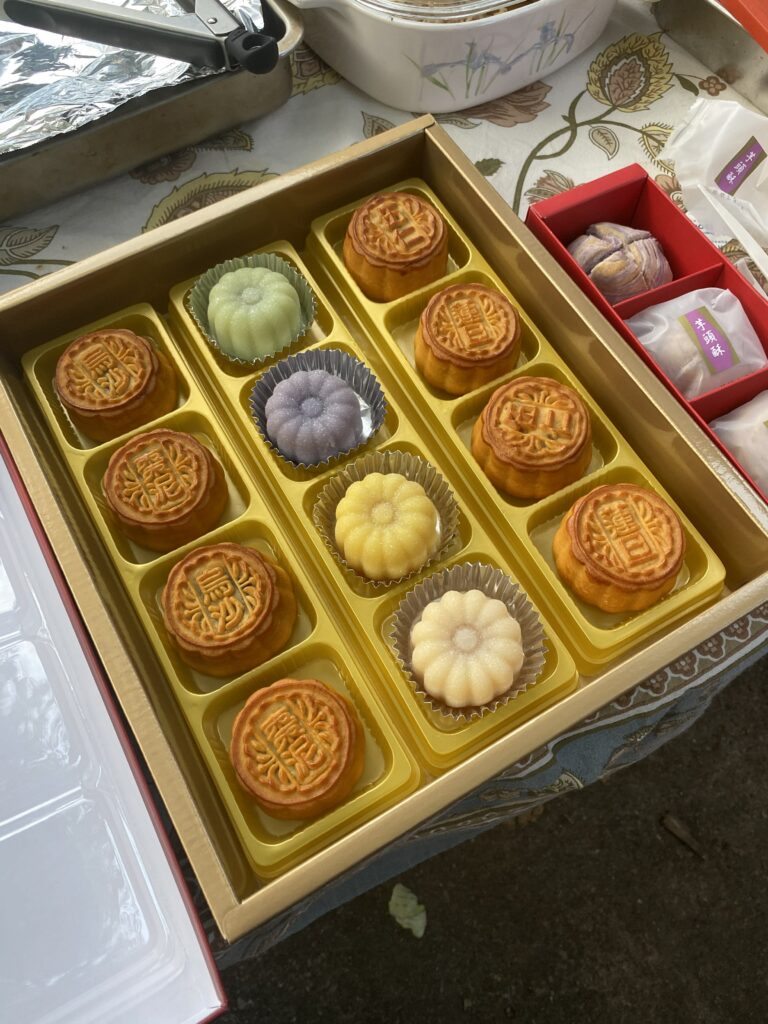 Here's a fun moon cake play kit from another mama raising her kiddos bilingual!
Inspired by her kids, Gwen created this fun play kit to make celebrating easy for families.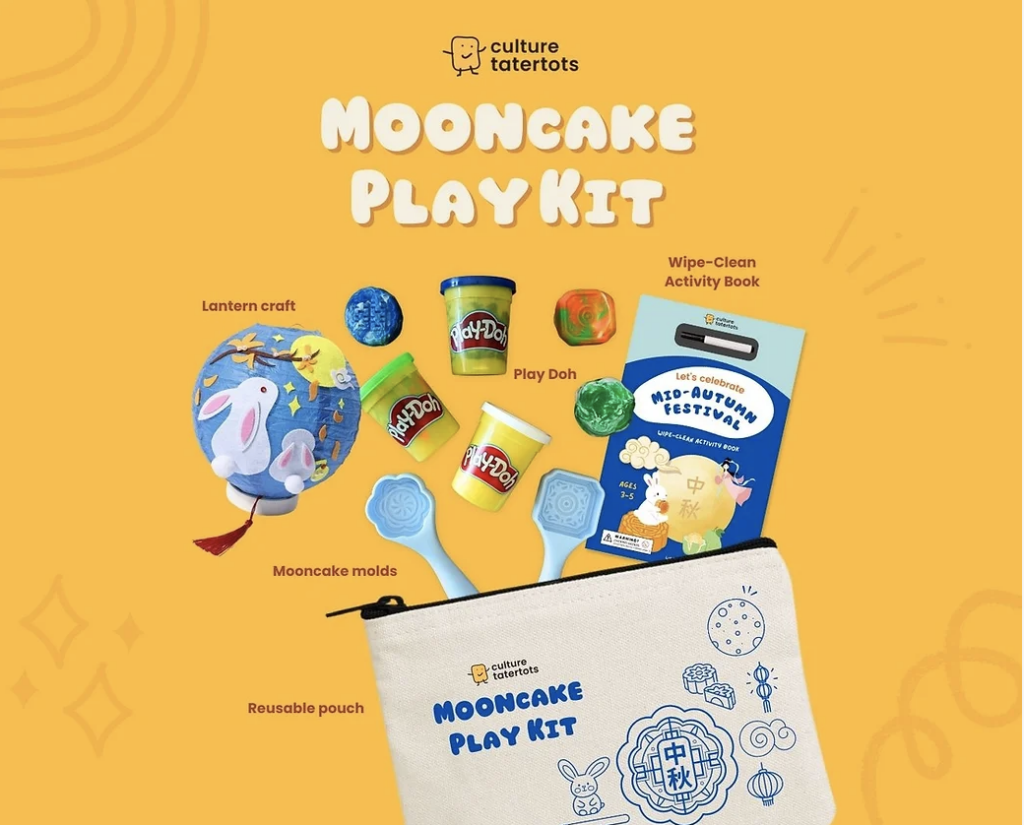 3. Play with Lanterns 燈籠
I have such fond memories of running around my grandparents' house with my cousins holding our paper lanterns. So of course I had to include this part of the celebration for my daughter.
Here's a lantern you can make out of a Kleenex box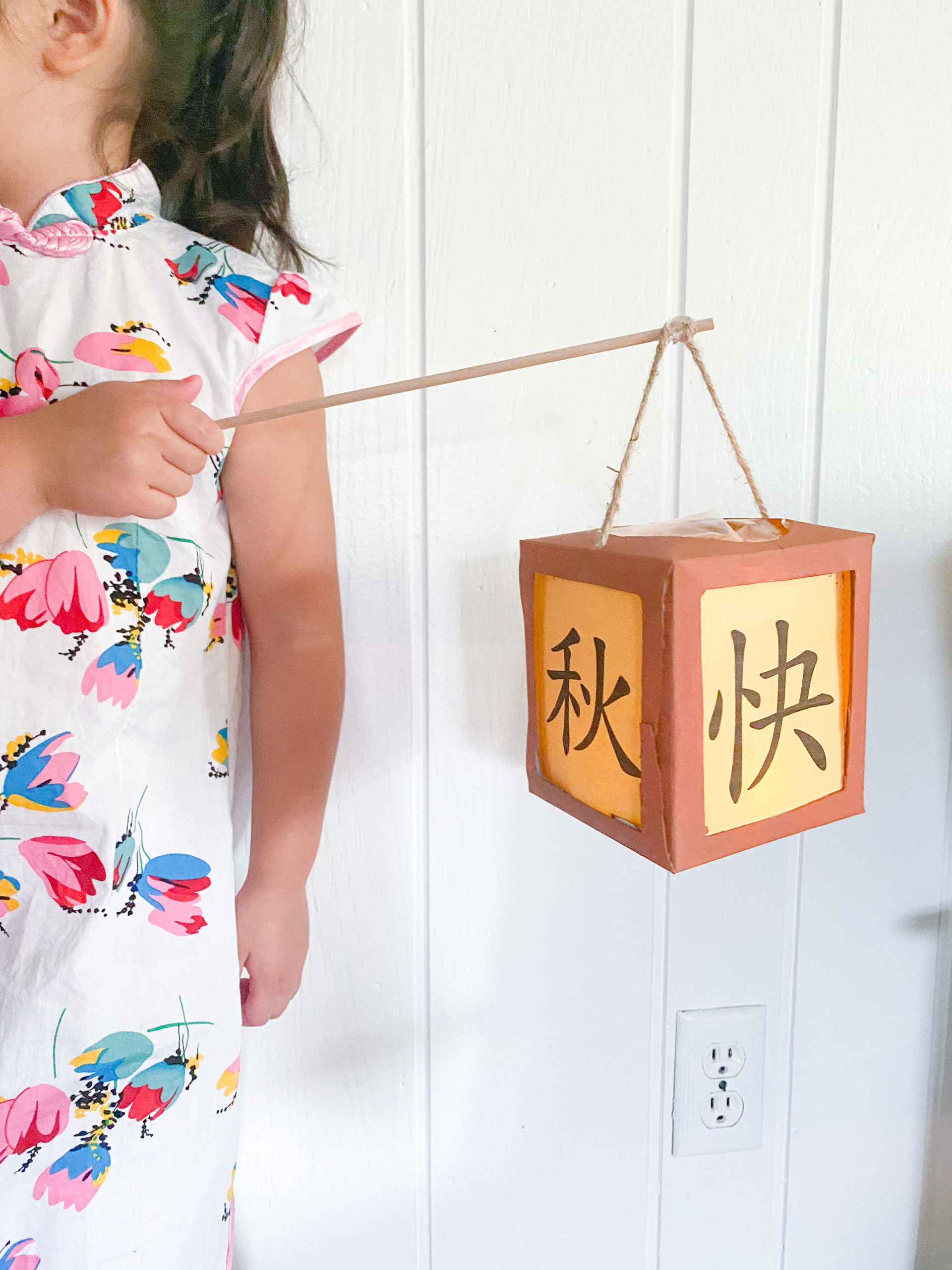 Here are some DIY videos on three other variations of lanterns you can make with your littles ranging from simple to more elaborate and complex ones.
This one would be great for toddlers working on scissor skills.
Here's a more complex one to help you recreate traditional lanterns I grew up playing with in Taiwan.
Here's another fun free printable lantern from Bitty Bao you can make with your kids.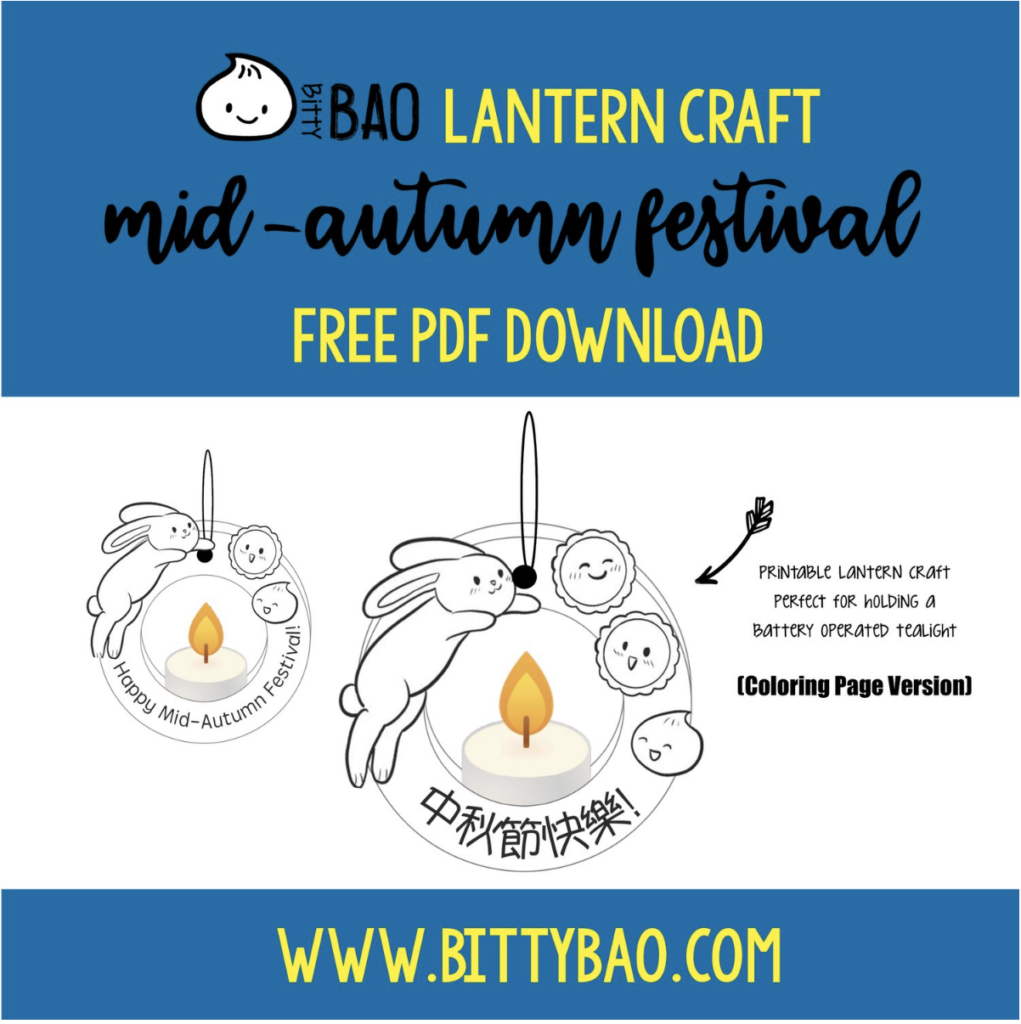 To make lanterns even more fun, be sure to try and solve some lantern riddles with your kids.
Little Day Out has some great ones to try this Mid Autumn Festival!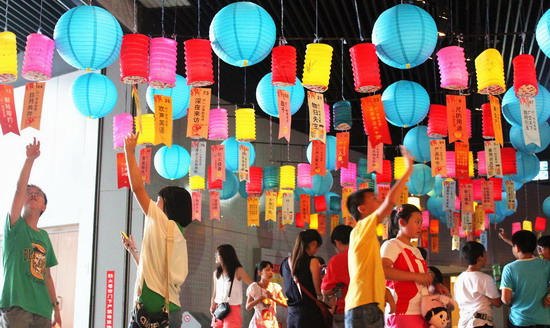 4. Mid Autumn Festival Pomelo Hats 柚子帽
Another fun memory I have of 中秋節 is eating sweet pomelos and the adults making a hat out of the rind.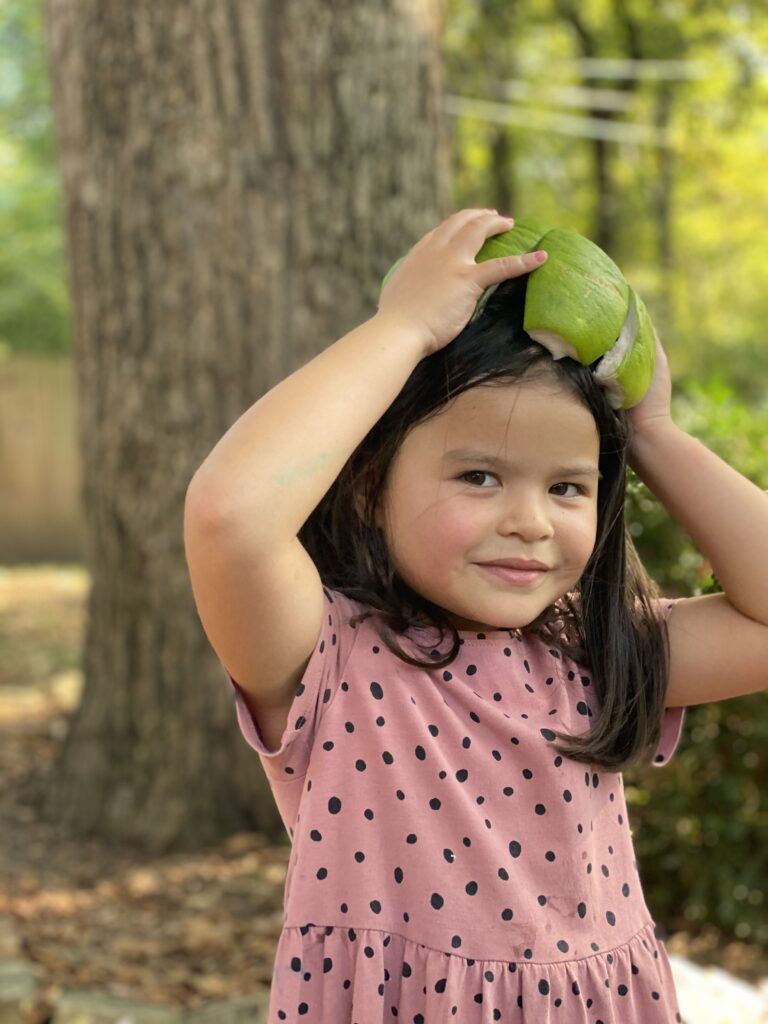 The word for pomelo in Chinese is 柚子 (yòu zi) which is a homophone for "prayer for son."
So that's why people eat this fruit during this holiday, as a sign for prayer for protection over the children in the family.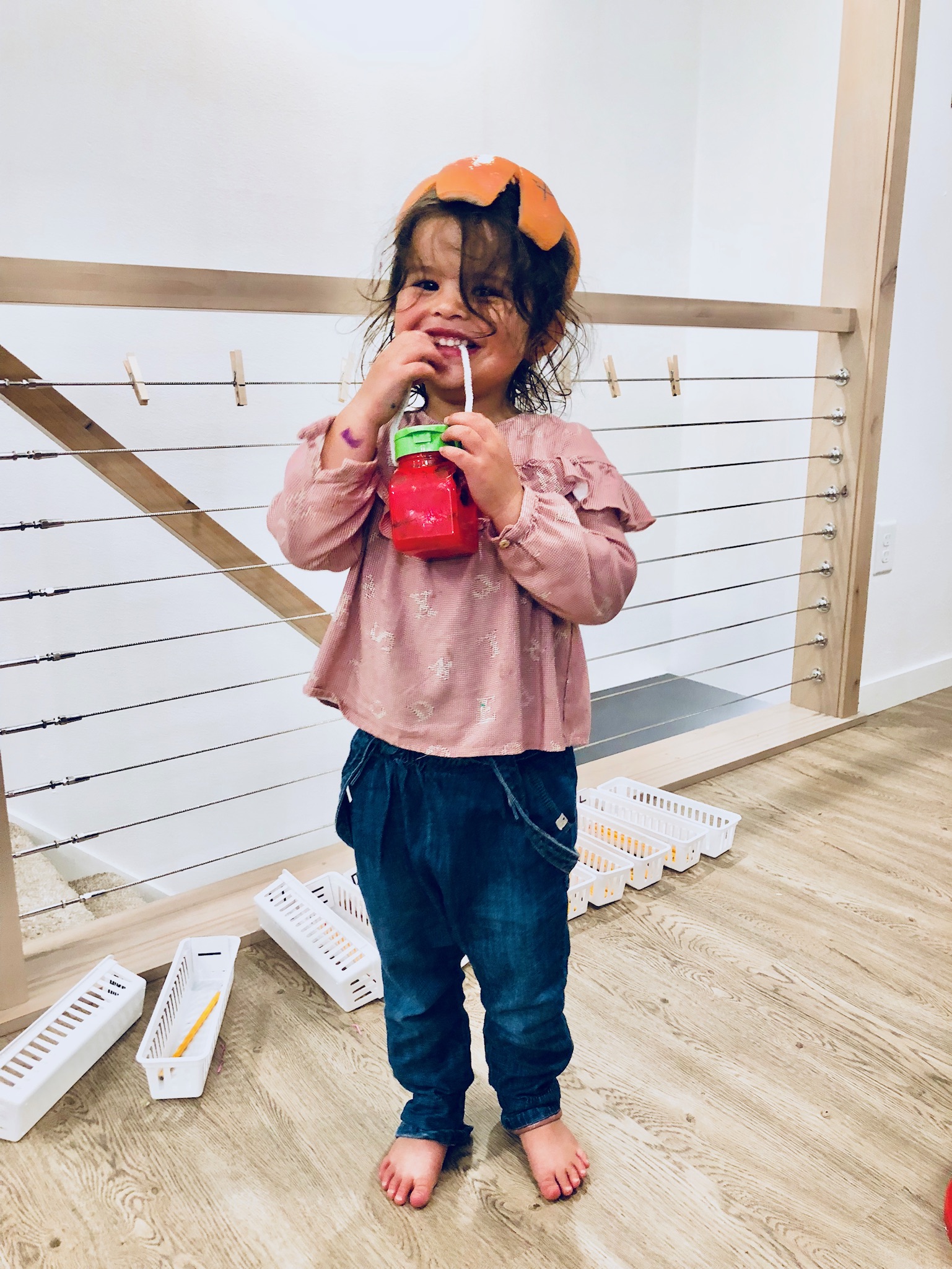 Another legend is that wearing this hat makes it easier for the Moon goddess 嫦娥 (cháng'é) to see the children from the moon and as a result give her blessings to them.
If there are no pomelos at your local Asian grocery store, you can also use a large grapefruit like I did here or use the printable I created. (scroll to bottom for access info)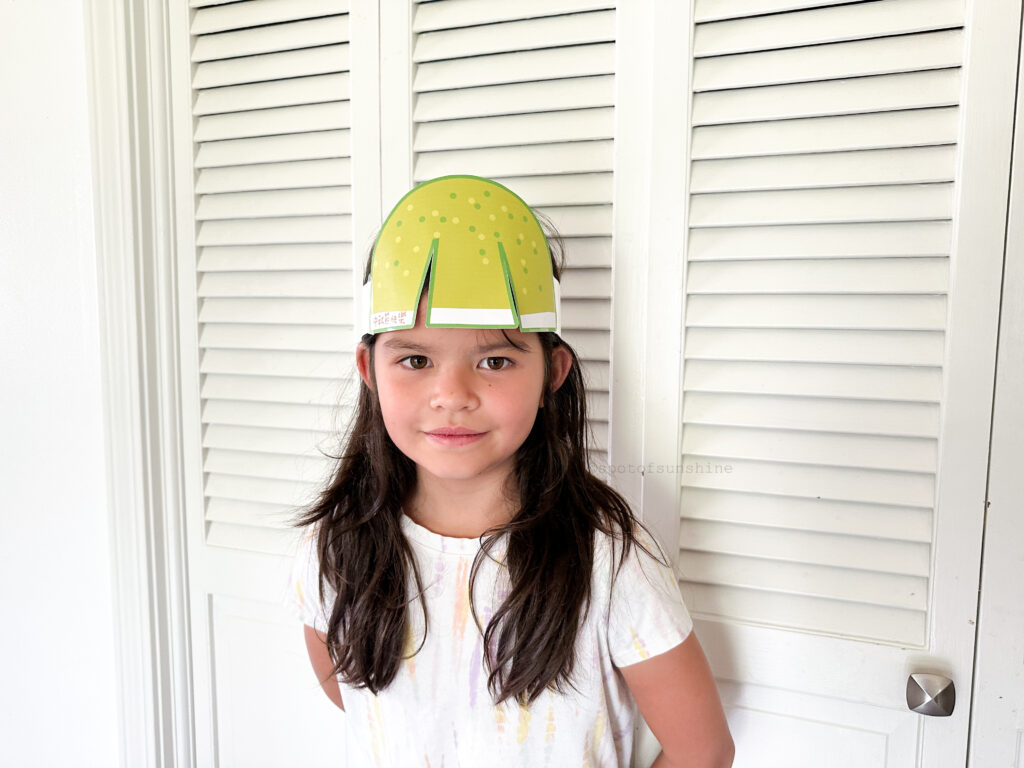 5. Mid Autumn Festival Books for Kids (English, Chinese & Bilingual)
I love how in the recent years there's been an increase of children's books on Chinese holidays and traditions.
It's amazing to be able to have access to books that represent our culture and for my kids to see themselves represented in stories.
If you want to borrow books on Mid Autumn Festival from your local library. I would recommend reserving them at least two weeks in advance.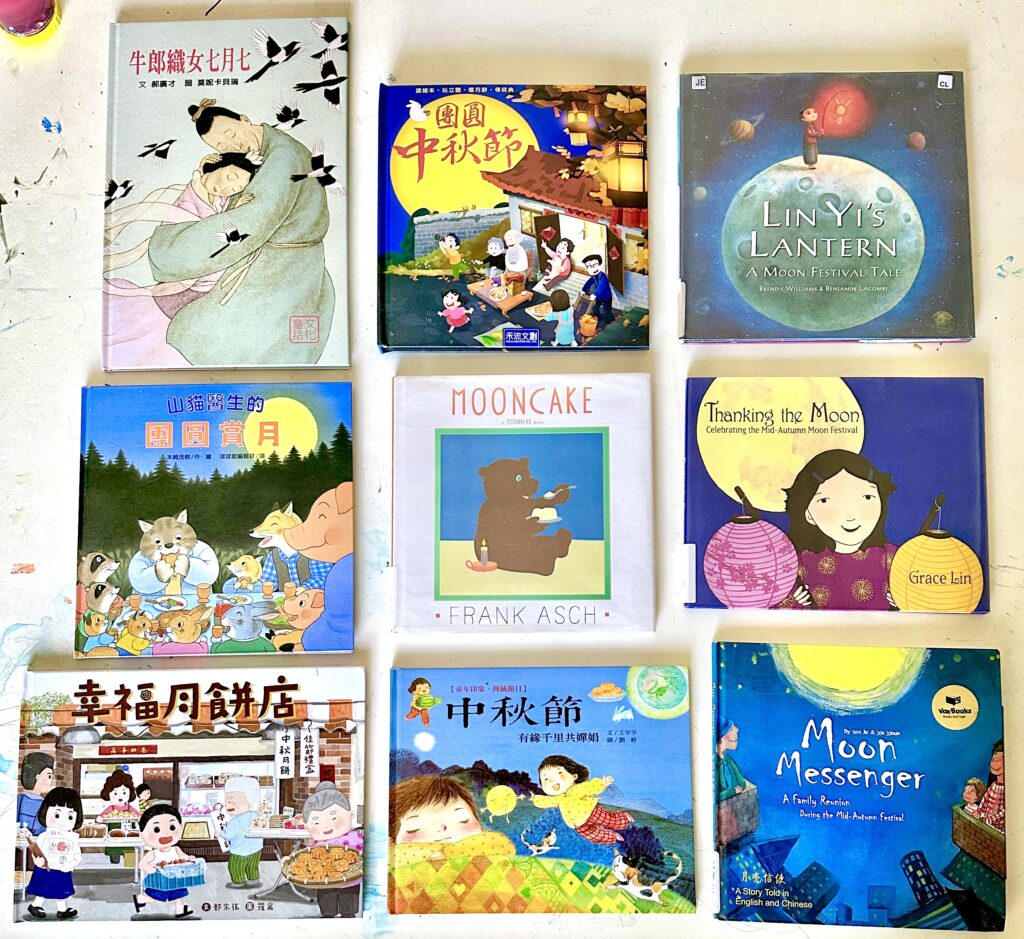 Below are books on Mid Autumn Festival in traditional and simplified Chinese, English and bilingual ones as well.
Traditional Chinese
團圓中秋節 Mid Autumn Festival Family Reunion
I love pop-up interactive books for the holidays. I feel like it brings the stories and traditions to life for kids.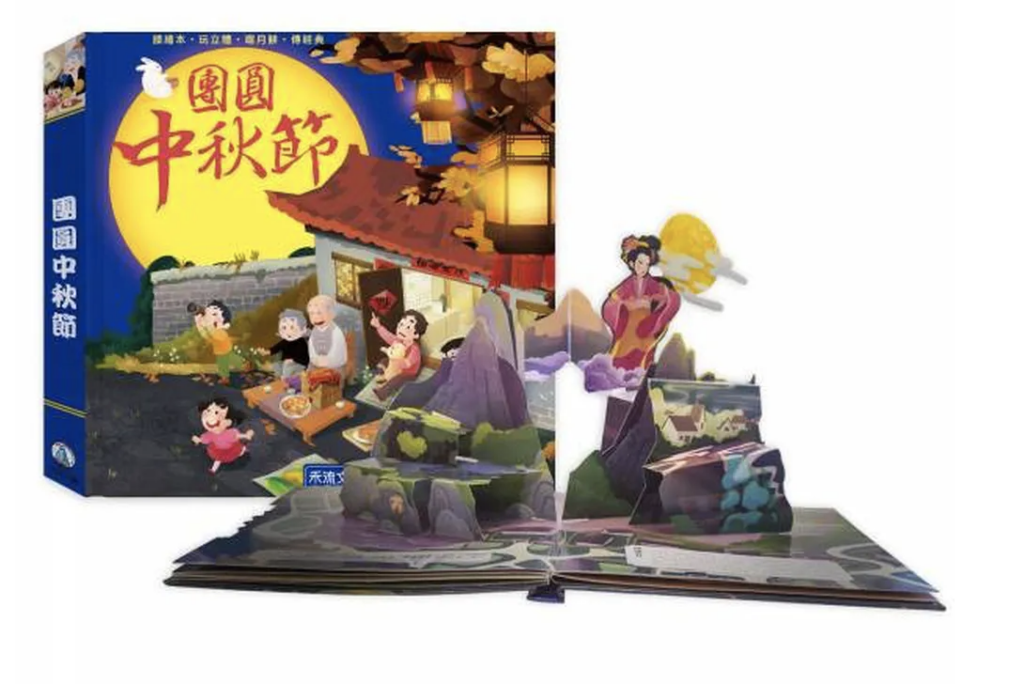 Beautifully illustrated covers everything on the holiday from origin to foods and celebrations. Highly recommend this series on Chinese holidays.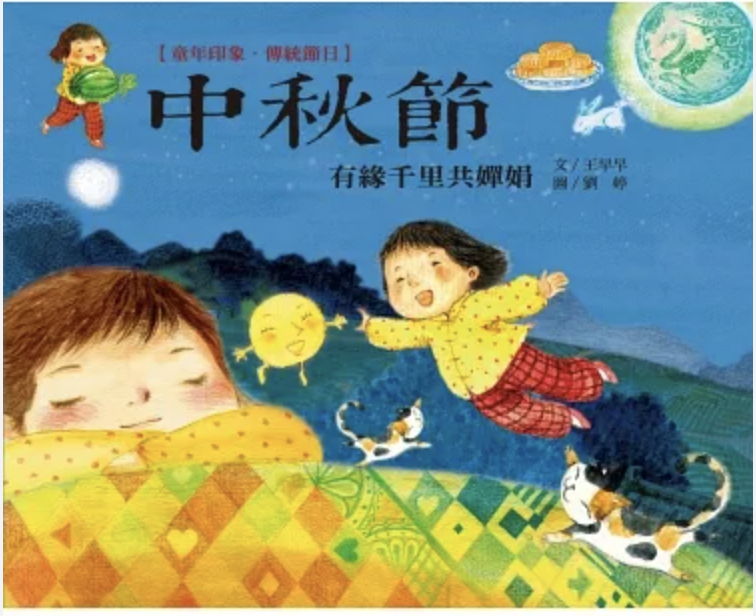 幸福月餅店 Happy Moon Cake Bakery
An adorable book with detailed illustrations retelling how moon cakes are made. We love this one.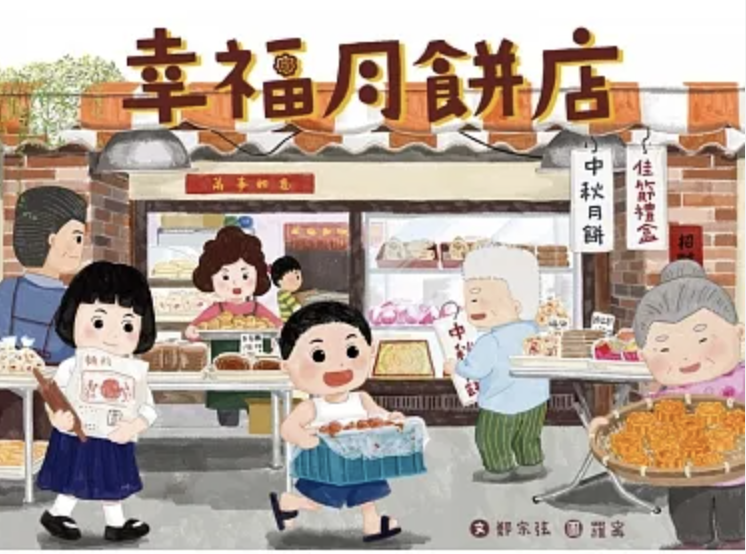 Simplified Chinese
A fun interactive pop-up book on the holiday.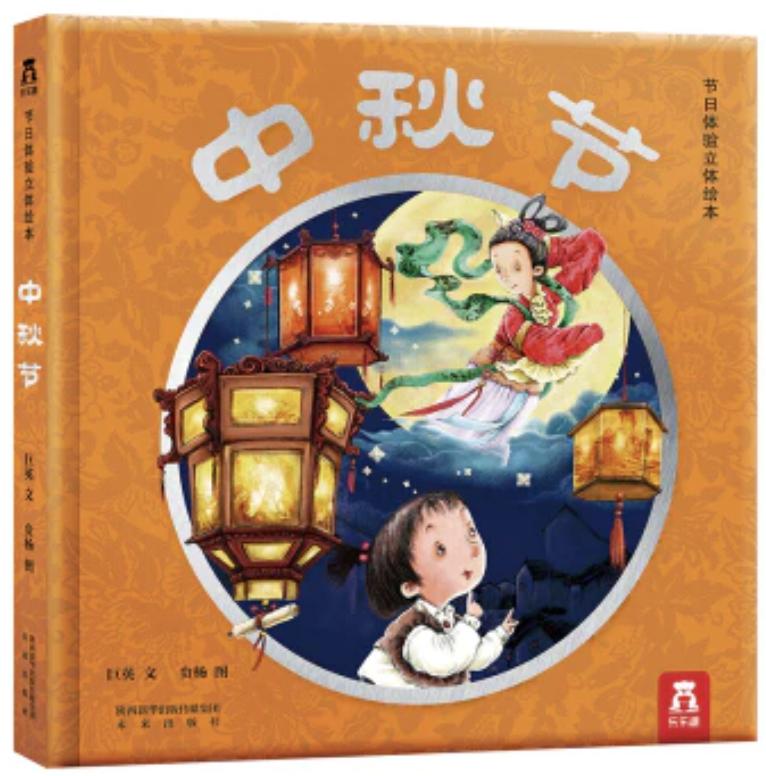 小威的中秋節 Xiao Wei's Mid Autumn Festival
Get excited about the festivities surrounding Mid Autumn Festival through the eyes of a little boy named Xiao Wei.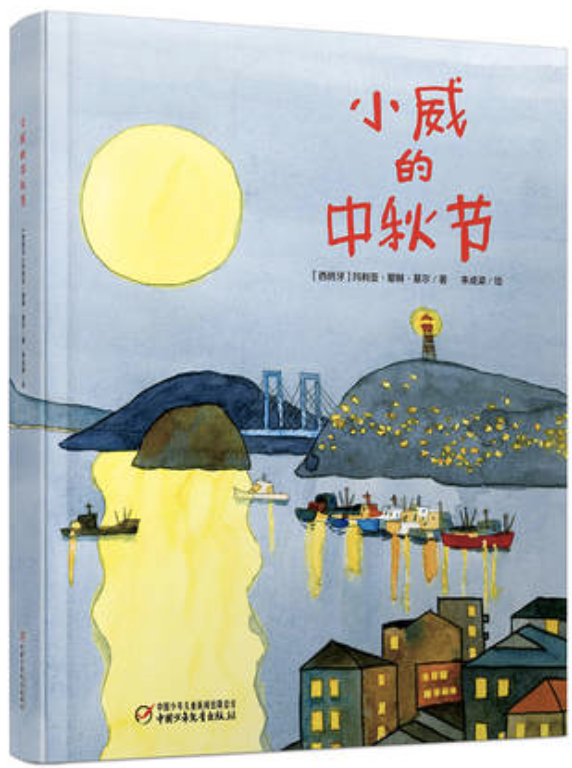 This unique tale tells the story of a little girl name 滿月/Full Moon whose birthday is on Mid Autumn Festival and was adopted after my parents' passing.
There aren't a lot of Chinese children's books out there covering the topic of adoption so I wanted to include this one.
I know many families who have adopted kids from China wanting to help their children stay connected with their heritage and culture.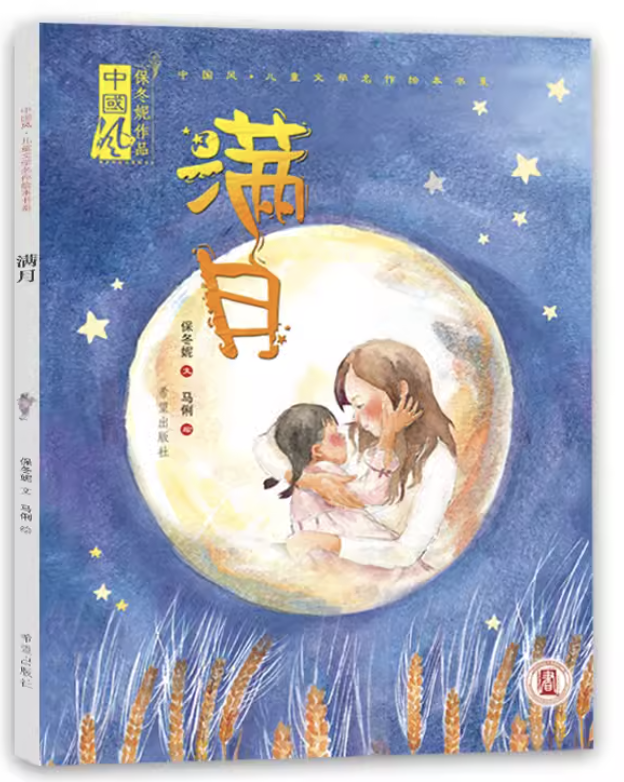 Bilingual Books on Mid Autumn Festival
Bitty Bao has a wonderful Mid Autumn Festival board book serieshttps://www.bittybao.com/shop/p/round-4-book-bundle. You can choose from traditional Chinese with zhuyin or pinyin, simplified Chinese with pinyin and tradition Chinese with jyutping for Cantonese speakers.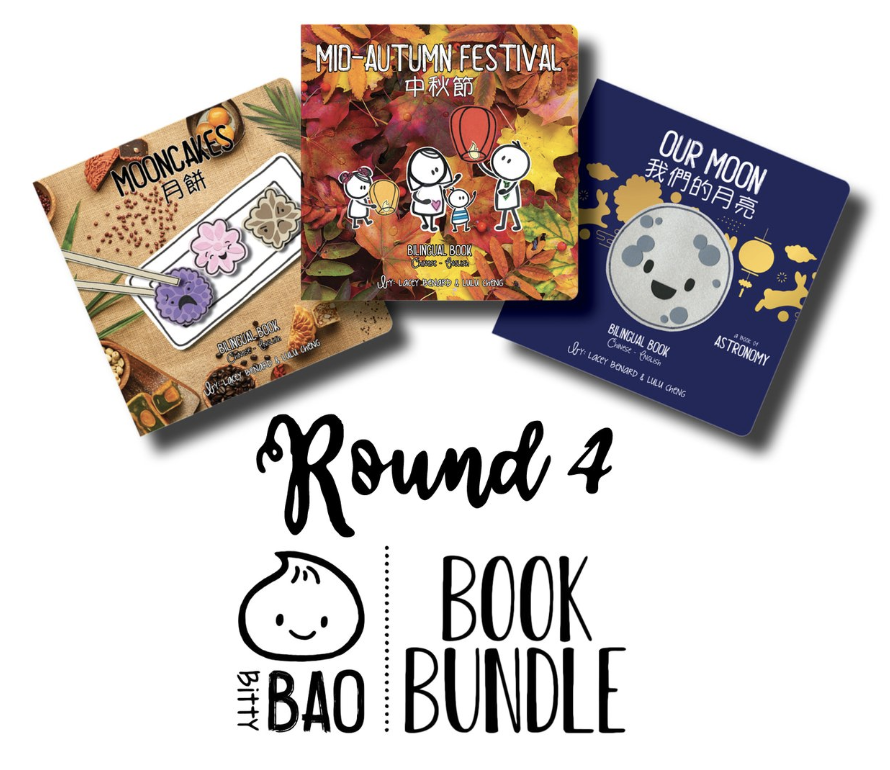 A sweet bilingual book (simplified Chinese and English) on how families that are far from each other celebrate Mid Autumn Festival under the same moon.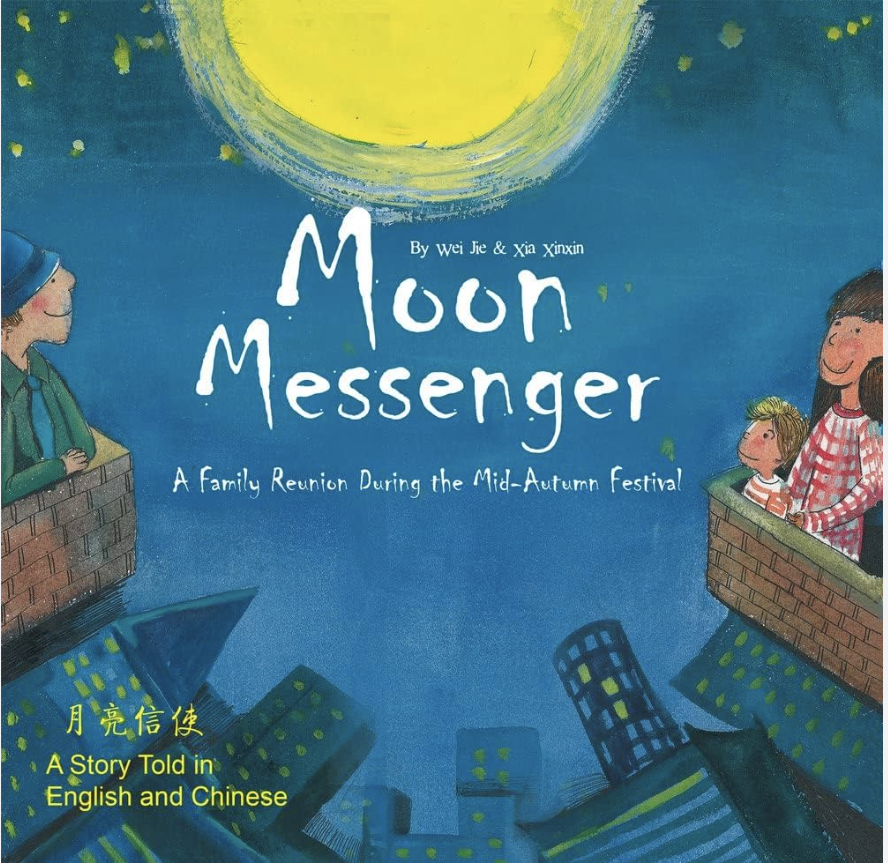 English Mid Autumn Festival Books for Kids
Thanking the Moon by Grace Lin
Beautifully illustrated book that covers the Mid Autumn Festival in a simple way for kids. Great for toddlers and preschoolers.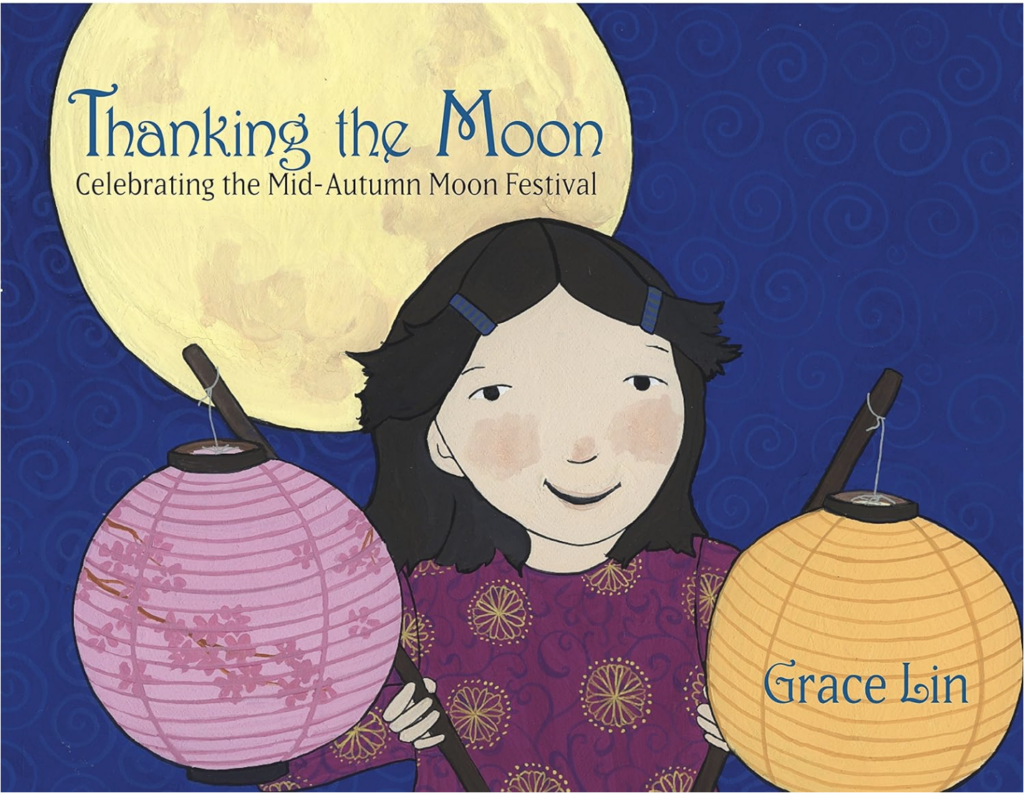 A Big Mooncake for Little Star by Yobe Qiu
A great picture book that explains the traditions and story behind Mid Autumn Festival.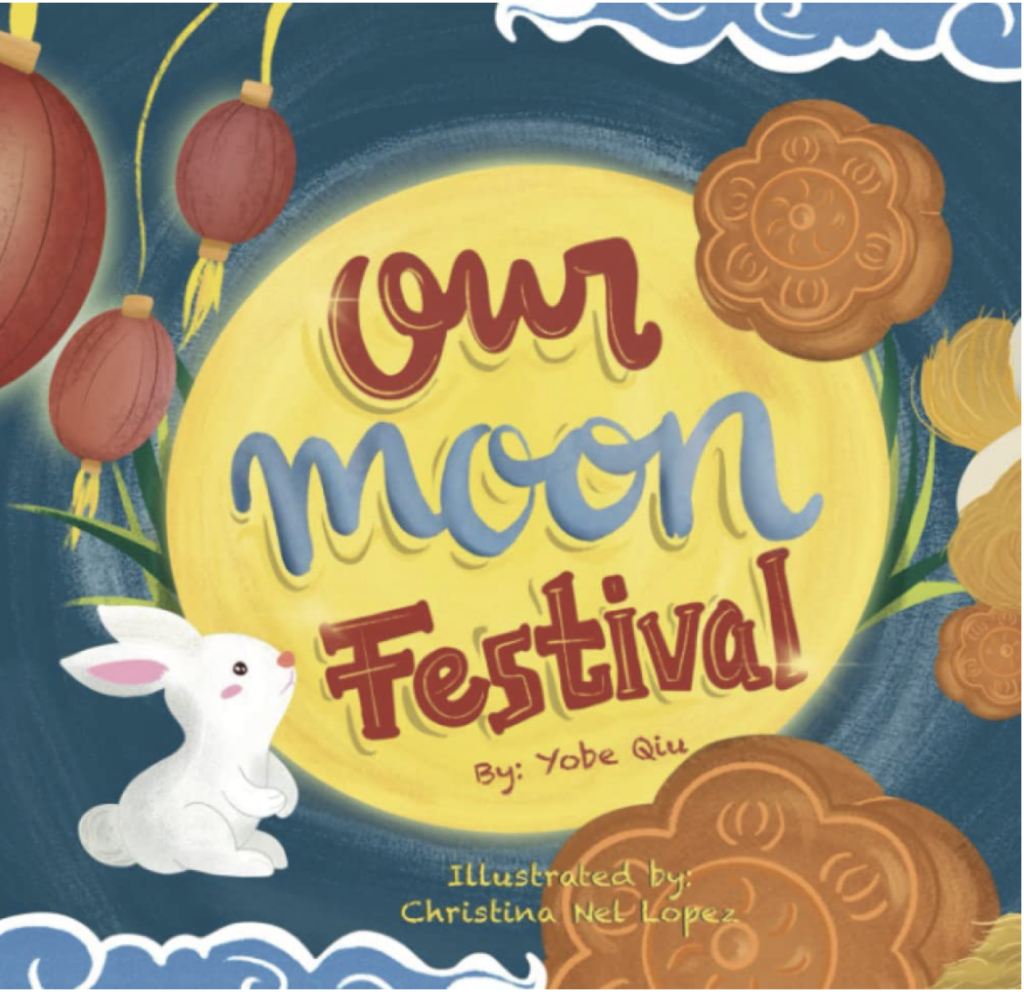 The Shadow in the Moon by Christina Matula
A sweet story of two little girls learn about the Mid Autumn Festival from their grandmother.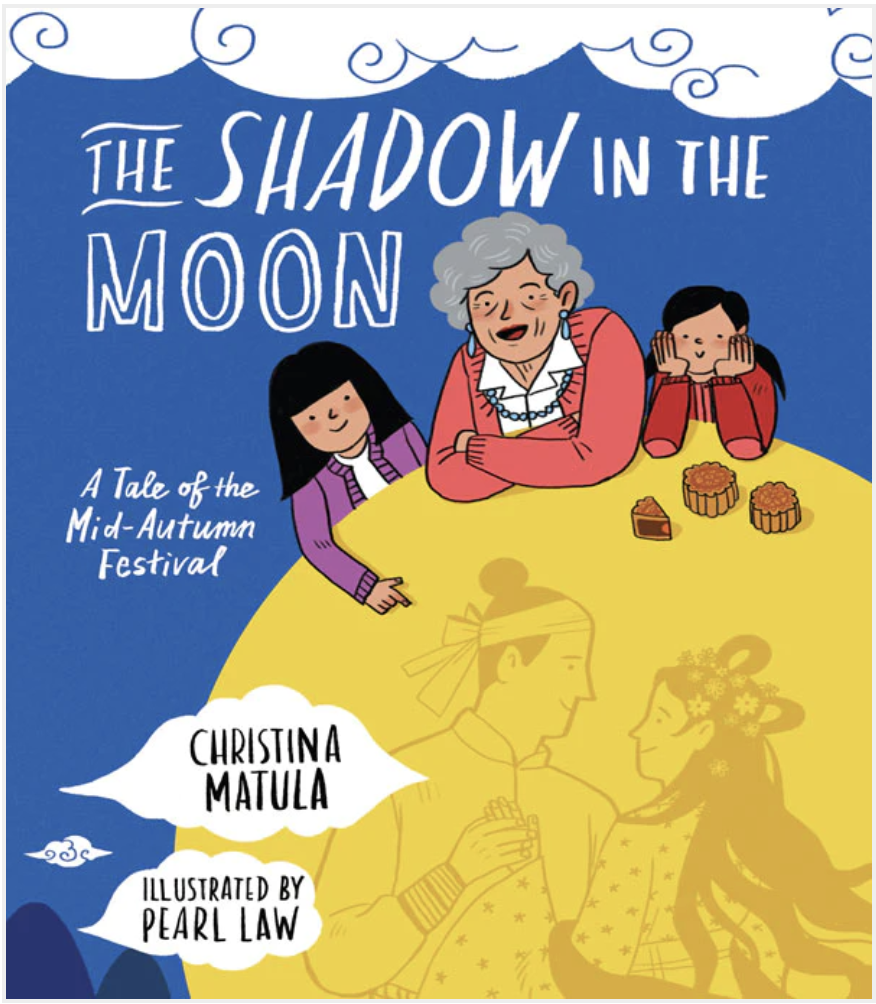 6. Mid Autumn Festival Chinese Learning Printable Packs
Mid Autumn Festival printable pack and more fun resources from Little Chinese Learners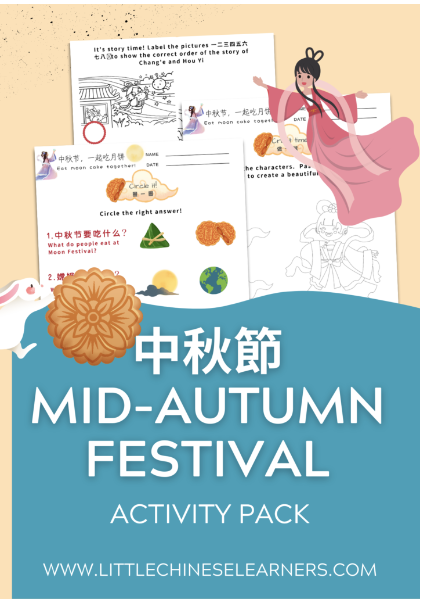 Mid Autumn Festival Activity Book from Sweet Note Learning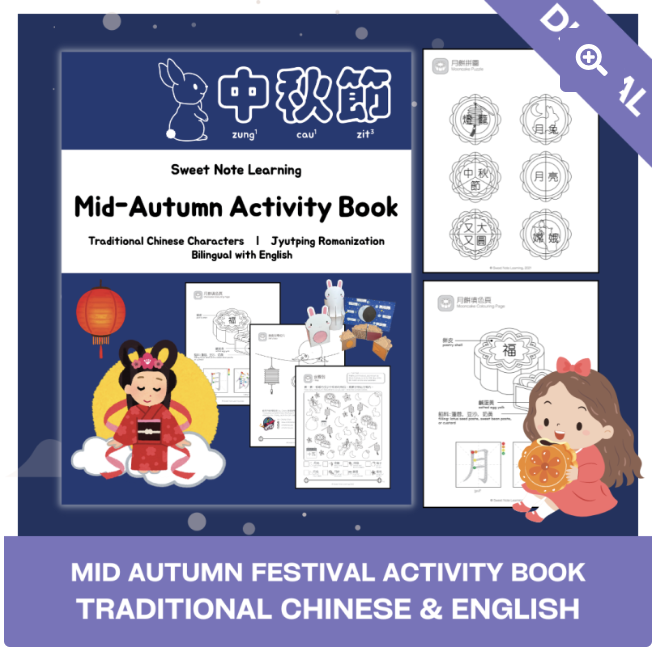 7. Mid Autumn Festival Toys
Mid Autumn Festival wood toy set from Baby Snack Time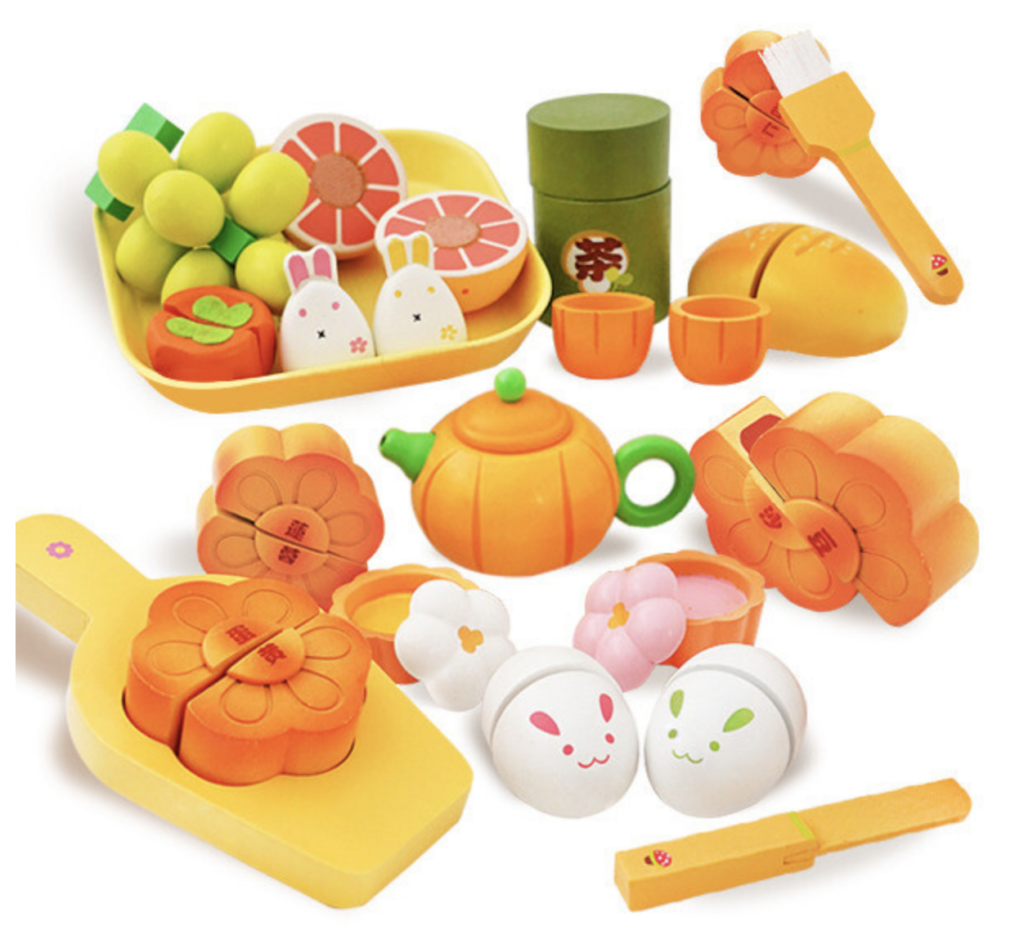 Wooden Magnetic Moon Cake play set from Bitty Bao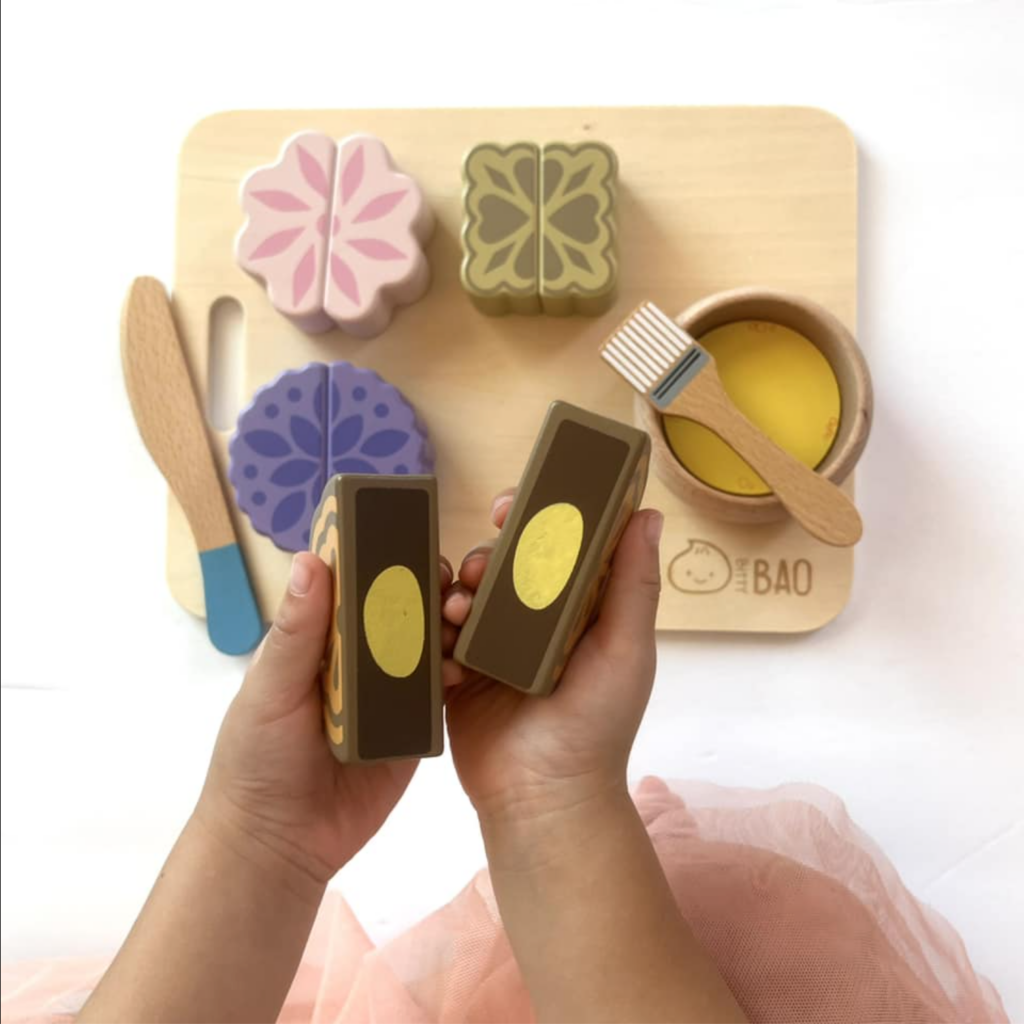 How People Really Celebrate in Taiwan
When we were living in Taiwan, adults would get together and barbecue all sorts of meat and fresh seafood outside.
It was so fun and delicious!
This is actually unique to Taiwan. No other countries really celebrates by barbecuing.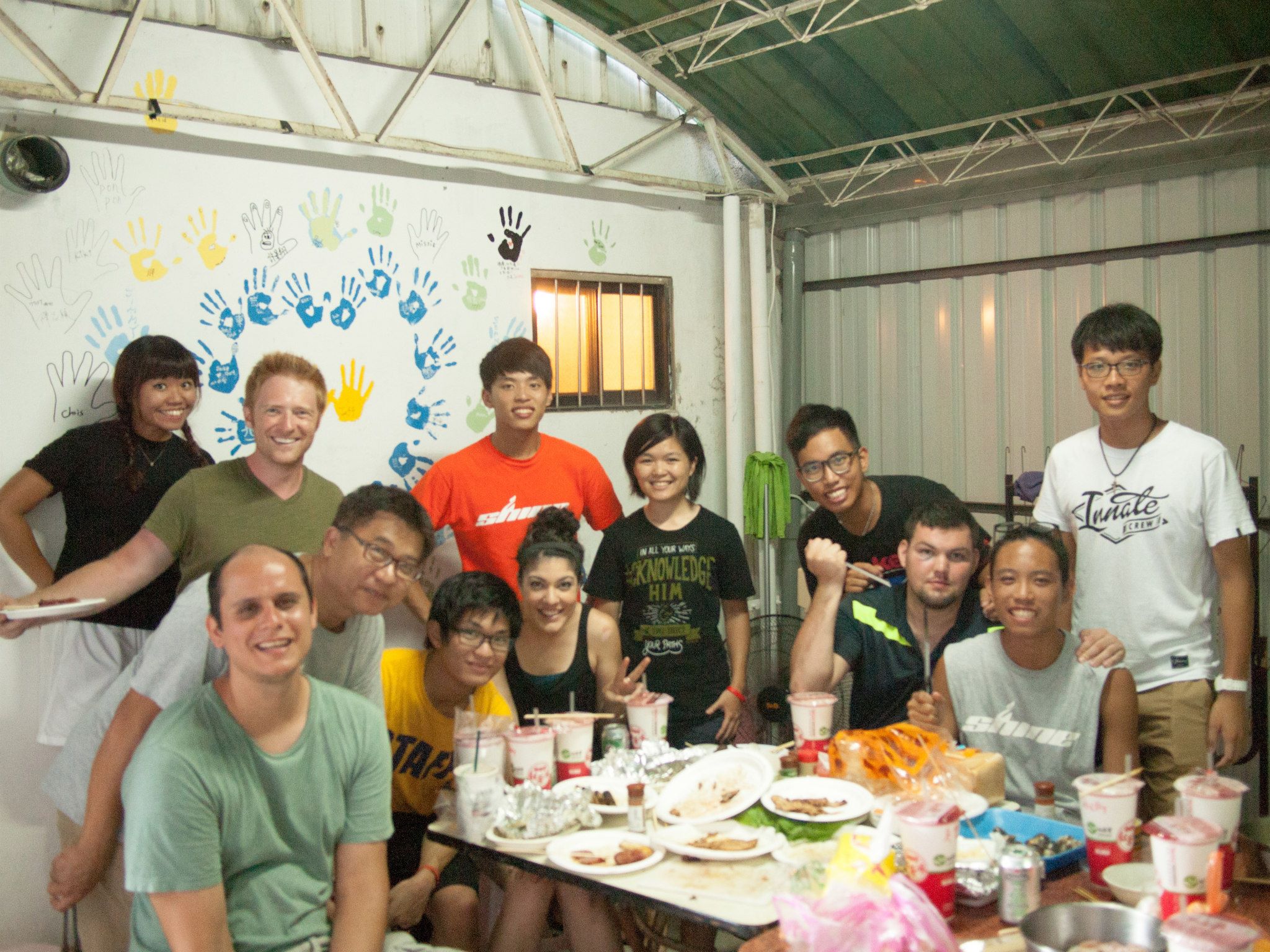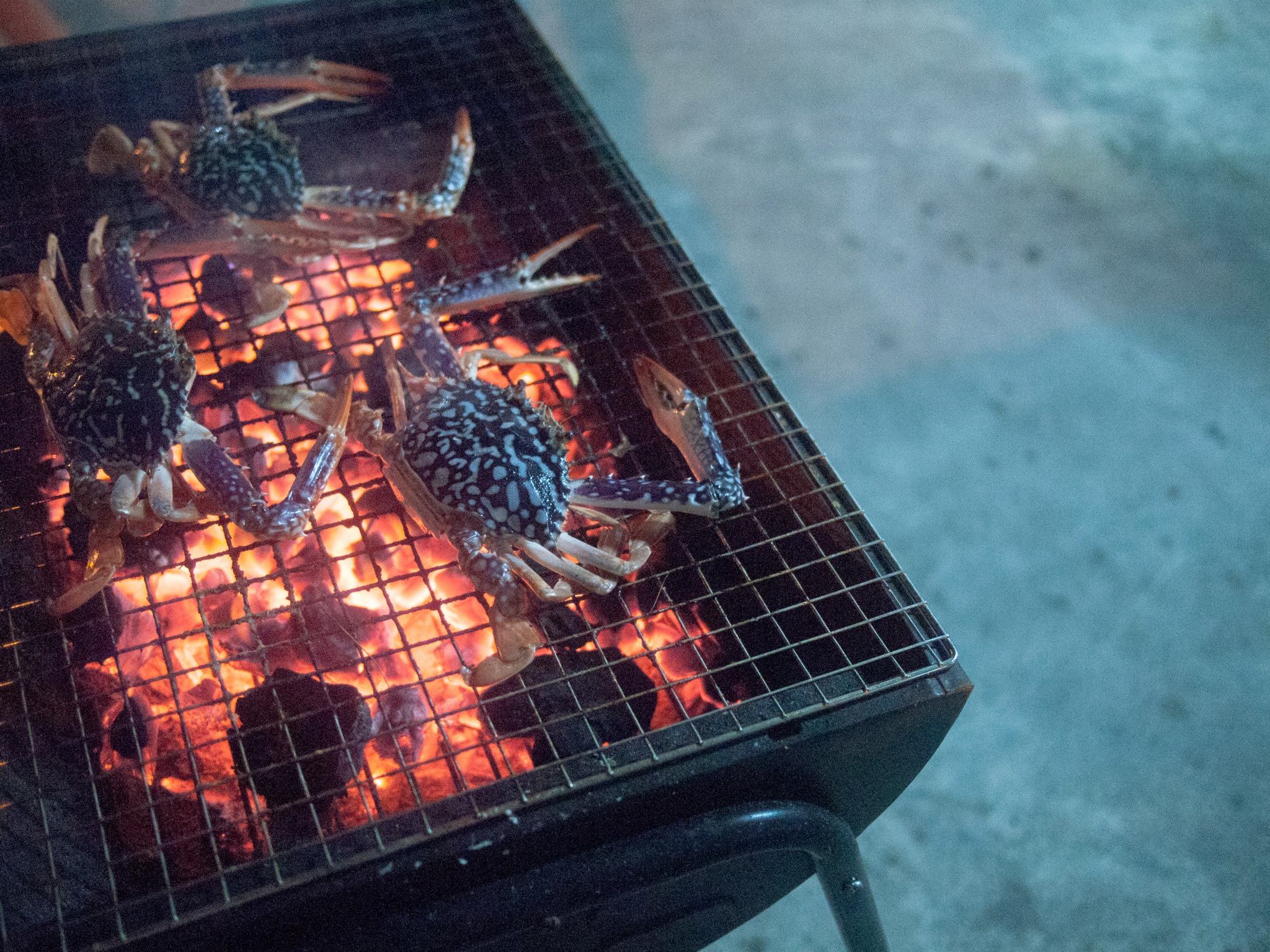 Accessing Mid Autumn Festival Printable
To access the free printable register below. After confirming your email, you'll receive a password to access the printables.
If you've already registered, click here to get to my printables page.
Hope your family enjoys this craft and celebrating Mid-Autumn Festival!
How About you?
How do you celebrate it? What are some fond memories you have of the holiday? Please share below.
If you do the activities I shared above, please tag me @spotofsunshinechinese. I would love to see what fun things you do with your kiddos.
More Mid Autumn Festival Fun
For some more fun Mid Autumn Festival activities, check out the following posts:
More Goodies
For some more fun activities and read up on how I'm teaching my daughter Chinese, check out the following posts:
Don't Do It Alone!
For support from likeminded parents, please join us at Christian Parents Raising Bilingual Children in English & Chinese.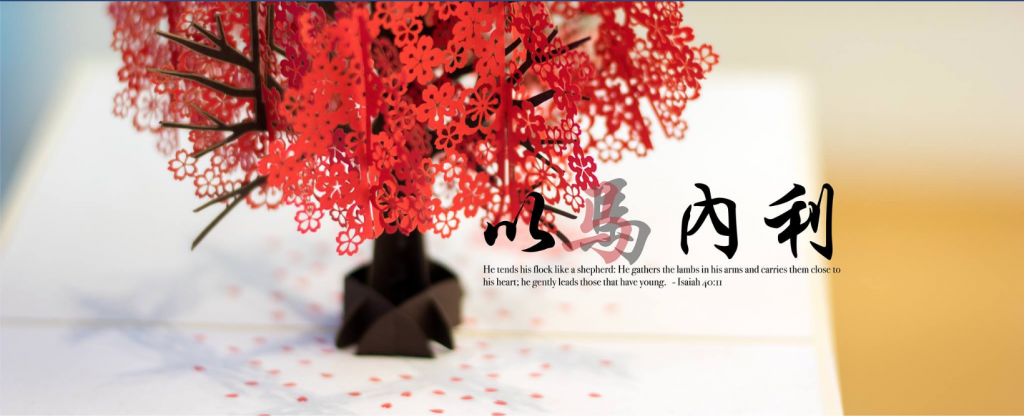 Another great FaceBook group for parents raising bilingual kids:
Follow me on my FaceBook Page & Instagram where I share more helpful tips for teaching your child Chinese in monolingual context while keeping it sustainable.