New Year Crown is a great way to welcome the new year with your kiddos while exposing them to more Chinese characters.
I print this out each year and have my daughter decorate and share her New Year resolutions.
It's been fun to see how they change each year. This year, her resolutions were to: 烤餅乾 (bake cookies),去台灣看阿嬤 (go to Taiwan to visit Ama (grandma in Taiwanese)).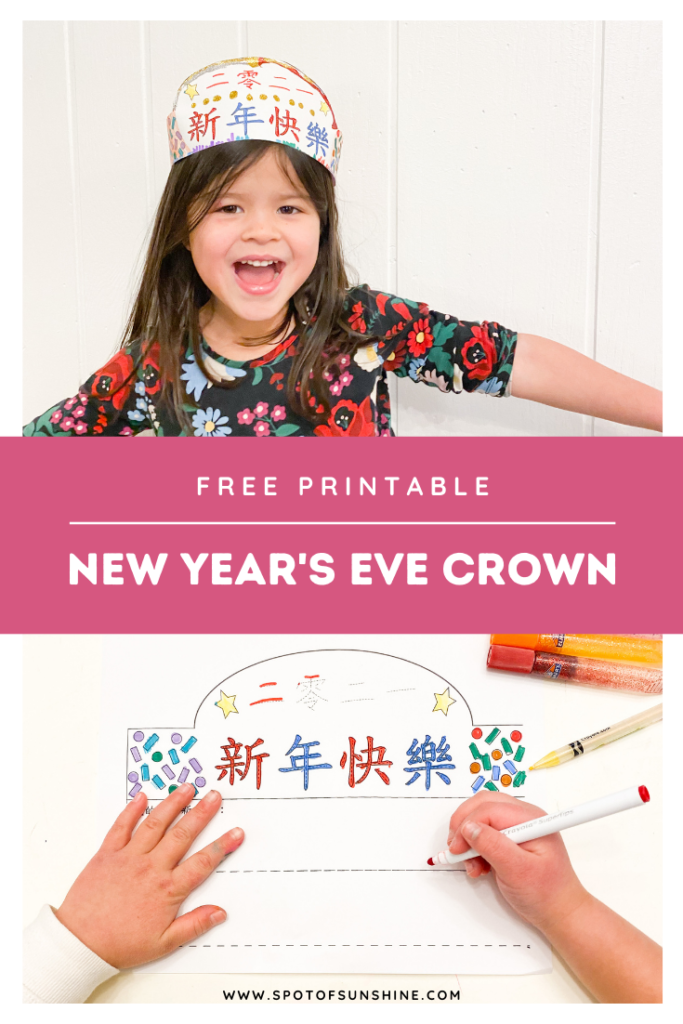 This is a super easy craft to help you and your little ones join in the New Year festivities and be exposed to some Chinese characters.
All you need to do is to print out my FREE printable (traditional and simplified are available), color and then either tape or staple the headband according to the size of the child's head.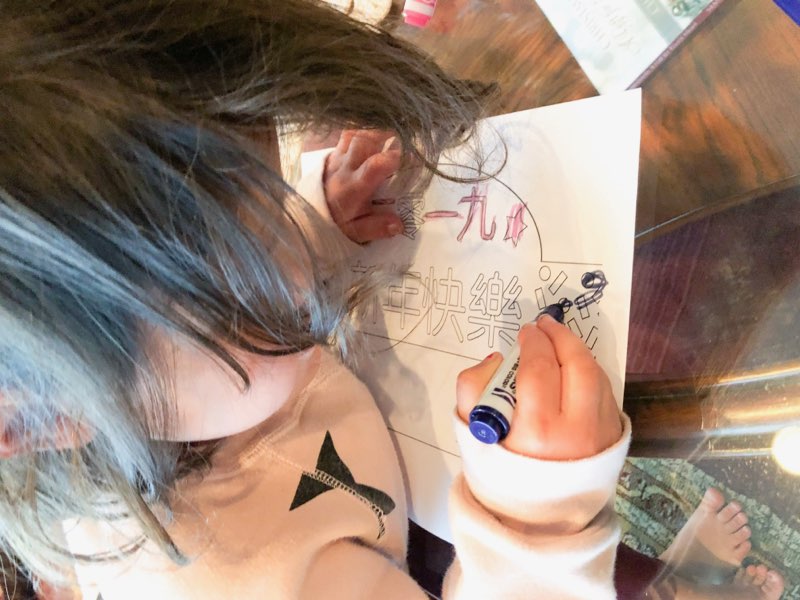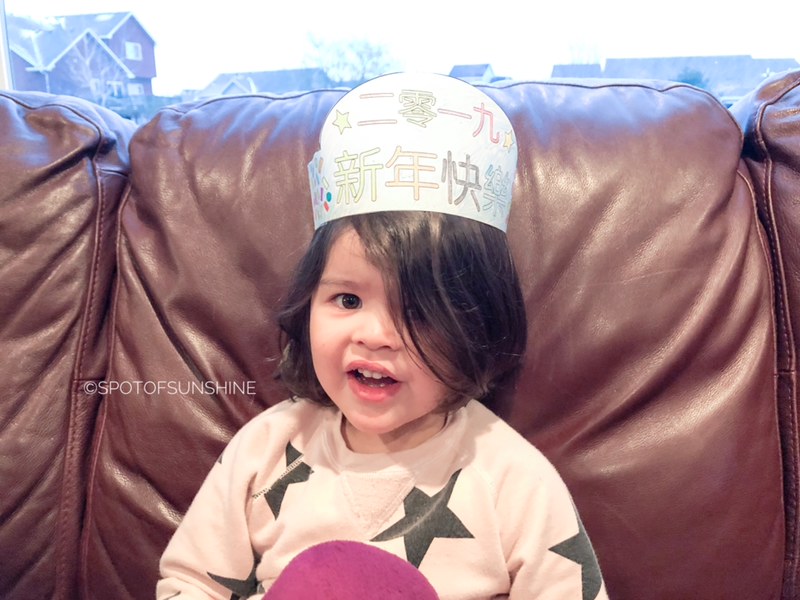 We enjoy this New Year tradition and hope you and your kiddos will too!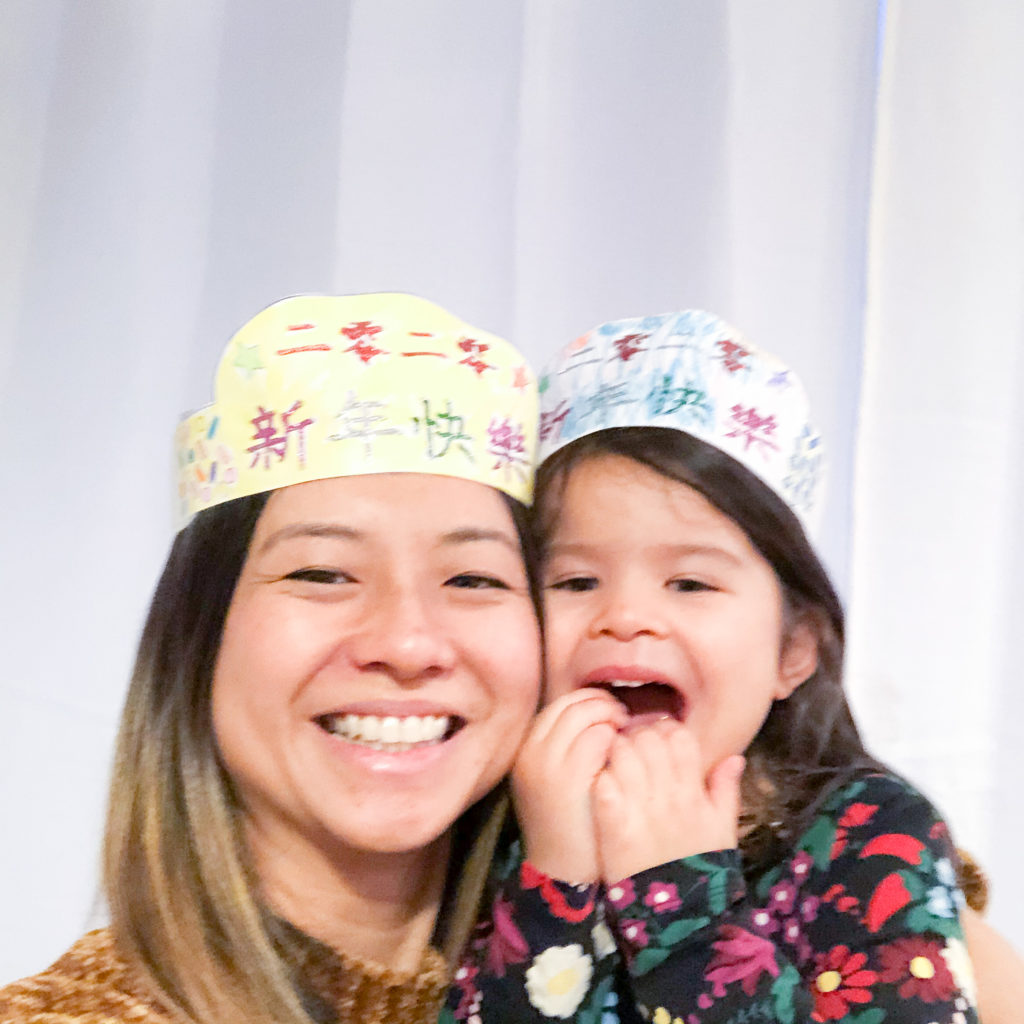 Access Printable
To access the printable, you need to first sign up for my newsletter (see below) if you haven't yet then you'll receive a confirmation email with the password to get you into my printables page.
New Year Resolutions in Chinese
I included a section on the headband for older kids to write down their new year resolutions which is called "新年新希望/xīn nián xīn xī wàng" in Chinese. For younger kids, you can ask them what their resolutions are and either have them draw it in themselves or write it down for them.
How ask your kids about their New Year resolutions in Chinese:
Traditional:「明年妳有沒有甚麼想要達成的目標?」
Simplified: 「明年妳有没有什么想要达成的目标?」
Pinyin:「Míngnián nǎi yǒu méiyǒu shé me xiǎng yào dáchéng de mùbiāo」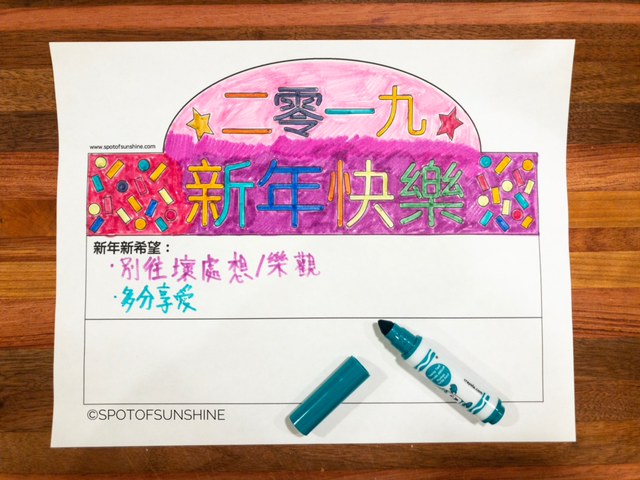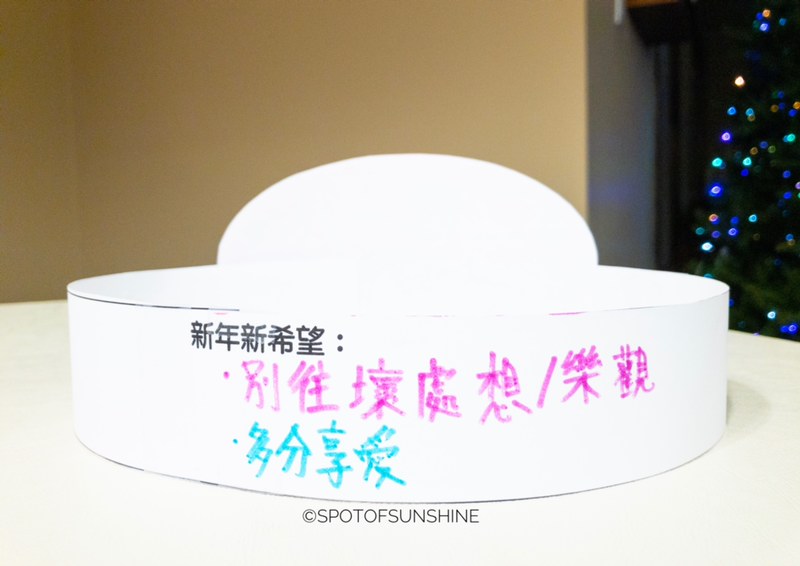 Fun Fact: New Year Celebration in Taiwan
When we were living in Taiwan, most people would watch performances by singers on new year's eve then participate in the countdown and watch the spectacular fireworks at Taipei 101 either live or from the comforts of their home. Locals will only say "Happy New Year/新年快樂/xīnnián kuàilè" after the Chinese Lunar New Year.
If you do end up making this new year crown, please tag me @spotofsunshineChinese. We'd love to see your creation!
More Chinese Learning Goodies
For some more fun Christmas related material, check out the following posts:
Don't Do It Alone!
For more support and to commiserate with likeminded parents, please join us at Christian Parents Raising Bilingual Children in English & Chinese.
Other great FaceBook groups for parents raising bilingual kids:
Follow me on my FaceBook Page & my Instagram accounts where I share fun Chinese activities (@spotofsunshineChinese) we're doing and encouragement for your heart rooted in Christ (@spotofsunshine).