Chinese YouTube for kids is a great tool for bilingual families. Not only are they free and readily available on your phone or smartTV, they're also a great way to build up your own Mandarin vocab as a parent.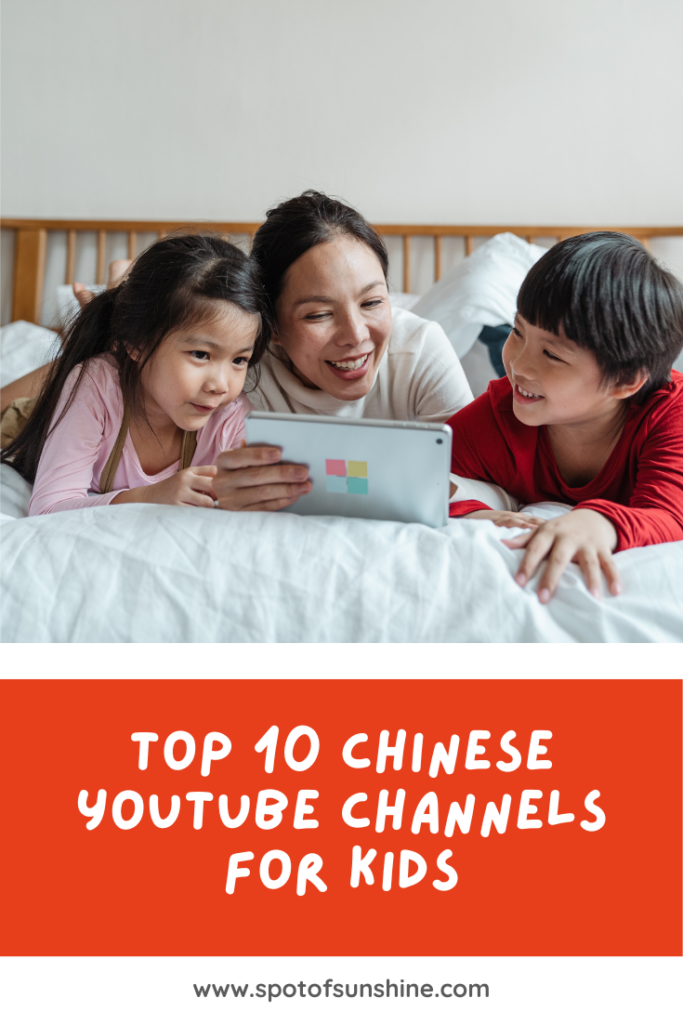 Below are the top 10 out there so you don't have to keep searching on your own!
I also include direct links and recommended shows if there are a lot in the channel.
This channel is created by the popular children's magazine with the same title. My daughter loves their magazine and that's how we found their YouTube channel.
This is a great resource for younger kids and those starting school. Their videos cover many topics that are covered in preschool or kindergarten.
Their videos are a great tool to help you discuss the same themes at home and build up both you and your child's vocabulary. This way, you can begin to talk about things they're learning and interested in so English doesn't start to take over in your home.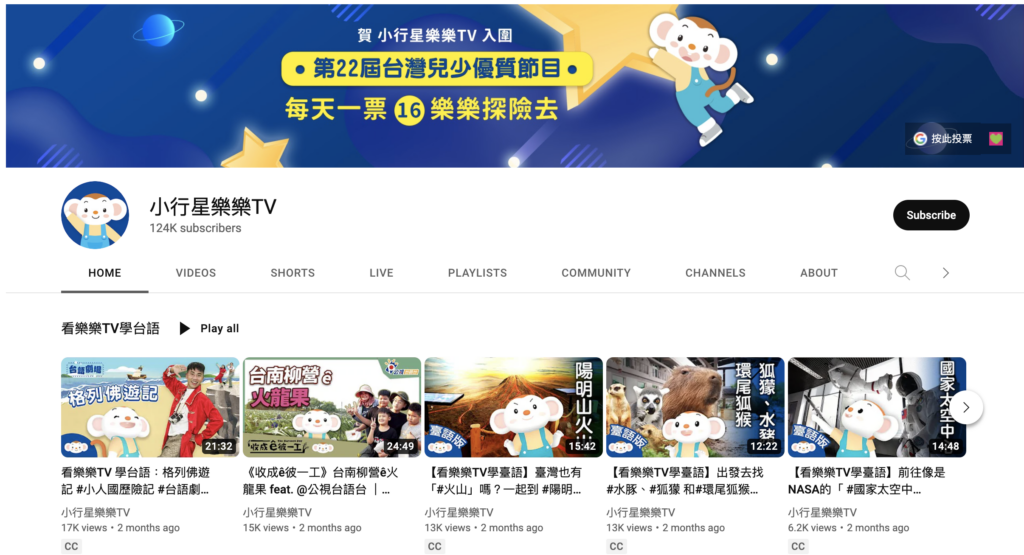 Age: toddler to early school age
Content: Chinese holidays, science, arts and craft (drawing), traveling in Taiwan, stories and much more!
This is a great Chinese youtube for kids with content for beginning learners. This is a great resource for non-heritage learners as well as beginners.
They have a wide variety of videos from teaching beginning phrases to chants and pinyin. Phrases are clearly and slowly annunciated. Each video also has corresponding pinyin and Chinese characters.
Age: Preschool+
Content: useful phrases, pinyin, stories, songs geared towards beginning learners
Popular Taiwanese kid's television channel uploads a lot of their content on YouTube.
There are so many shows to choose from! From stories, to Chinese idioms, songs, arts and crafts, yoga and even a show teaching kids how to do chores all in Mandarin!
Be sure to subscribe to them today!
Age: preschool+
Content: Stories, songs, arts & crafts, exercise videos, Chinese idioms and much much more!
Recommended Shows:
Created by a bilingual mom, Mama Laoshi is an adorable channel full of well-made videos with clearly annunciated dialogue between a mom and her daughter. Lots of great content to build up your family's Mandarin!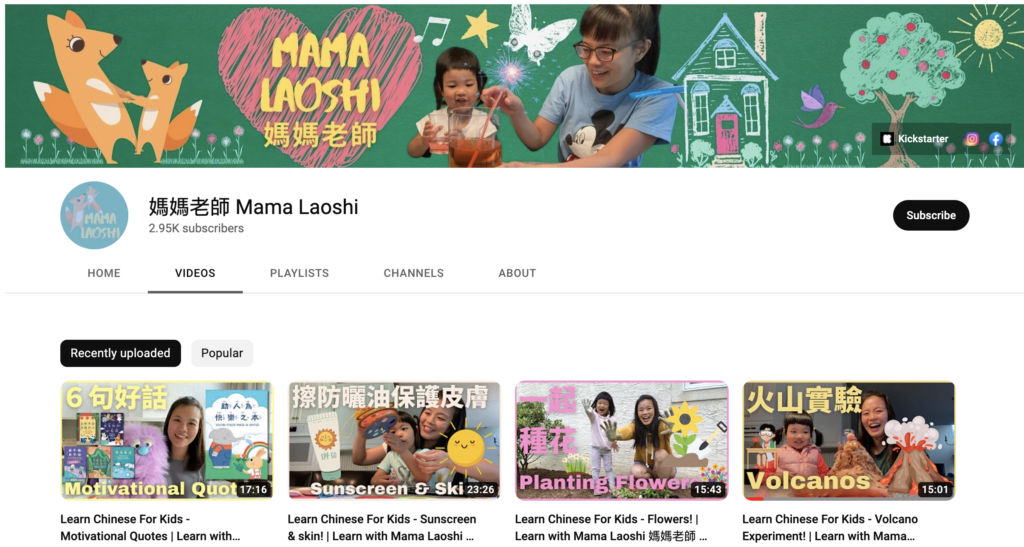 A great tool for prepping for school or building Mandarin vocabulary for all the things your kids will be learning at school.
Age: toddler+
Content: science experiments, excursions and other everyday interactions, lots of useful phrases
This Chinese youtube for kids is run by Susie, a bilingual preschool teacher. She runs her own preschool and teaches her students and five kids Chinese!
She uploads great content geared towards preschoolers learning Mandarin.
Age: Preschool
Content: story time, useful phrases kids would learn in preschool
Mango TV Chinese YouTube for Kids
A popular Chinese TV channel has some great live action shows for kids.
This is the same channel that produced the well known 爸爸去哪兒/Dad Where Are We Going?
Great resource if you're looking for a Chinese youtube for kids with quality live action content the whole family can enjoy together.
Recommended Shows:
Official Chinese YouTube Channels of Popular English Cartoons
There are quite a few so instead of posting them one by one, I share the most popular ones right here. Playing Mandarin version of cartoons your child likes is a wonderful and easy way to begin to build up or introduce the language.
Since they're already familiar and enjoy the show, it will help them build their comprehension.
Ever child's favorite show is now available on YouTube in Chinese!




For those with older kids who are into anime, here's a great Chinese YouTube for kids to explore!

Age: grade school+
Content: cartoons and anime from China
More Great Chinese Shows for Kids
More Helpful Chinese Learning Resources