Curio book subscription box aims to take the guess work out of finding quality books for bilingual families in the United States.
I don't know about you, but it can be hard figuring out which books to buy to create an immersion environment at home. There are so many out there, it can be hard to know where to start.
Enter book subscription box made for families raising bilingual kids! Curio's book subscription boxes brings target language books right to your door!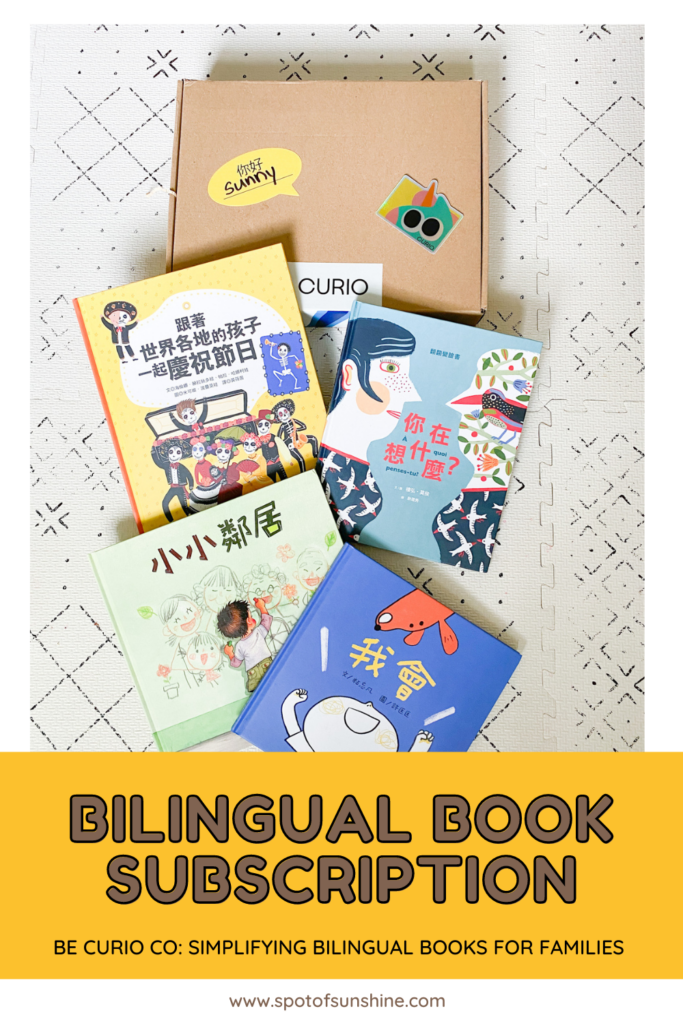 I've been seeing a few Chinese ones pop up and so when Curio reached out, I was intrigued.
They gifted us with a book subscription box. Below I share our experience with it and how my kids liked the books and resources included.
Be sure to read to the end for a special discount code for my readers!
This is a sponsored post. All reviews and opinions expressed in this post are based on my personal experience.
In each book subscription box, you can find three to quality four award winning books to help build your target language print rich environment at home.
Audio recordings for each book are also available to assist families in learning the target language.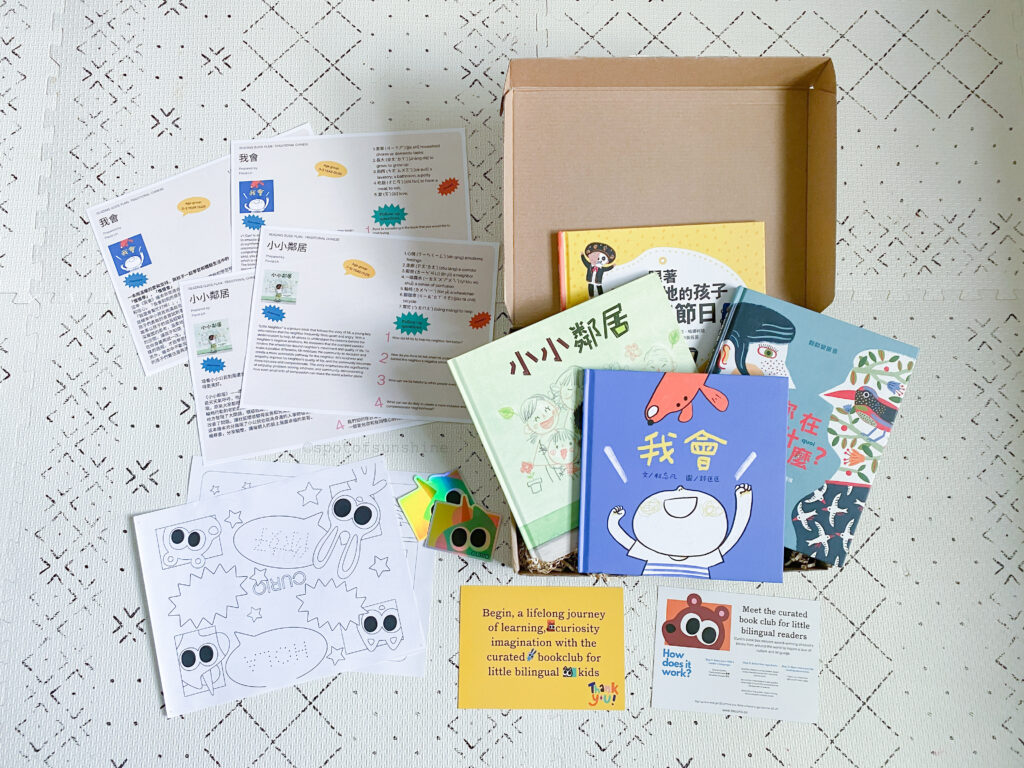 Languages currently available for the book subscription box are Spanish, traditional Chinese and simplified Chinese.
Curio plans to add more languages in the future! Email them to request a specific language: hello@becurio.co.
Books within each book subscription box are tailored to three age groups:
toddlers (Bud Box 0-3 years old)
preschool (Sprout Box 4-6 years old)
grade schoolers (Bloom Box 7-8 years old).
When signing up, Curio has you enter your child's birthday to help you select the right age group.

Their book subscription box comes once every three months and includes reading guides where some key phrases from each book is explained. These are available in both English and the target language (traditional Chinese with zhuyin, simplified Chinese with pinyin).
The reading guides also includes discussion questions to help your family go deeper in talking about each book.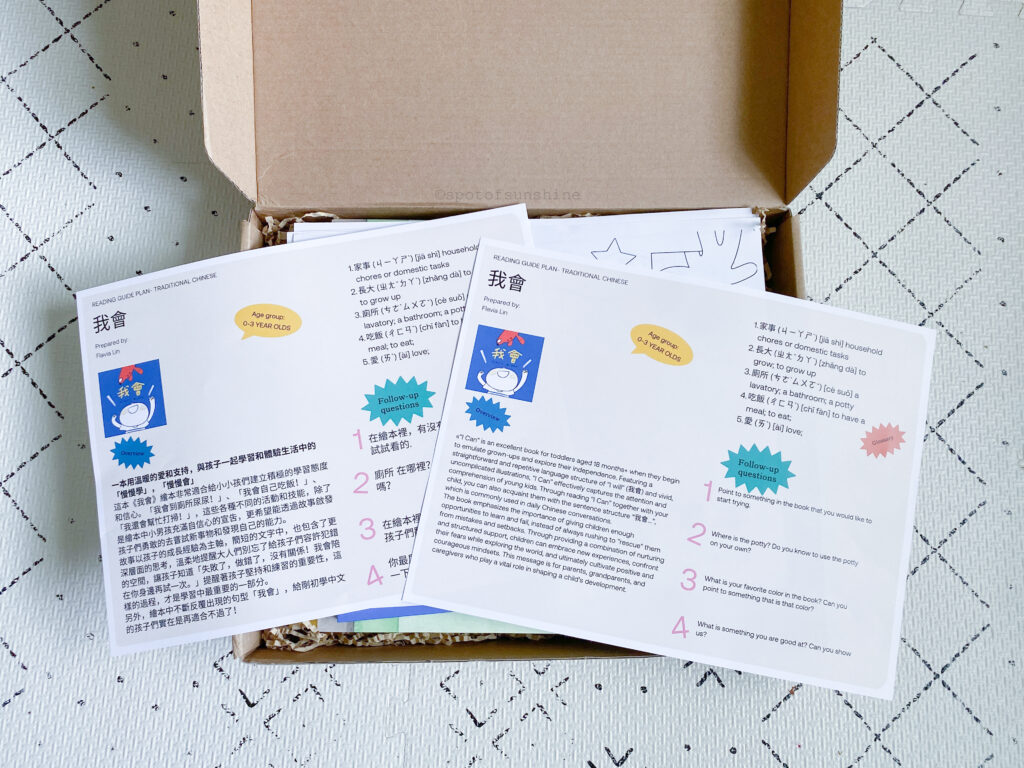 Bud Boxes come with coloring pages for little ones.
Subscriptions can be paused, skipped or canceled anytime!
My Honest Review of Curio Book Subscription Box
Pros to Curio Book Subscription Box for Bilingual Families
I love the concept of subscription boxes for busy families trying to navigate the choppy waters of bilingualism.
There's so much to figure out from curriculum to how often to immerse your child to ensure they're bilingual.
So when there's a service to simplify an important aspect of bilingual parenting like Curio, I want to share with you because teaching your kids another language is already challenging.
Having quality children's books in the target language in the house helps tremendously. Not only does it help expose kids to the characters, but having them available increases the opportunities both you and your kids will reach for them.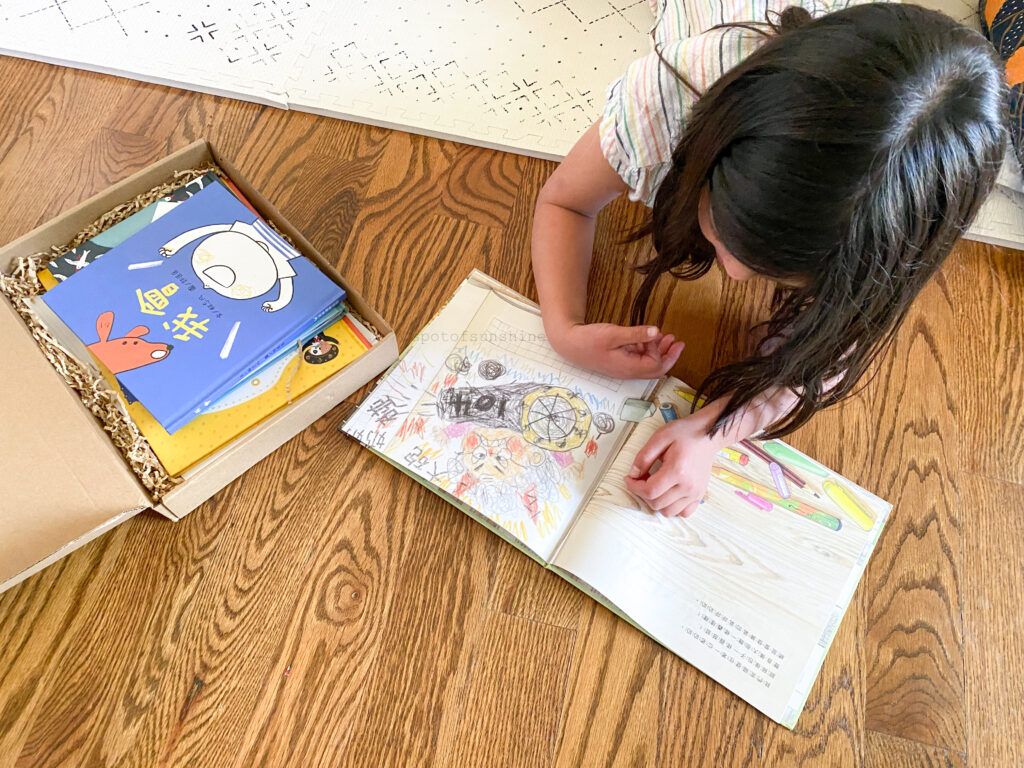 A study found that the number of books a child has at home is correlated to how well they perform at school. The same can be said of teaching a child a second language. Having quality books in the target language will increase the likelihood of learning and retaining the language.
What I appreciated about the books that were in our box was that the two books intended for my son both had a male protagonist.
I know that these types of books can be hard to find in Chinese so I can tell Curio really puts a lot of thought into each subscription box!
Books Included in our Curio Book Subscription Box
In our box, we received four books:
我會 / I Can by Taiwanese author and illustrator

A little boy sharing all he can do. Love the simple yet sweet story. Great read for toddlers.

小小鄰居 / Little Neighbor (translated from Korean)

The story is about a little boy who tries to help out his neighbor, a grandmother who is in a wheelchair. A great story to teach about kindness.

你在想什麼? What are you thinking about? (translated from French)

This is an interesting modern book about what different people are thinking. This lift-the-flap book feels very French and artsy in that the illustrator brings to life each character's thoughts.

跟著世界各地的孩子一起慶祝節日/How Children Celebrate Holidays around the World

Wonderful reference book on different holidays around the world and how they're celebrated.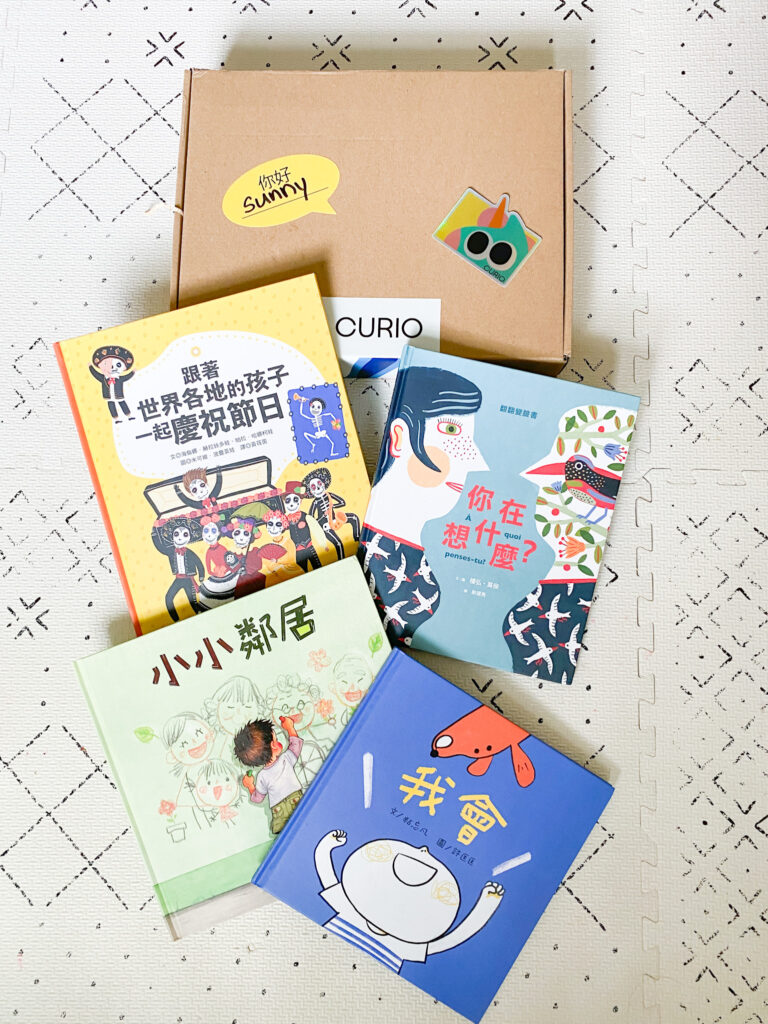 Some Things to Consider
Curio book subscription box for bilingual families would be a great place to start when curating your own target language library. I think later on though, once you discover your child's interest, parents would likely move away from subscriptions like these and choose books on their own.
The only small caveat with a book subscription like this one is that each subscription box is curated by someone. So the books they choose may not exactly reflect your own personal values and the interests of your child. This may not be a big deal at all but it's still something to keep in mind.
Special Discount for My Readers
For a limited time, you can get 10% off a book subscription, simply enter "spotofsunshine" when you check out on their site. Be sure to check out this great resource for bilingual families!
Other Great Resources for Building Your Chinese Library:
Helpful Resources for Raising Bilingual Kids