I knew I wanted to do devotions as a family before I had Sadie. But when faced with the responsibility of teaching my daughter about Jesus it felt like a daunting task. I didn't know what to say never-mind trying to say it in Chinese. I've been working in full-time ministry for most of my twenties but my audience were predominantly teens and young adults.
Overtime, through trial and error and reading more about family devotions, I realized that God is far more dedicated to my child's walk with Him than I am. Ultimately, my daughter is His child whom He has entrusted to me for this short season. He will lead and guide me and you as well! (YEAH!) I just need to start doing it and He will come alongside me and help me.
Having the right resources helped a ton! It gave me language to communicate the deep and wonderful truths of God in a way that my toddler can understand. Words used to express our faith in Chinese is pretty different from conversational Chinese. So having the right books to help familiarize you with this new set of vocabulary is very helpful.
I don't fully understand why that is, but I have a inkling that it may have to do with the fact that the most widely used Chinese translation of the Bible is still pretty difficult to understand.
Some parents choose not to do devotions in Chinese simply because it's too challenging to talk about something so intimate in an unfamiliar language. I think that's a great idea! So please don't feel pressured to do family devotions in Chinese if you're not comfortable with it. Do what works for your family and what God's leading you to do.
Here are five of our favorite resources! I hope this helps your family (All resources are in Traditional Chinese and ones with Zhuyin are indicated as such. If you can recommend some Simplified Chinese Christian devotionals for kids, please share it in the comments section!)
Children's Books for Devotions (infant-toddlers)
Jesus Storybook Bible 故事聖經 by Sally-Lloyd Jones 莎麗


Why We Love It
The Low-Down
The downside of this children's Bible is that there is no zhuying or recordings that are available. It's mainly geared towards readers who are fairly proficient in Chinese. I have to use my Pleco app to look up words sometimes (I'm at a junior high reading level).
The English version does have a recording available so I hope they'll do a recording in the future. Also some pages have a lot of words, I mean the whole entire page. It's pretty wordy and lengthy at times for a toddler so I have to come up with my own phrases to help our daughter catch the truth about God that's being taught. Other than that, we love this Bible.
Product Details
Age Level: newborn-elementary (reading to them, later on they read it themselves)
ISBN: 978-962-399-172-8
Publisher: 海天書樓
To Purchase:
Jesus Calling for Little Ones 耶穌的叮嚀-給主最親愛的小孩 by: Sarah Young 莎拉揚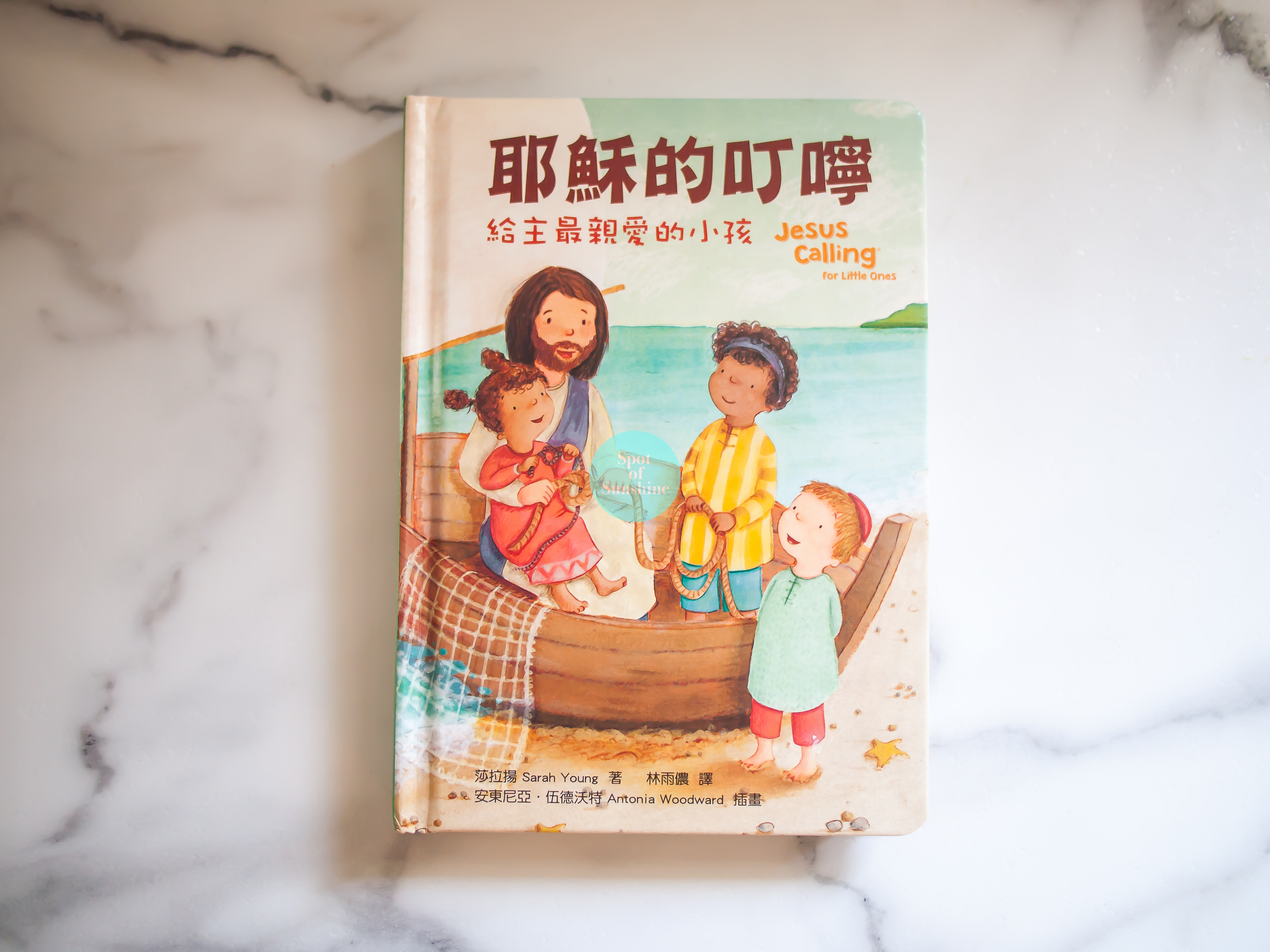 Why We Love It
I love this particular book because it talks about how God feels towards us, how to walk out our faith (prayer and thanksgiving) and covers the main important truths of God in simple language that's easy for children to understand (He is the creator of all things, He knows us, is always with us etc). It also has cute pictures on every page.
It has zhuyin and a Bible verse on each page. The book is from God's perspective speaking to us, His children which makes it more intimate and also helps kids begin to understand what it means to have a personal relationship with God.
The Low Down
The first page says that "God created all things, the sun, the ocean, flowers and fish and that they're all His beloved children as are we." Theologically speaking that's not true, only humans are considered children of God. That's my only qualm with the book.
Product Details
Age Level: newborn to toddler
ISBN: 978-986-6202-25-4
Publisher: 保羅文化
To Purchase:
Book Series on Learning God's Character 初學上帝的屬性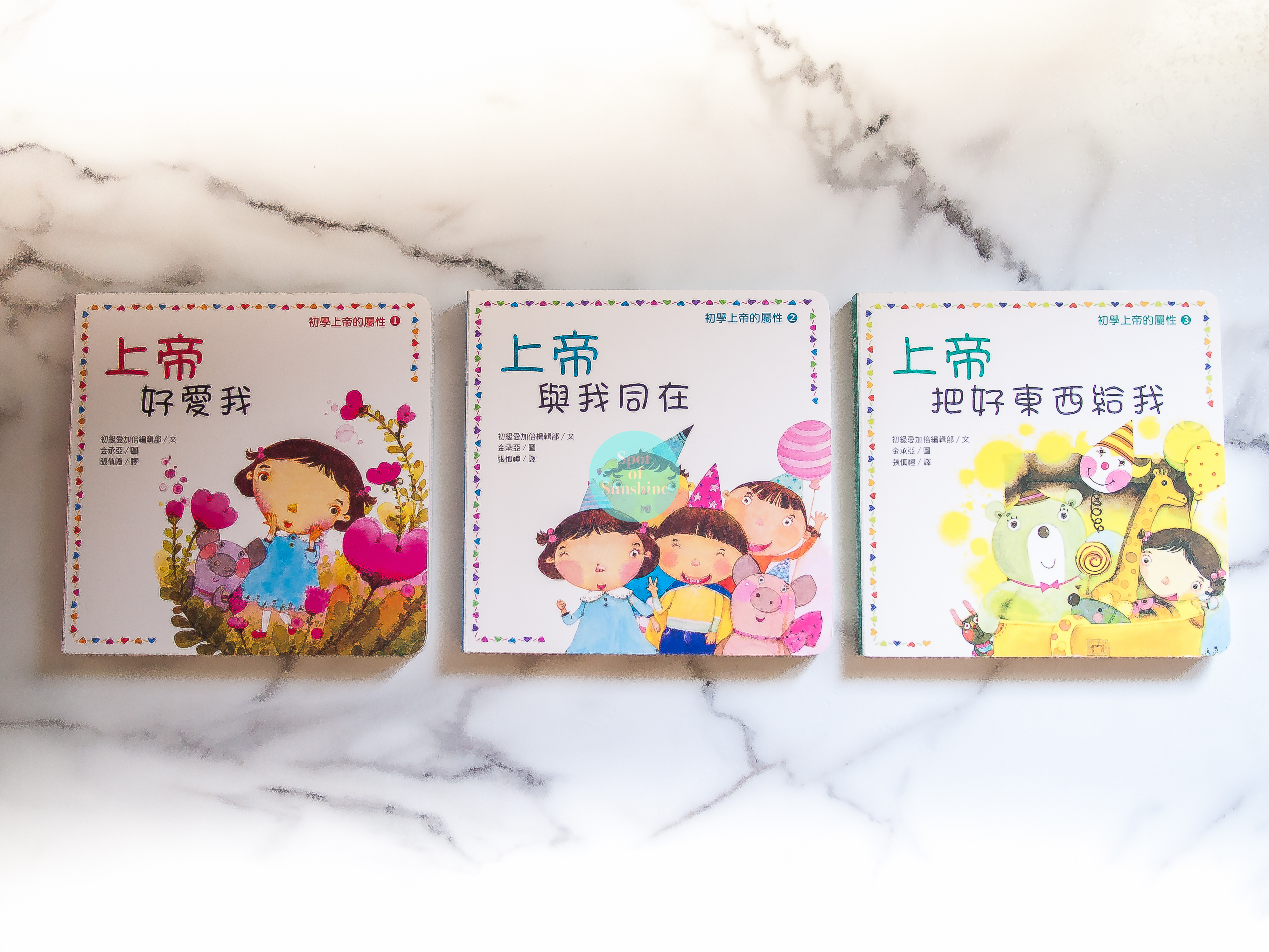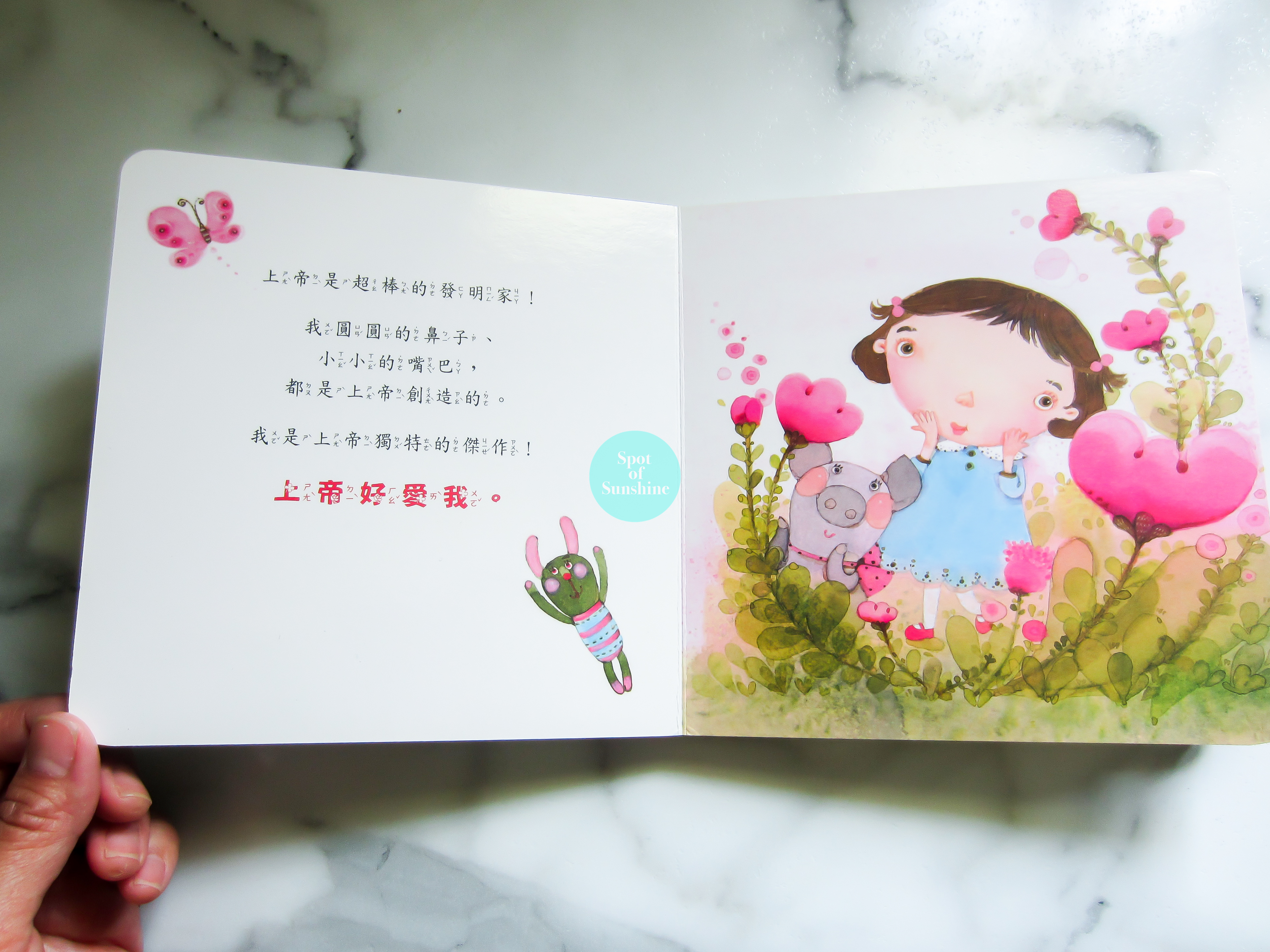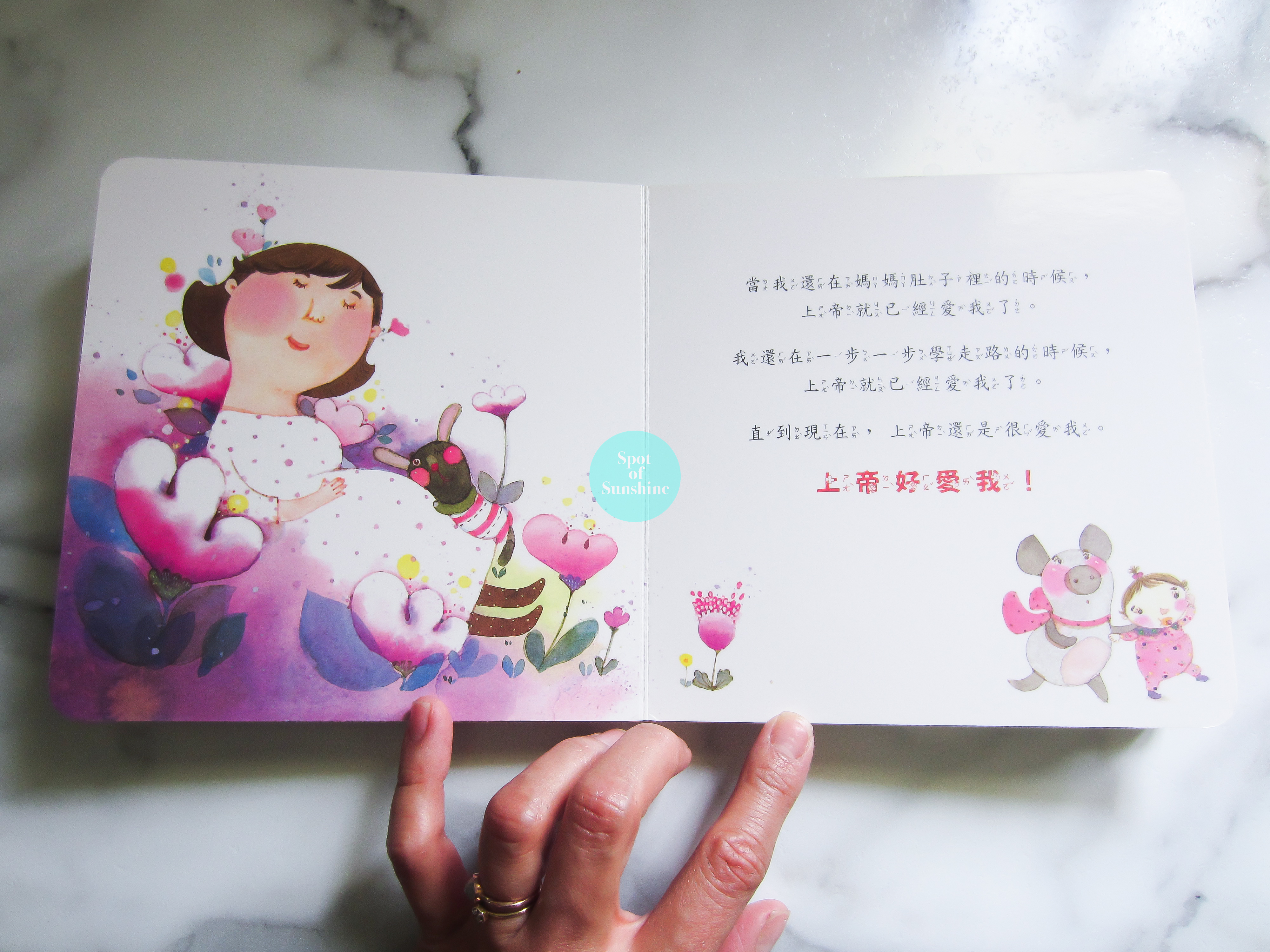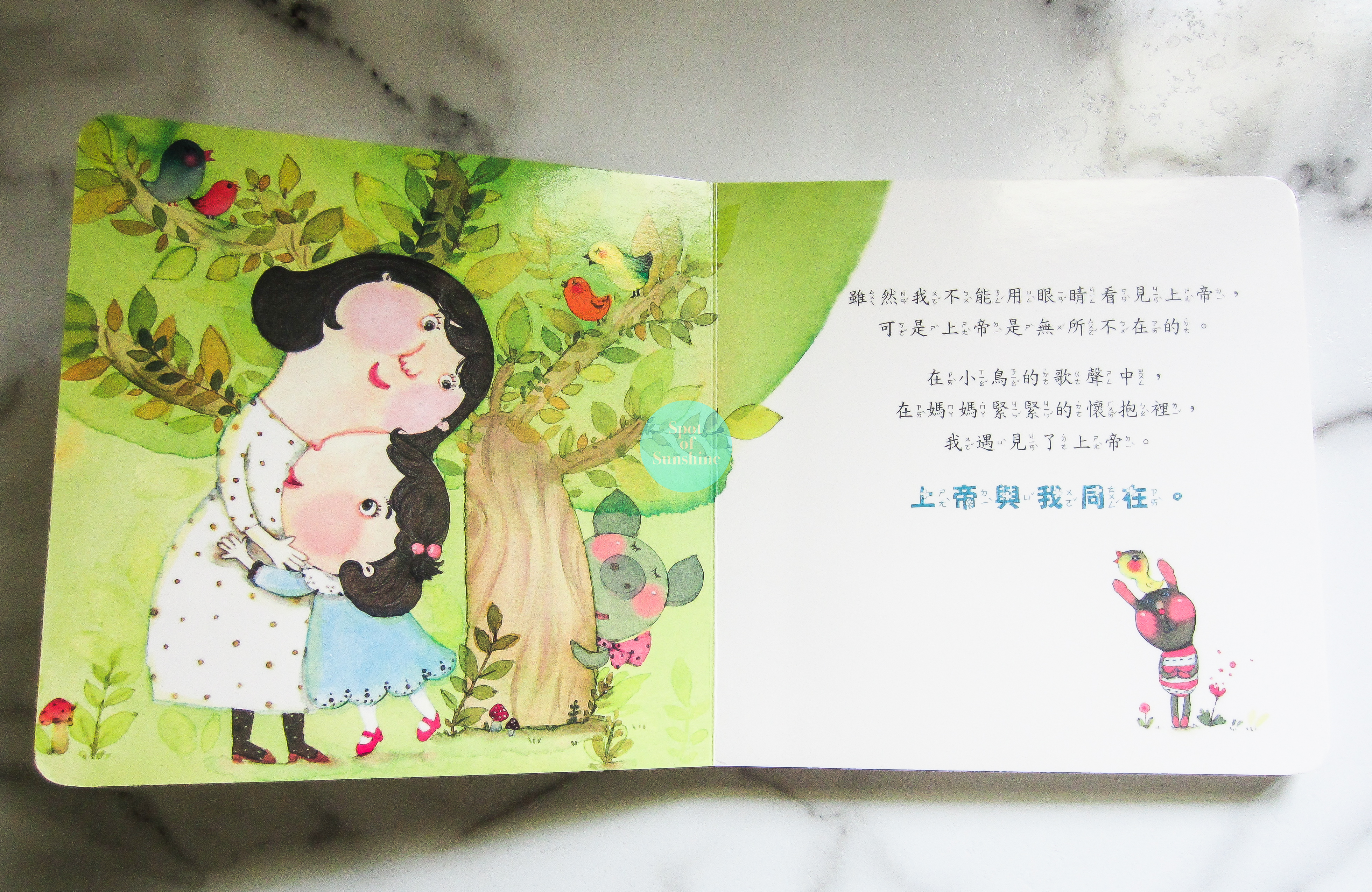 Why We Love It
This is a wonderful three part book series on the character of God. I love how the author connects aspects of life a toddler would already be familiar with (a mother's embrace, a bird's song) to help them understand God's love and goodness.
These are board books so pretty indestructible (Sadie's already ripped a couple of her favorite Chinese books much to my dismay) and has zhuyin.
This series is originally published in Korean. So for parents who are looking for good children's devotionals in Korean this would be a great choice.
The only down side to this book is that the illustrations are very cartoony, (my daughter will ask what's wrong with their faces) but other than this one tiny thing, we enjoy this book a lot.
Age Level: newborn-toddler
ISBN: 978-986-6205-33-0
Publisher: 道聲
To Purchase:
Found by Sally Lloyd-Jones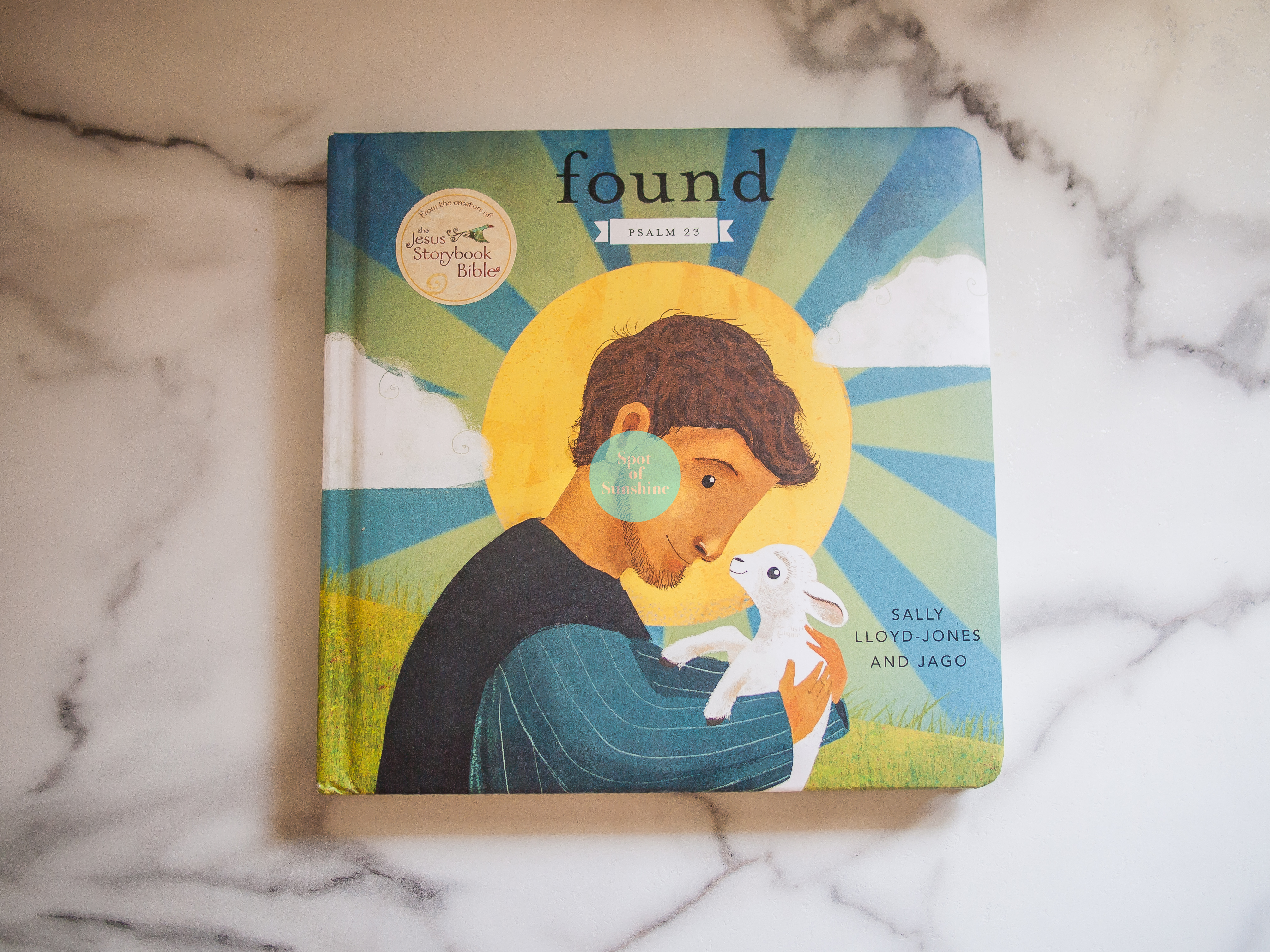 Although this book is in English, if you do purchase the Chinese version of Jesus Storybook Bible, it's basically Psalm 23 which is on pages 132-134. You can hand-copy it underneath the English text which is what I did. Ghetto, I know 😛
Why We Love It
I just love love love how the author Sally explains God's Word so much. It is so full of the truth of God and rich with His goodness and kindness. So whatever book of her's I can get my hands on and simply "translate" into Chinese, I will.
Product Details
Age Level: newborn-toddler
ISBN:978-0-0310-75750-4
Publisher: ZonderKidz
Stream of Praise Children Albums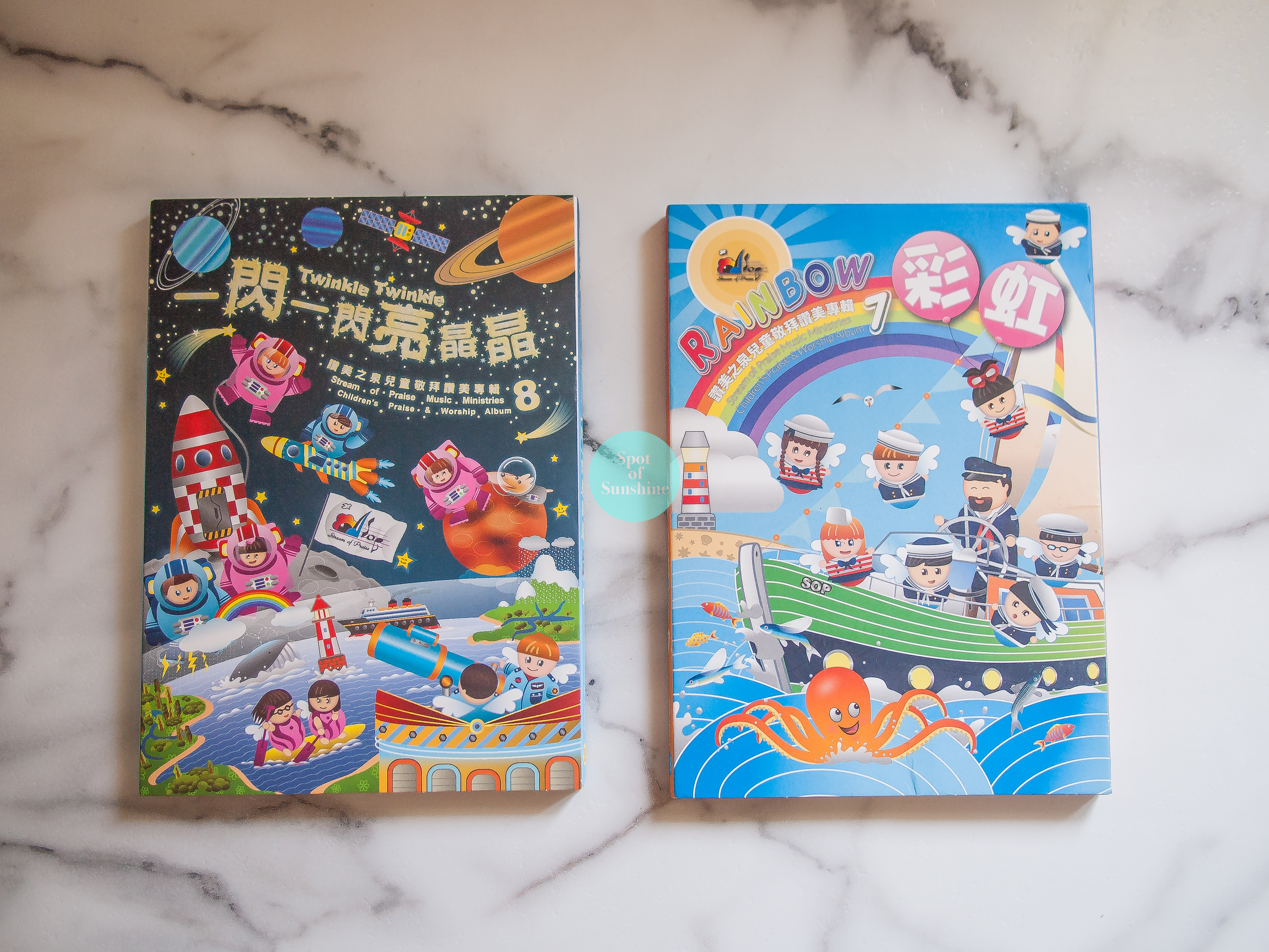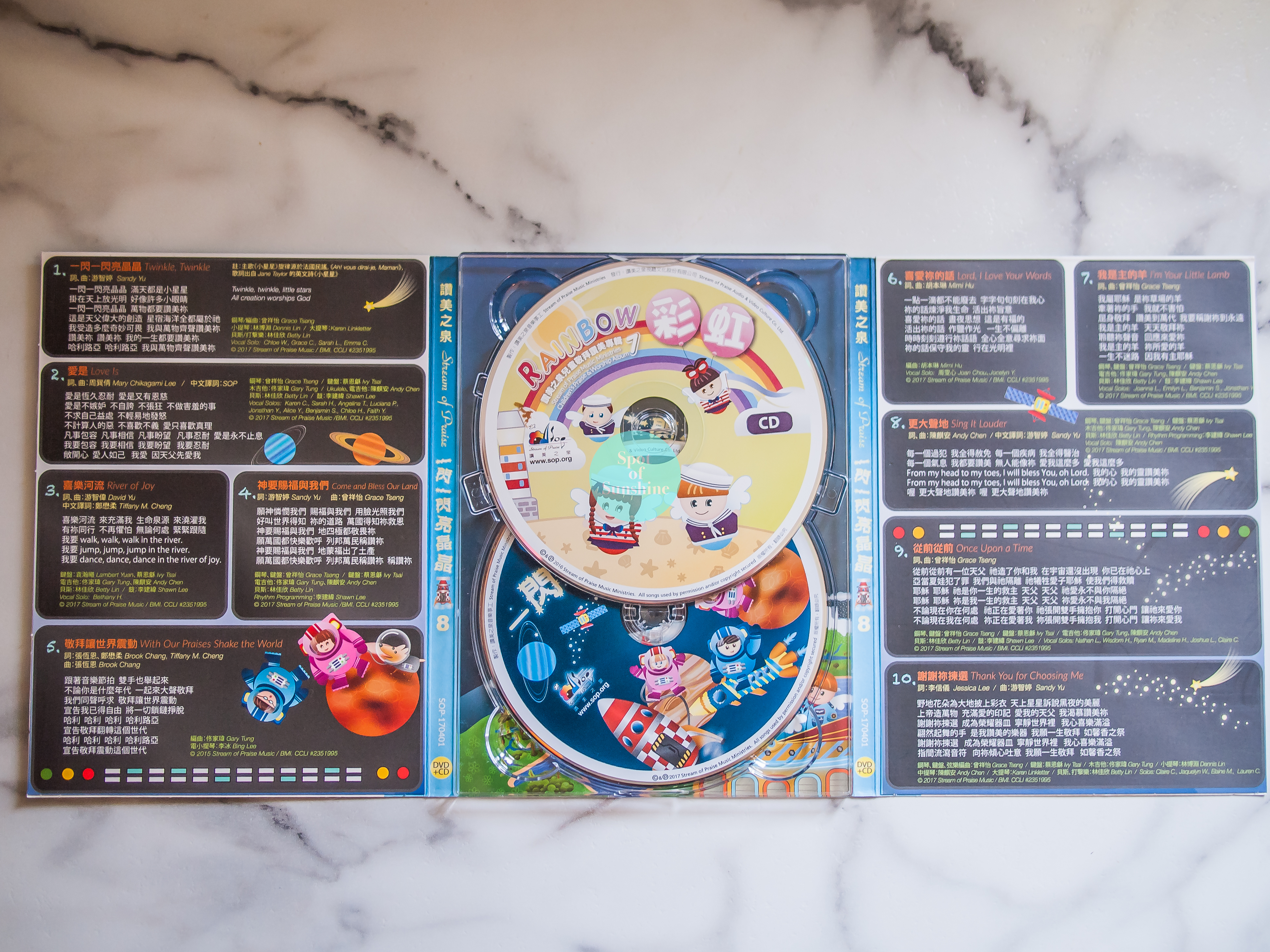 Why We Love It
We love Stream of Praise albums in our house! They're on a lot and I don't mind it at all, which is the true litmus test since toddlers love anything on repeat (再一次,再一次!).  I often hear Sadie singing….belting out rather, their beautiful melodies packed with life giving Biblical truths to herself.