COVID-19, by now everyone in the world is being effected by it. Perhaps you're wondering how to parent while you yourself are struggling with fear, confusion and uncertainty.
It may be tempting to regain some sense of control by stockpiling items or constantly scrolling through social media. But thankfully, God our good Father wants to help us, guide us and give us peace in midst of this storm.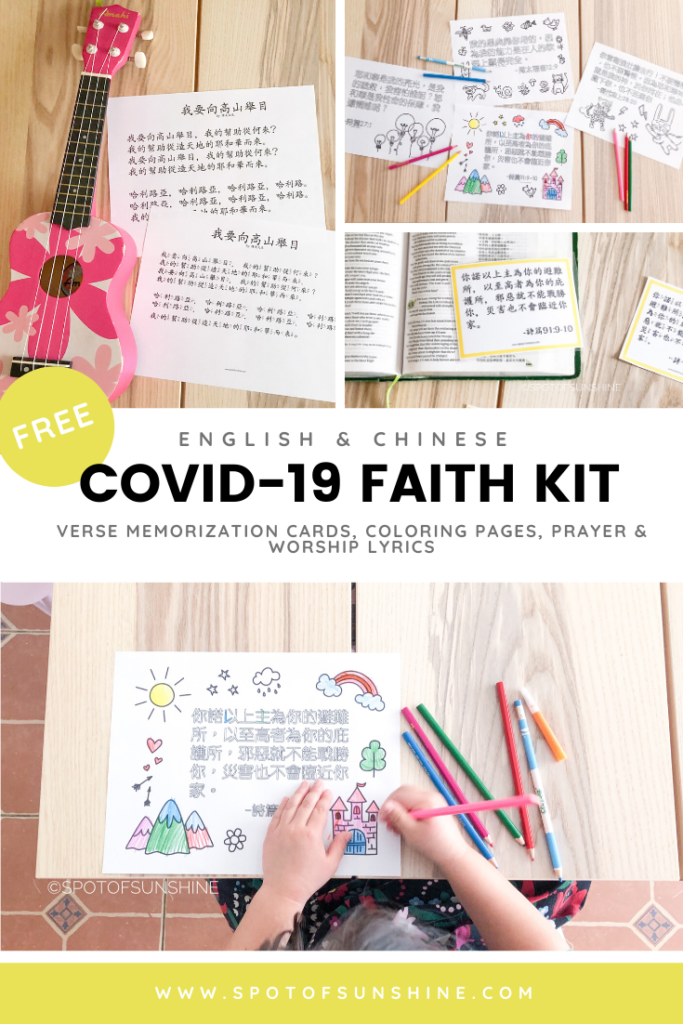 As I was processing through everything this week while juggling homeschooling, I really wanted to put something together to help us and other families focus and grow in faith during this time.
The COVID-19 bilingual faith kit includes:
4 verse memorization cards (one per week or whichever pace you want to go in)
4 Bible verse coloring pages
a simple prayer for kids
worship song lyrics
All that's listed above are available in both traditional and simplified Chinese with or without zhuyin and pinyin.
This time of quarantine is a great opportunity to worship and read Bible as a family to build up our faith and remember Jesus truly is the only one in control.
Faith Kit for COVID-19 & Other Challenging Times
Verse Memorization Cards
Memorizing Scripture is a great way to instill in our children and our own hearts the truth of God's Word. His word isn't just "positive thinking." With His Word, God created the world. He brought life and light into the world.
When we teach our kids to memorize God's unfailing truth, we're teaching them how to speak His truth which brings life and light into their hearts. We're also training them to stand on God's solid foundation that can't be shaken. Something we all need right now.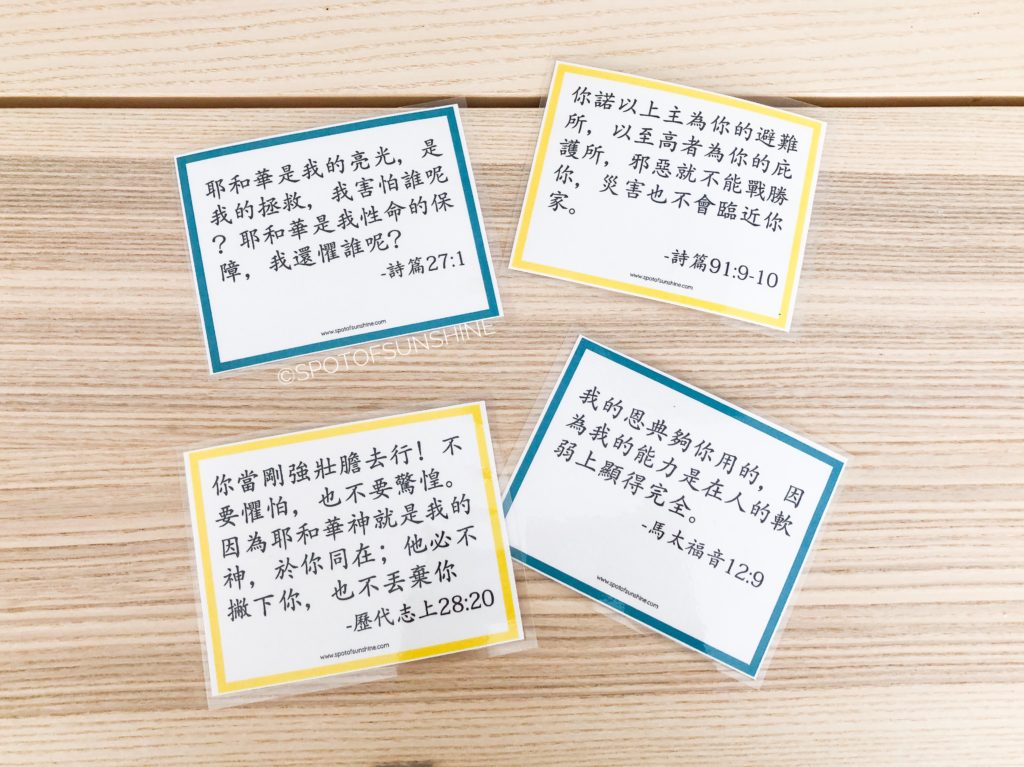 Many of my friends have shared that when they walked away from the faith, the verses their parents taught them as a child kept coming to mind.
I created four scripture cards with large Chinese characters that are clear and easy to read. They focus on God's character and His promises.
I encourage you to post these where your kids frequent to be a reminder (on the fridge, on the dinning room table, on the bathroom mirror etc.).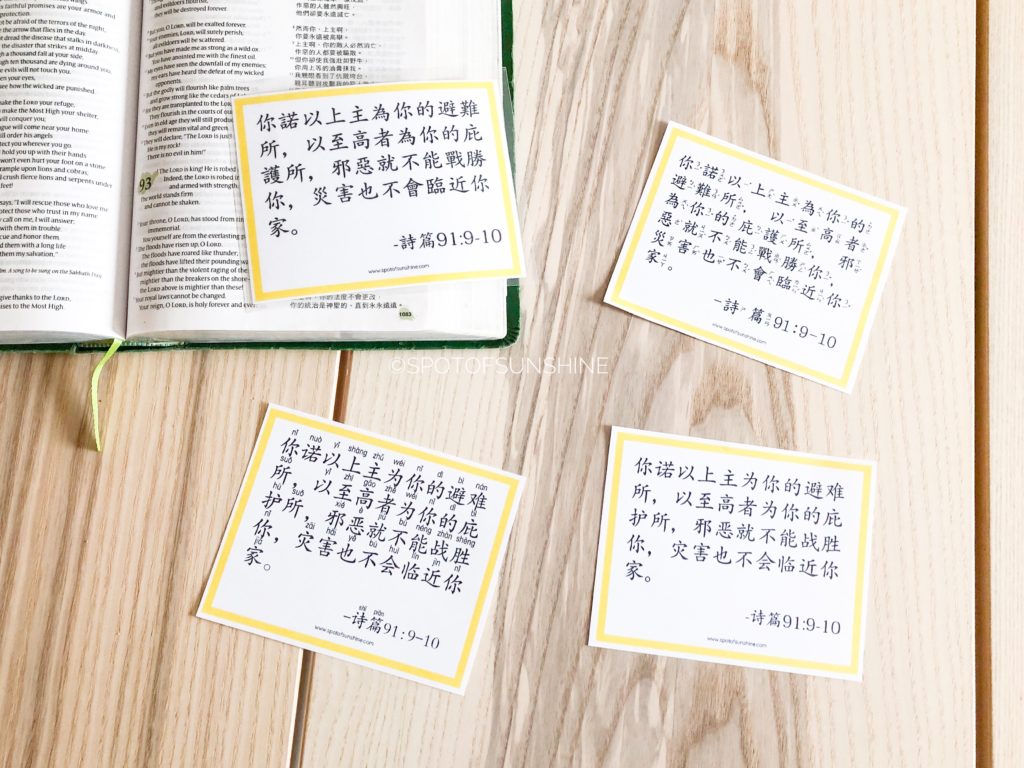 For our family, we usually do Scripture memorization in the morning after our morning devotionals.
For more Chinese family devotion resources and purchase information click here.
Scripture Verse Coloring Pages
Another fun activity to help with memorizing verses above included in the COVID-19 faith kit is verse coloring pages. My daughter LOVES to color.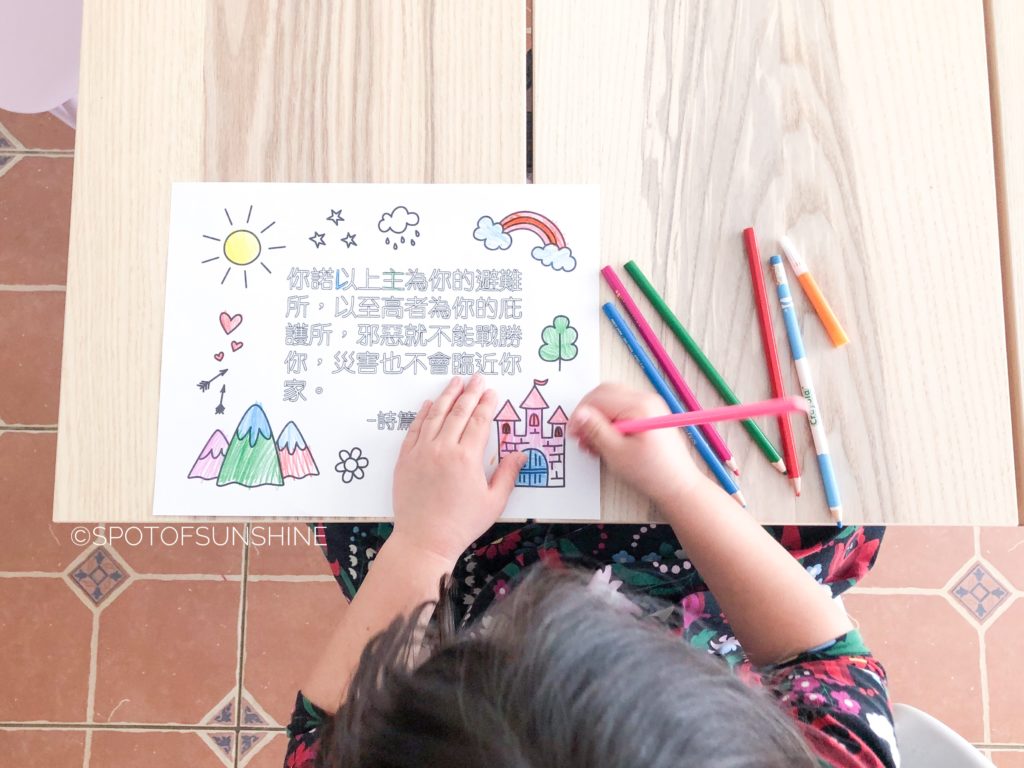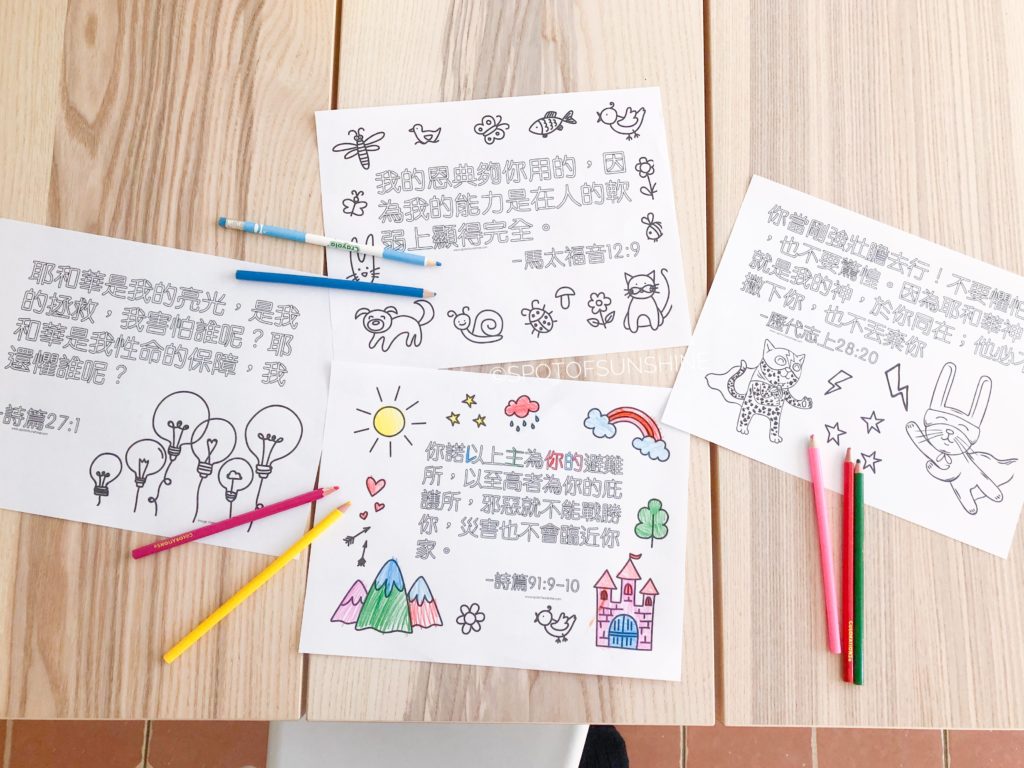 This would be a fun activity to do when you do verse memorization. Kids love to color and see their own works of art displayed around the house. This is a great way to not only build a Chinese print-rice environment, encourage writing and give children more exposure to the minority language in a Christ-centered way.
Prayer for Little Ones During COVID-19
Kids learn how to pray through us modeling it. Hearing how we pray before meals, for difficulties they face or before bed helps give them a frame work on how to pray.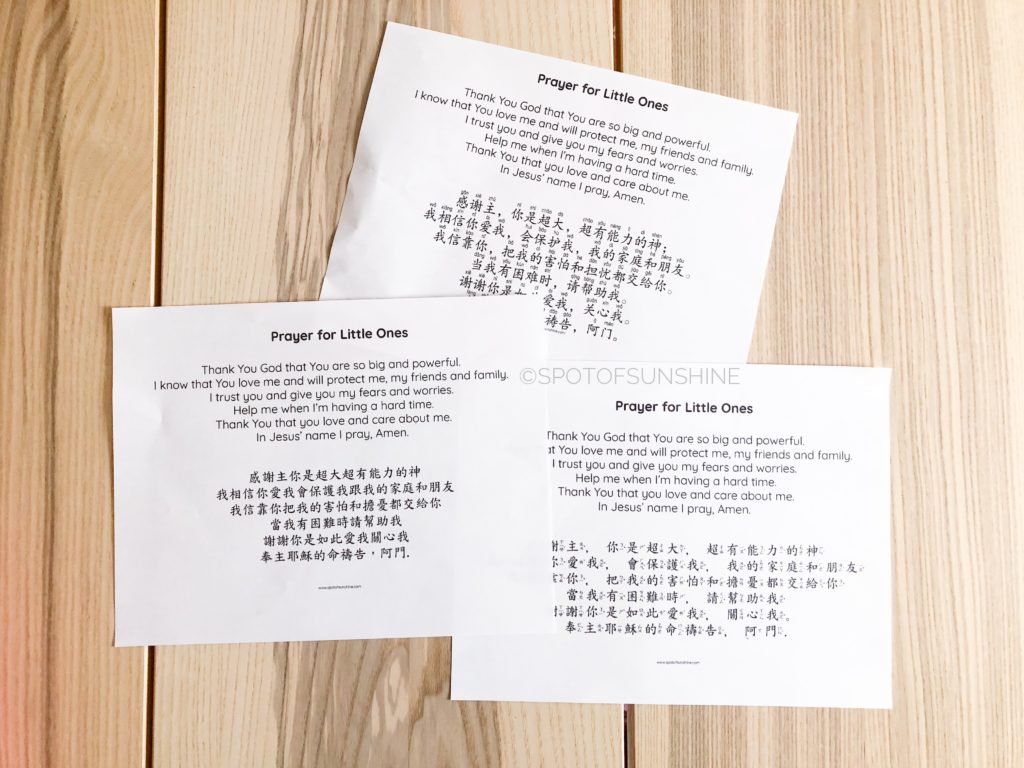 I included a short prayer to help them bring their fears before God and to remember His mighty power. Something we all need more practice in.
Worship: I Will Lift My Eyes to the Mountain/我要向高山舉目
Worship is a great way to help us remind ourselves who our God is and what He is like. Instead of preoccupying ourselves and our children with the things that are causing fear and confusion regarding COVID-19, let's focus on Jesus, the One who can really bring lasting peace into our hearts.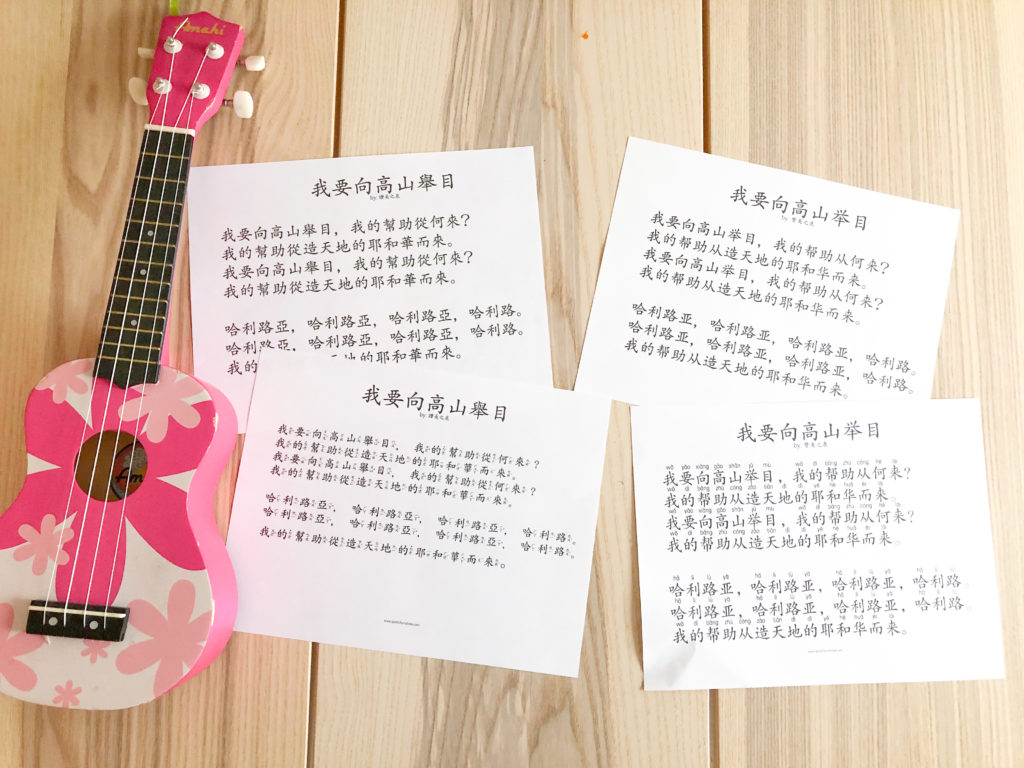 I love Stream of Praise song 我要向高山舉目, it's a simple yet powerful song reminding us of the faithfulness of our God.
How to Access Faith Kit
To access the COVID-19 Faith Kit, register below if you haven't yet. After confirming your email, you'll receive a password to access the printables.
If you've already registered, just go to my printables page and enter the password.
Thank you for stopping by! I hope this faith kit builds up your family's faith during this trying time. Be sure to tag me (@spotofsunshineChinese) so I can see the faith kits in action!
Other Helpful COVID-19 Resources:
Other Chinese Christian Resources
Don't Do It Alone!
For more support from likeminded parents, please join us at Christian Parents Raising Bilingual Children in English & Chinese.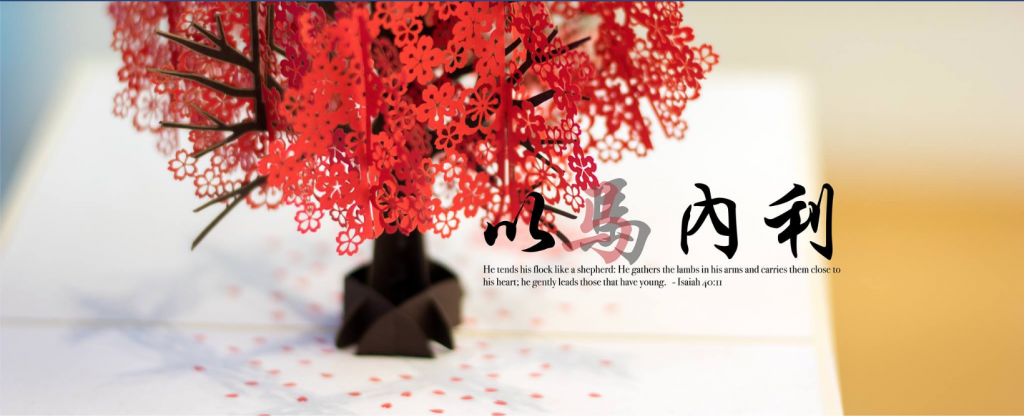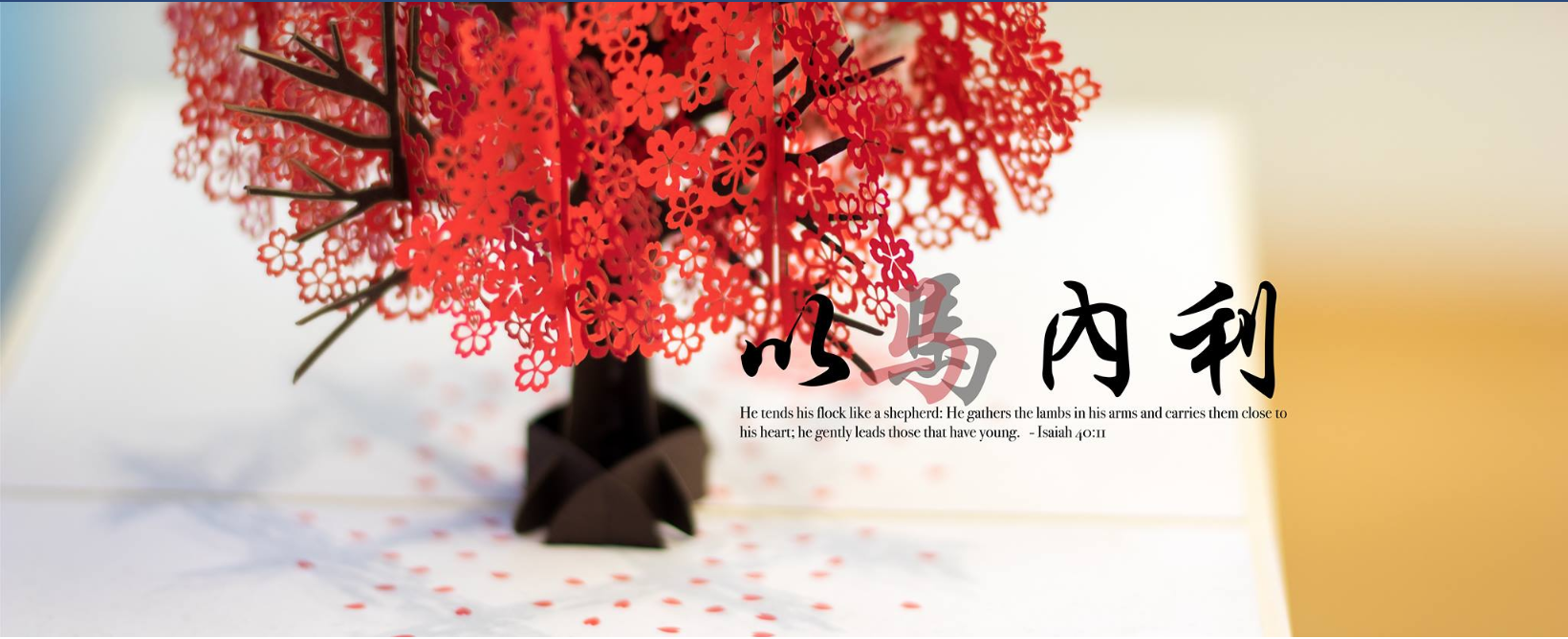 Other great FaceBook groups for parents raising bilingual kids:
Follow me on my FaceBook Page & my Instagram accounts where I share fun Chinese activities (@spotofsunshineChinese) we're doing and encouragement for your heart rooted in Christ (@spotofsunshine).