Dragon Boat Festival is just around the corner but what's the story behind this festival and how can you celebrate it with your kids? How do you even go about explaining a holiday that's based on a guy's suicide to children? Here are some great YouTube videos to help!
At first I did not want to celebrate this holiday with my daughter due to the origin of the holiday and not knowing how to talk about it with her. But after talking to other parents and watching the videos introducing the holiday to children, I came around to it.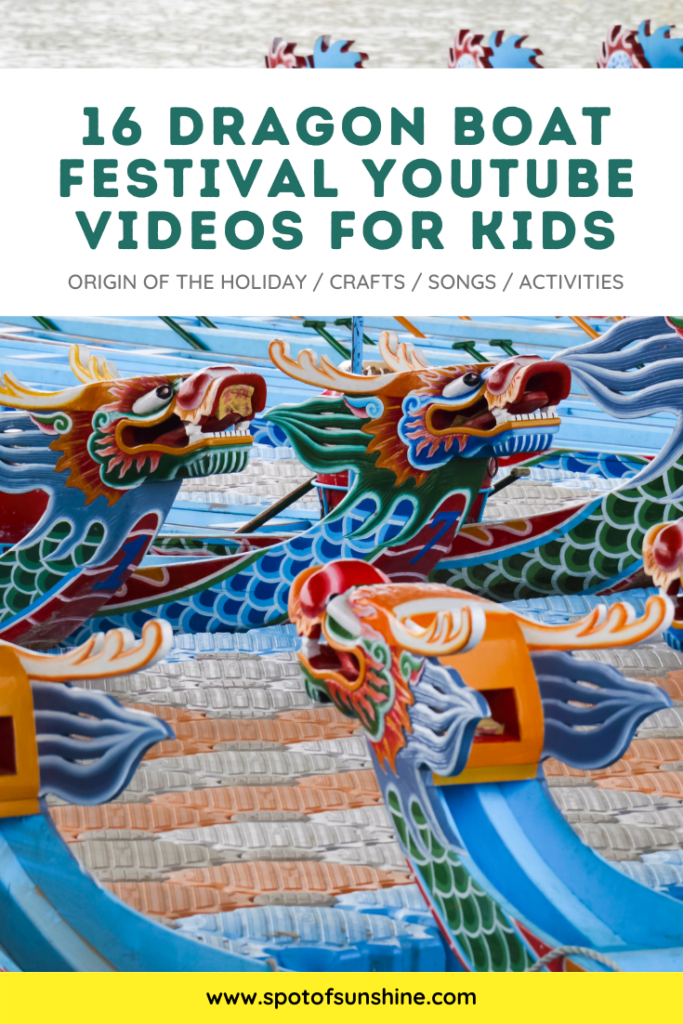 I have fond memories celebrating 端午節/节 (Duānwǔ jié)with my family back in Taiwan and later on in America as well when we immigrated. My favorite of course was the rice dumplings, the savory type was my go to choice. I can't turn down salted duck egg yolk or pork wrapped in freshly steamed sticky rice…yum. I'm making myself hungry now haha.
My great grandmother would make sweet rice dumplings we would eat cold with syrup drizzled over it. That was really delicious too.
Below are lots of kid friendly videos on the story behind the festival (shared in an appropriate way), recipes, crafts and other fun activities to help you celebrate and bring some Chinese culture into your home!
The Story Behind Dragon Boat Festival
Below are some great options to teach your child about the history behind the holiday.
Celebrating and learning about Chinese holidays is a wonderful way to expose children to the culture behind the language which gives them a greater understanding of the language itself.
Holiday Origin and Traditions from 小行星
Festival Traditions and History
This is a great video on the story behind the holiday with pinyin and English subtitles to help everyone watching learn about the holiday.
Yoyo Chinese: Dragon Boat Experience
Watch a play on the story behind the Dragon Boat Festival and see some students experience dragon boat racing! The video has traditional Chinese subtitles.
Story Behind the Holiday & Watch Rice Dumplings Being Made
Story told with simplified Chinese subtitles and introduces Dragon Boat Festival related vocabulary.
Mommy & Me Festival Story Reenactment and Activities
This mom did a wonderful job reenacting the story of the Dragon Boat Festival with her little one. Plus, she has some fun crafts like milk carton dragon boat and insect repellent perfume sachet for the holiday.
Dragon Boat Race
Crafts & Activities
Hands on crafts are a great way to introduce the holiday to children in a memorable and fun way. Here are a few to choose from.
Learn How to Draw a Dragon Boat in Mandarin Chinese
Dragon Boat Craft, Origami & Song with Locy Lee (Cantonese)
Dragon Boat Craft for Kids with Free Printable
Click through to the video on YouTube for a link to their free printable to make this fun craft for Dragon Boat Festival!
Fun Rice Dumpling Craft for Kids
Learn How to Draw a Rice Dumpling in Mandarin
Cantonese YouTube Videos for Kids on the Holiday
The Story Behind the Holiday
Story Behind the Holiday
Cantonese Song for the Holiday
Recipes
Food is so central to Chinese culture. Here are some recipes to try out!
Learn How to Make a Chocolate Rice Dumpling 巧克力粽子
Rice Dumpling Recipe from Grandma 阿嬤的粽子
Traditional rice dumpling recipe
What About You?
How did your family celebrate Dragon Boat Festival growing up? Please share below. I would LOVE to hear from you!
More Fun Dragon Boat Festival Activities for Kids
Ideas to Make Chinese Learning Fun at Home!