Chinese character stroke order felt daunting for me to teach my daughter. Anyone in the same boat?🙋🏻
So even though I did have my daughter write/paint some simple characters with minimal strokes when she was younger, I've held off teaching and pushing writing Chinese characters beyond little hands on activities.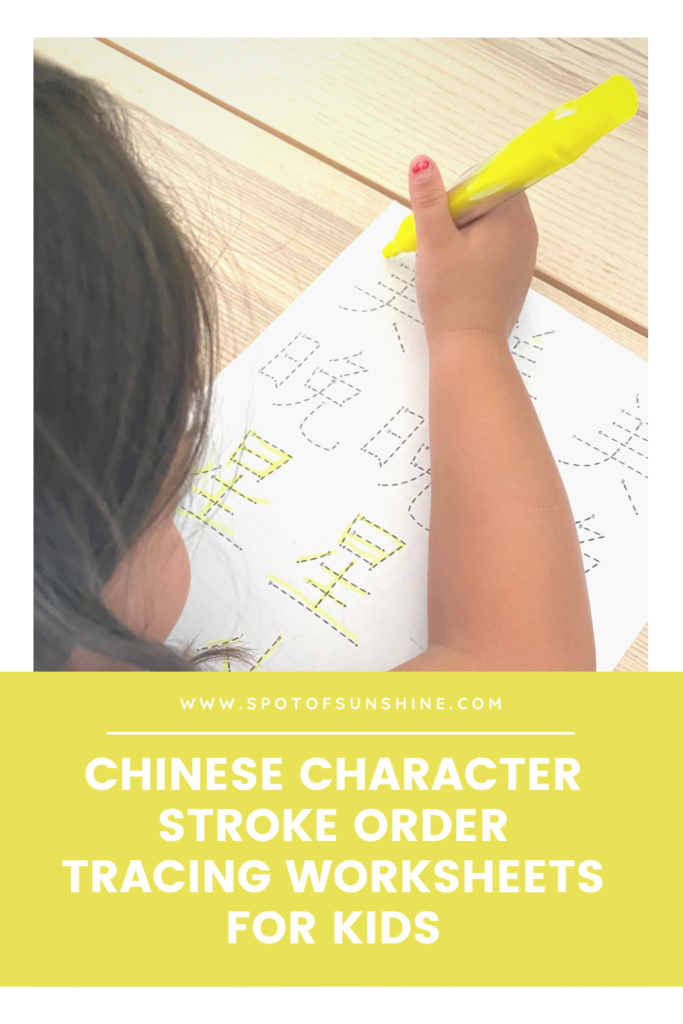 Recently, I decided to face my fear head on and started trying different methods.
The worksheet I created that I'm sharing as a free printable has made writing practice A TON less painful for her and I believe for other preschoolers as well.
I'll write an in depth post of our writing journey later on with different methods that worked for us.
Context for Chinese Character Stroke Order Writing Activity
For some context, my daughter is 4.5 years old and has good fine motor skills (due to her interest in crafts since she was a toddler i.e. cutting, taping everything in sight LOL).
She's shown interest in writing the alphabet which we don't do at home at all in order to focus on the minority language.
She attends preschool two half days a week and learns English there.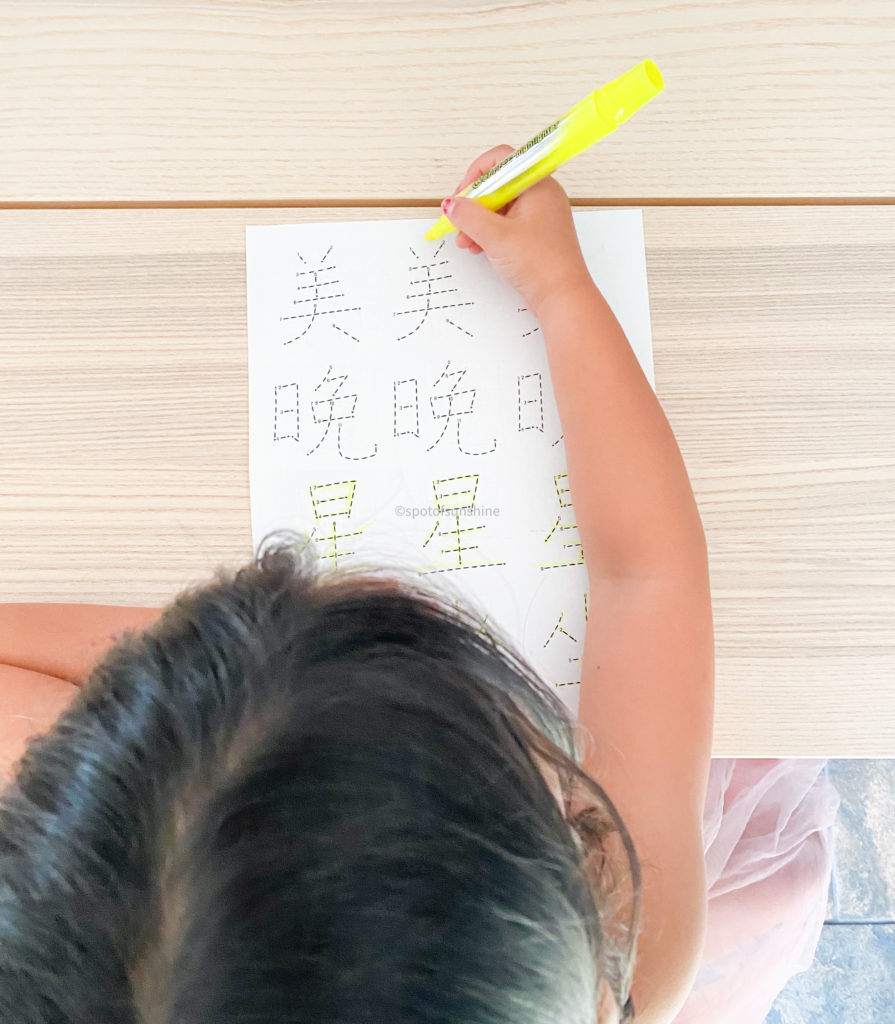 This activity was inspired by highlighter tracing activity from Days with Grey.
What You Need for this Chinese Writing Activity
All you need are my printables and a thick highlighter or a thick marker. I found that highlighters and markers that are thicker are easier for children to grasp and manipulate.
Why I Created These Chinese Character Stroke Order Tracing Worksheets
I noticed when my daughter would practice writing on normal Chinese character worksheets, it was too difficult and frustrating for her therefore she would easily grow impatient and unmotivated.
When kids get impatient, unmotivated (and your own patience is wearing thin) it's most likely an indication that the activity may be too hard for them.
Take a step back and evaluate how you can simplify the activity so it's within their capabilities. Observe what they are able to do already when they draw and what mediums they like to use (paint/markers/colored pencils/pen etc).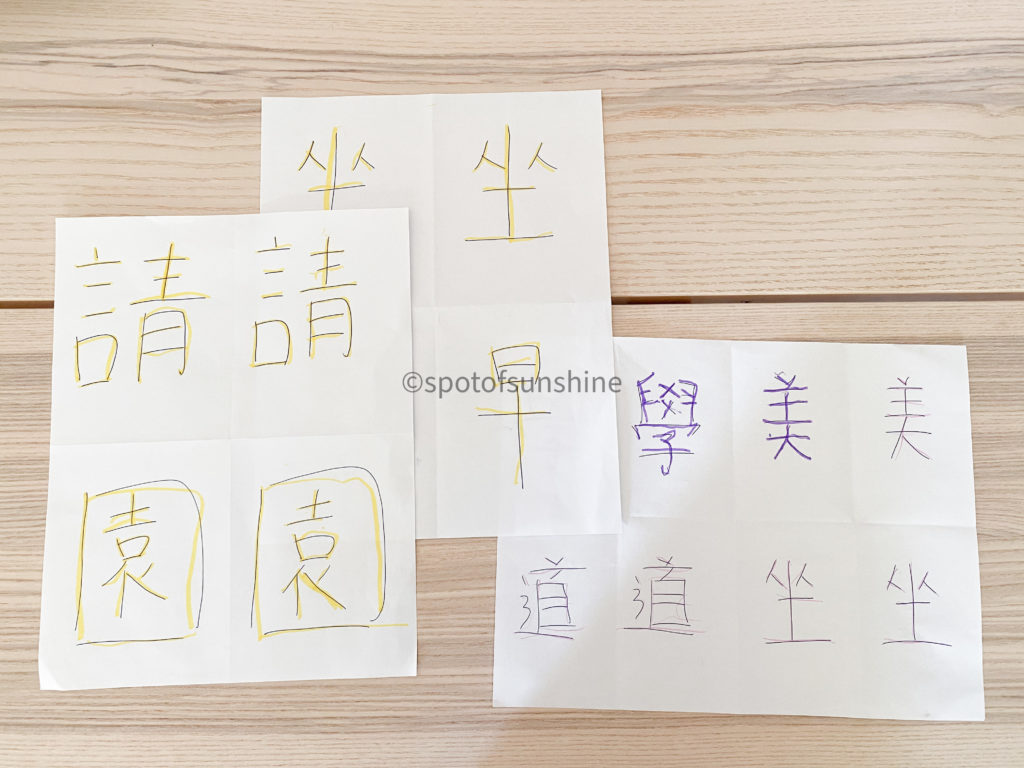 When I started to write larger Chinese characters in pen and have her trace it with a highlighter, she exclaimed 「哇!現在變得好容易!好簡單!/Wa! Xiànzài biàn dé hǎo róngyì! Hǎo jiǎndān!/Wow it's so much easier now!」She wanted to keep tracing for a longer period of time and is now more interested in writing Chinese characters. WHOOHOO!! Success!🙌
In our Chinese writing journey, I've noticed making the size of the characters larger, asking kids to write less amount of characters and simply doing it for short amount of time (10-20 minutes) helps a lot.
So instead of handwriting characters every single time, I created this printable for her. I hope it will also help you on your journey of teaching your kids how to write Chinese characters.
So far I've only created Sagebook Set 2 Book 4 created. I'll keep adding them to my printables page as I create more.
Download Chinese Character Stroke Order Font for Free
For those interested in creating similar practice worksheet for your kids, all you need to do is download the stroke order font. I found out about this font and many other useful ones from this post from Guavarama. Unfortunately this specific tracing font is only available for traditional Chinese.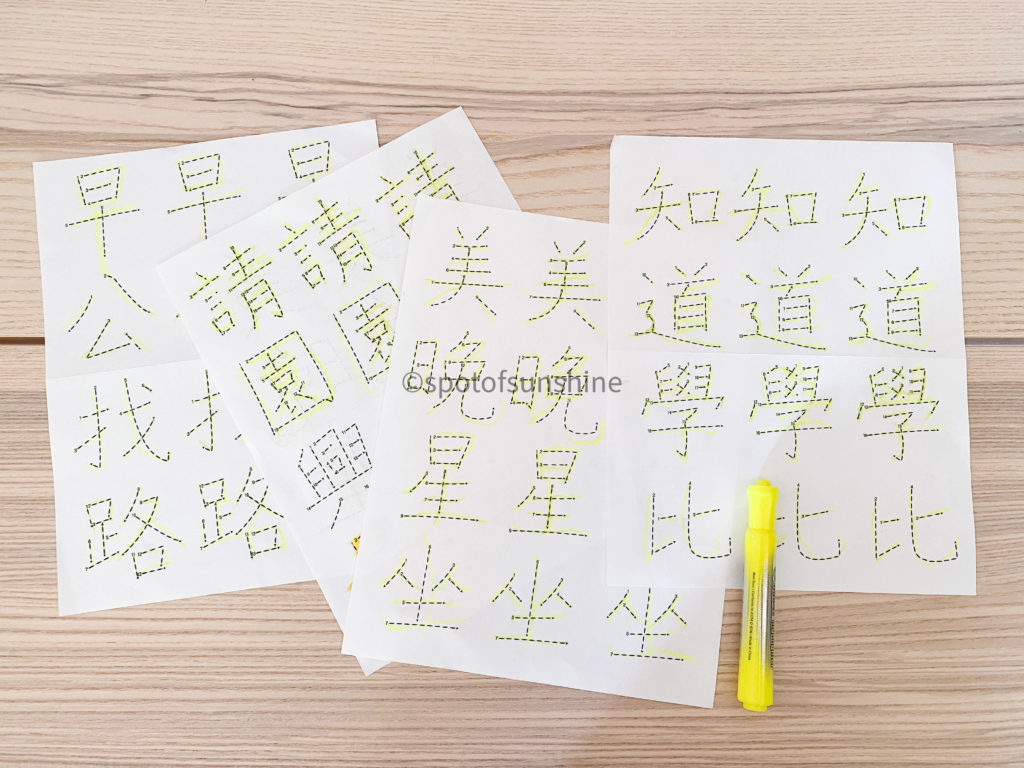 Age Range/Abilities This Writing Activity is Suitable For
I would say preschoolers or older. Also helpful if they child already recognizes numbers.
Remember, every child is different and learns at a different pace.
Don't Be Discouraged
If you feel discouraged or overwhelmed just thinking about teaching your kids how to write Chinese, I want to encourage you that it's ok to take your time.
Find out what interests your child. Find out what works for him/her. A lot of times it takes a bit of trial and error to find out what is within your child's abilities and what works for your unique child.
If you or your child need to take a break from writing, go ahead. It'll most likely help you both!
Don't worry, there's no train to catch. Even though it's hard, try not to compare your child with others you see on social media. Every child is unique and learn at a different pace and that's a beautiful thing.
How to Access Chinese Character Stroke Order Tracing Worksheets
To access my free printables register below if you haven't yet. After confirming your email, you'll receive a password to access the printables.
If you've already registered, click here to get to my printables page. Thank you for stopping by! Happy learning!
More Fun Chinese Learning Activities & Resources
More Chinese Character Tracing Worksheets
Don't Do it Alone
For more support and to commiserate with likeminded parents, please join us at Christian Parents Raising Bilingual Children in English & Chinese.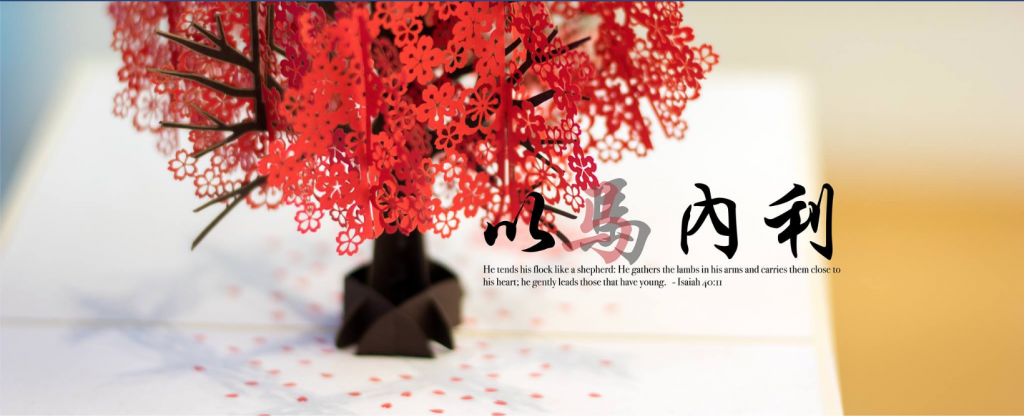 Other great FaceBook groups for parents raising bilingual kids:
Follow me on my FaceBook Page & my Instagram accounts where I share fun, easy & doable Chinese activities (@spotofsunshineChinese).