Learn Chinese apps are great tools for parents wanting to teach their kids Chinese. From looking up phrases, helping you read characters you don't recognize, to helping you easily create a Chinese learning environment at home, learn Chinese apps are every parents' best friends.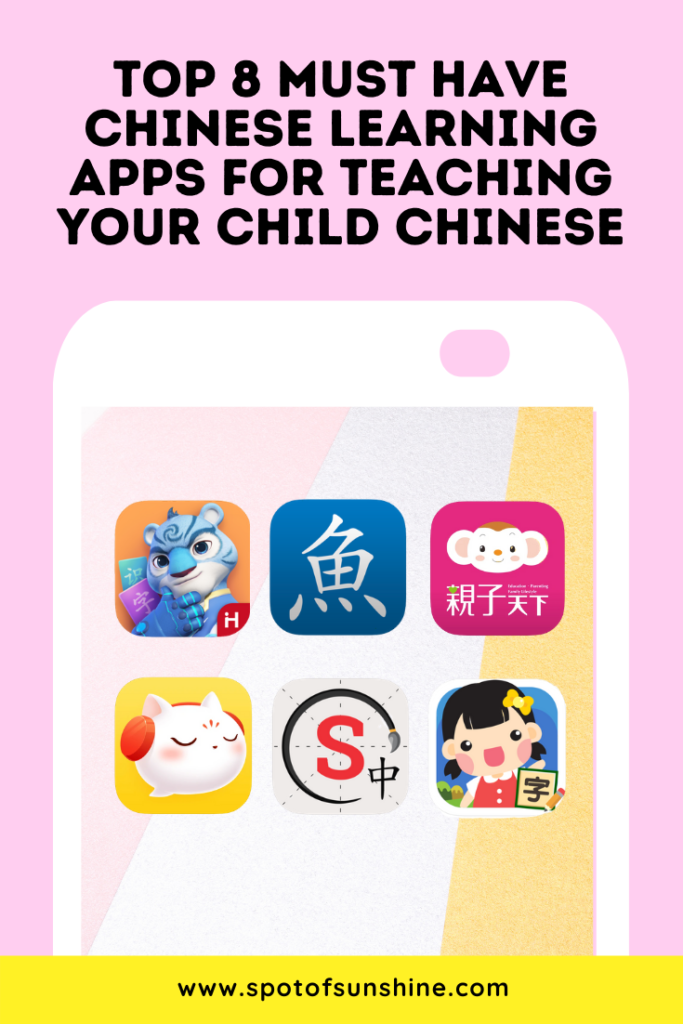 Just a few years ago, these apps weren't even available. This is why I think this is a great time to teach your child a second language. Not only are there more resources like these available, but the appreciation and understanding of how it's important for families and a child's development are also becoming more prevalent.
Below is a list of the top ten apps we love and use almost every single day.
Top 8 Learn Chinese Apps for Families
Click on the image or title of each Chinese learning app for more information and to download
English interface
This is the BEST Chinese translator and dictionary app out there. If you haven't yet, download this today and buy their basic bundle ($29.99) which is a great deal for such a powerful dictionary. 
Not only does it provide the most accurate and extensive definitions (pulling from titles such as Oxford, Longman, FLTRP) but has multiple functions that have been a lifesaver for parents like myself like the Live ORC. This function allows you to use your phone's camera to pick up characters and Pleco will pull up the definitions and pronunciation!
You can change the setting to traditional or simplified, zhuyin and pinyin. It also has Cantonese function as well! 
With certain words, definitions will also indicate if the word or phrase is more commonly used in Taiwan or China. The pronunciation for the words are also clear and easy for learners to pick up the tones.
Traditional Chinese interface
This award winning app is currently our favorite audiobook app, my daughter is addicted to it. It's such a great help to me in easily creating a Chinese immersion environment. 
It's created by the popular and well known Taiwanese parenting magazine 親子天下. We love it because not only does it provide audio for nearly all of the popular Chinese children's picture books, and classics like the Chinese translations of C.S Lewis' works, but also lots of fun stories on all subjects. 
When registering, you can set your child's age  (unfortunately you can only choose one child if you have multiple children) and the app will automatically pull up age appropriate titles.
This app also contains stories of famous historical figures, fun podcasts on science and animals just to name a few. 
This app offers a free 7 day trial so you can try it out. It's $4.50/month or $45/year.
Simplified Chinese interface
This game app teaches kids 1300 simplified Chinese characters through interactive and engaging games. My daughter loves playing this app.
The games not only teaches kids how to write and pronounce the characters, but also how to recognize it. There are review games set in place to help kids retain the characters introduced. There are also stories and songs kids can listen to. There's also a timer so kids are limited to 20 minutes of play each day (you can change this in settings if you'd like). 
I would say this is more appropriate for kids 5 years and up since some of the games may be too complicated for younger kids and may frustrate them.
If your kids love this app, be sure to check out their audiobook app, iHuman Stories for stories based on the characters featured in this game. My daughter (5YO) currently loves listening to these. The characters go on adventures helping kids discover fun facts about animals and science.
$6.99/month or $37.99 for lifetime access
悟空识字HD is another great app with similar features. 
For those looking for traditional Chinese game apps for kids, here are two to check out. Neither one of them are as engaging as this app but they're still good tools and offers pronunciation in Mandarin and Cantonese: 識字認詞,Maomi Stars Chinese (beta test version).
English interface
If you prefer an app that's easier to navigate, GoPlay Chinese is another Chinese character gaming app also created by iHuman with an English interface for English speaking families.
The app teaches kids 100 Chinese characters through games that helps kids learn and practice not only writing and reading but also pronunciation as well. The "daily speaking" feature allows kids to practice pronunciation and speaking which is not included in the first app mentioned above.
I have to say we've encountered issues with the daily speaking feature where it will say my daughter's saying the phrase wrong when she isn't. Hopefully in future updates this will be fixed.
Other unique features include story time videos with a native Chinese speaker and storybooks that uses the characters kids are learning. 
$6.99/month or $59.99/year
English interface
This app is great for learning Chinese characters. It helps learners practice writing, tones and reviews characters that you've learned. You can choose from various official Chinese characters lists (ex: HSK) to start with or from the plethora of other lists. 
Parents with preschoolers and up have had success with this app. My husband who learned Chinese as a non-native speaker really loves this app as well.
$14.99/month or $99.99/year. Be sure to check out the greatly discounted group buy option available in the Raising Bilingual FB Group.
English interface
There are SO many Chinese children's shows available on Netflix and more keeps getting added every week it seems! This is our favorite app to use for Chinese kids shows. 
Here's a list of some great shows to get you started organized by age.
$8.99-$17.99/month
English interface
Amazon Prime Video recently started adding Chinese audio to some of their quality cartoons. We love the options on Prime Video since they tend to be more wholesome than the options on Netflix.
Here's a list of some great shows to get you started.
$12.99/month
What are some of your favorite Chinese learning apps for helping your child learn the language? Share in the comments below if I've missed any.
More Great Resources for Help You Teach Your Child Chinese
For more support and to commiserate with likeminded parents, please join us at Bilingual Parenting Village (Chinese + English)