Chinese character review may sound boarding, but a board game can make it fun and easy. Kids love boardgames!
My daughter has loved them since she's four years old! We still play this to review characters to this day and she's seven now!
What better way to review Chinese characters in a fun and painless way than with something kids enjoy.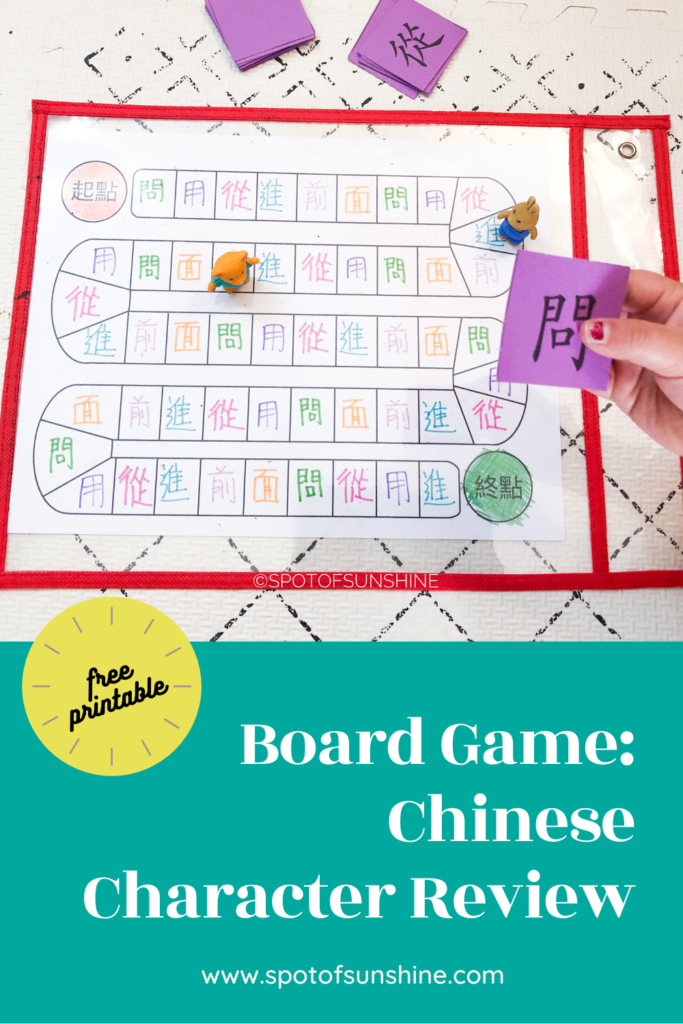 To share the fun and make it easy for you to review Chinese characters with your kids, here's the free printable board game I made for you!
How to Use the Printable Board Game for Chinese Character Review
All you have to do is print out the board game and the blank cards included or use your own flashcards.
Laminate the board game so you don't need to keep printing it out. We've been using this trusty laminator for years now.
Use a dry erase marker to write the Chinese characters you want to review with your kids on the spaces.
If your kids can already write characters, have them fill it out for you or for their siblings if you have younger ones at home. My daughter loves writing them in herself.
This is such a practical and purposeful writing practice!
Pro tip: I suggest limiting the characters to ten to get enough exposure and review.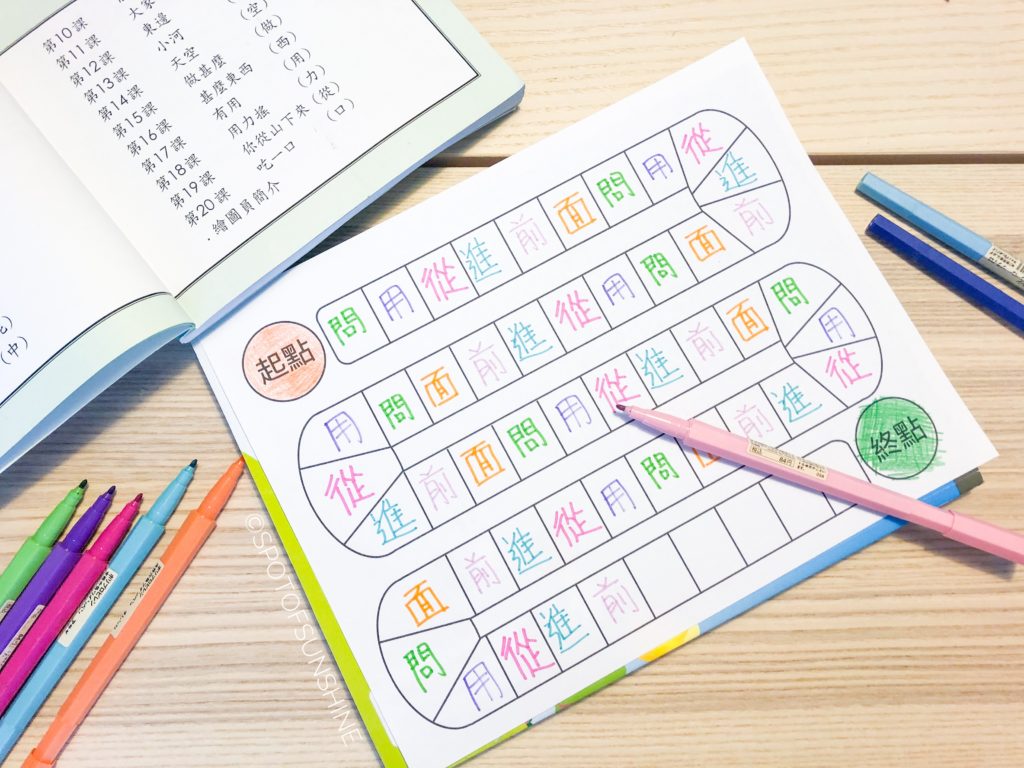 You can use pawns from other games or other toys as pawns. We used our Little People figures which was perfect. Japanese eraser toys would also work well.
Place the board game in a plastic sleeve to make it more durable and protect the characters from being erased during play.
Here's the plastic sleeve similar to the one we use. You can also find them at the dollar store.
How We Use the Game to Increase Chinese Character Retention
We play the game as a review at the end of each Sagebook we finish to go over characters that need more review. Typically these are characters that have an abstract meaning.
I make flashcards for each character we learn in Sagebooks. Then separate them into two piles, ones my daughter has mastered and ones that need review. At the end of the chapter, I write in the ones that need more review on the board game.
This way, we're not wasting precious time reviewing the characters she has already mastered but focusing our time on ones that need more work. We all know how little time we have in a day to work on Chinese.
The same concept can be applied to any curriculum of your choice. Write the characters that need review on the boardgame.
When playing the game, I encourage and remind my daughter to read the character she draws and find it on the boardgame. This encourages multiple exposure while we play.
Kids need multiple exposure to the same character for them to remember it. This goes for just about everything they're learning.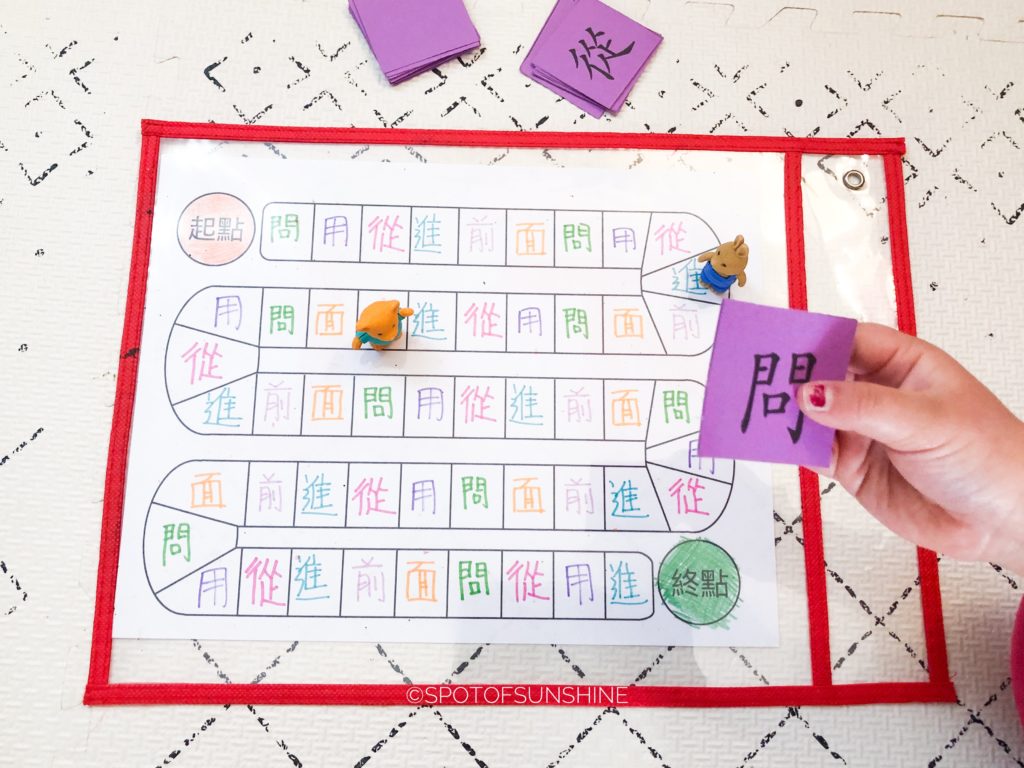 Don't worry if you need to read it for them multiple times. That is also exposing them to the character. Also, this can also lessen the pressure on the child if you're noticing they're growing frustrated with characters.
Of course give them a chance to try and read the character for themselves first. But if you observe that they're having trouble, help them out instead of getting frustrated or discouraged that they don't know the character yet. It's simply an indication that the character needs more work.
I'm saying this from first hand experience of wondering what I'm doing wrong or losing my cool when my daughter still hasn't learned the character after what seems to be the hundredth time.
Remember to relax, have fun, and enjoy the bonding experience. Growing in having fun playing with your child is an important ingredient to them enjoy the language learning process.
How to Access Chinese Character Review Board Game Printable
To access the board game, register below if you haven't yet. After confirming your email, you'll receive a password to access the printables.
If you've already registered, just go to my printables page and enter the password.
Thank you for stopping by! I hope you and your family have as much fun with the board game. Be sure to tag me (@spotofsunshineChinese) so I can see the board game in action!
Other Fun & Easy Hands on Activities for Learning Chinese Characters