Mother's Day Card from your child is a wonderful gift to receive on the holiday. Since Mother's Day is coming up what are you having your kids make for you?
Isn't it funny how a lot of times us moms end up "making" our kids make stuff for us?
Even though it may seem self-serving, I personally think it's important to teach our kids to be appreciative of what we do! I mean we do a lot as moms and that is most definitely deserving of recognition and celebrating (patting myself on the back).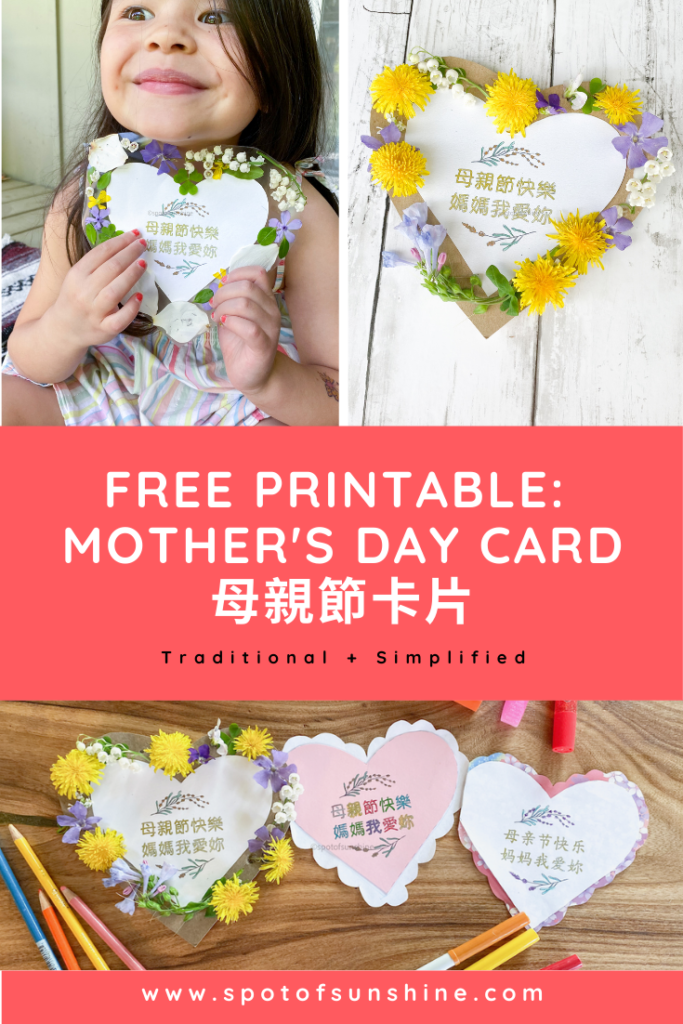 To simplify things for you, here's are two free printable Mother's Day card to help your kiddos appreciate the amazing mom you are while giving them an opportunity to write and be exposed to Chinese!
All you need to do is print it out on the cardstock of your choice. Cut out the center line and top and bottoms of the window on the card then fold the sides. Let her kiddos decorate it.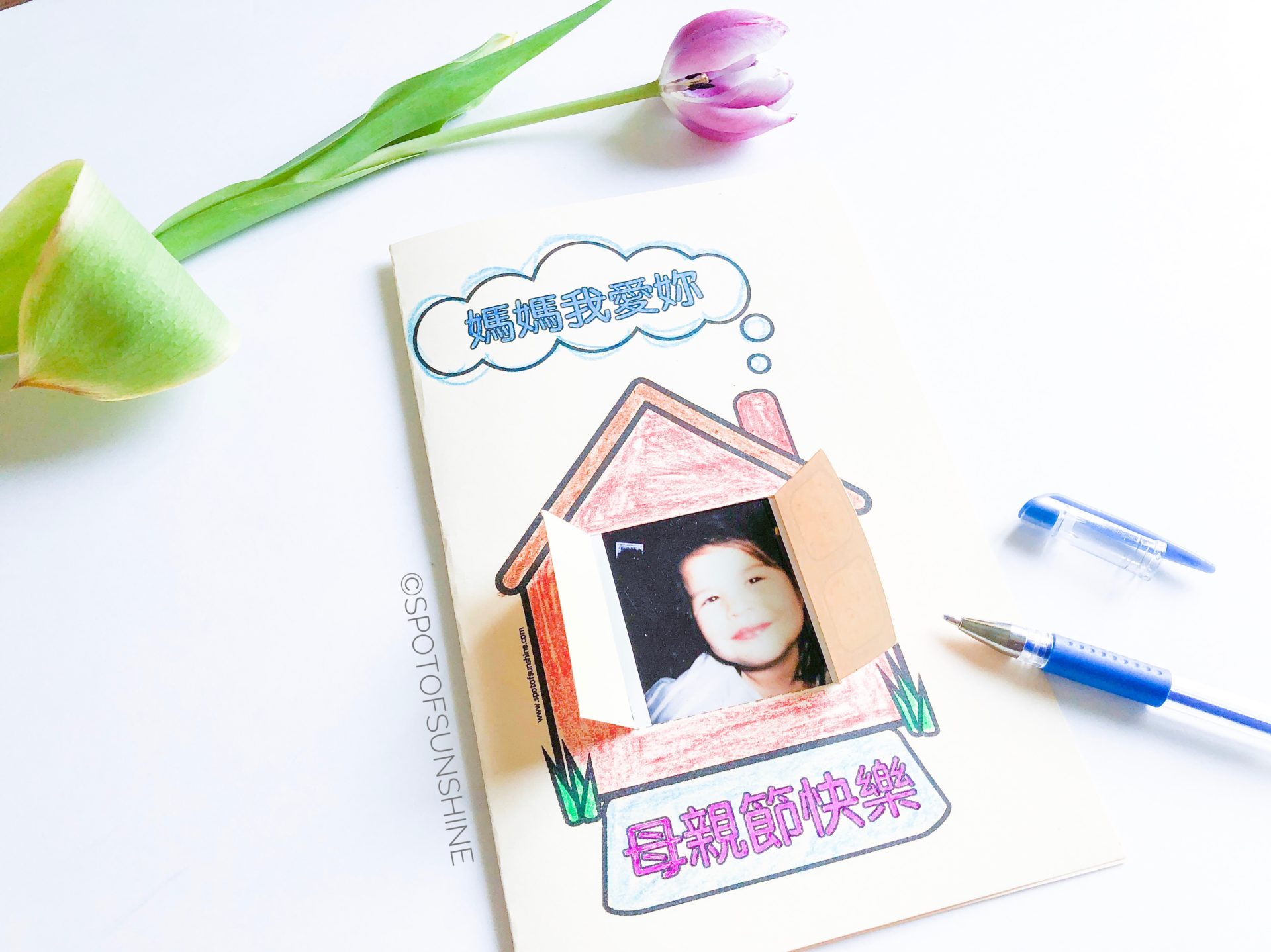 Your kids can also practice writing some Chinese by tracing the Chinese characters on the card.
Then tape an adorable picture of your child/children on the back side of the card and voila! You get an adorable Mother's Day card that you didn't have to put too much effort into whoohoo!
As always, the cards are available in traditional and simplified Chinese and English as well.
Here is the second version that's available.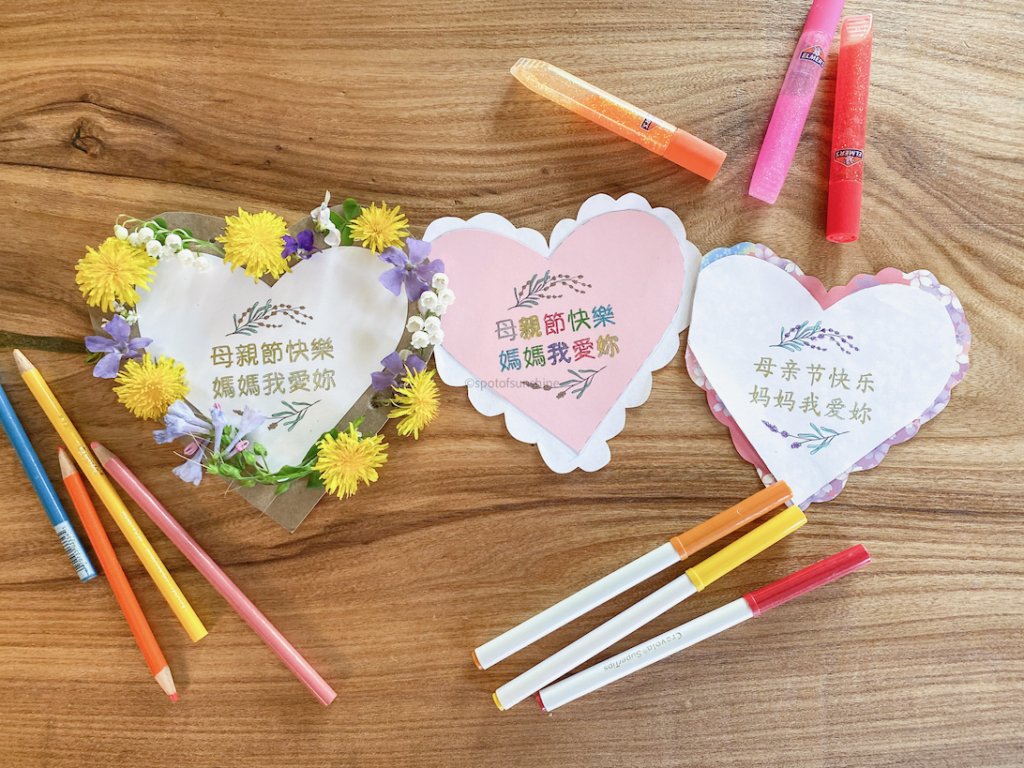 All you need is to print out my free printable Mother's Day card and have your children decorate it, or put the cut out on a piece of cardboard (I used a cereal box) poke some holes using a pencil for kids to decorate with wildflowers (inspired by Little Pine Learners) or place it on top of contact paper and decorate it with some tissue paper or wildflowers.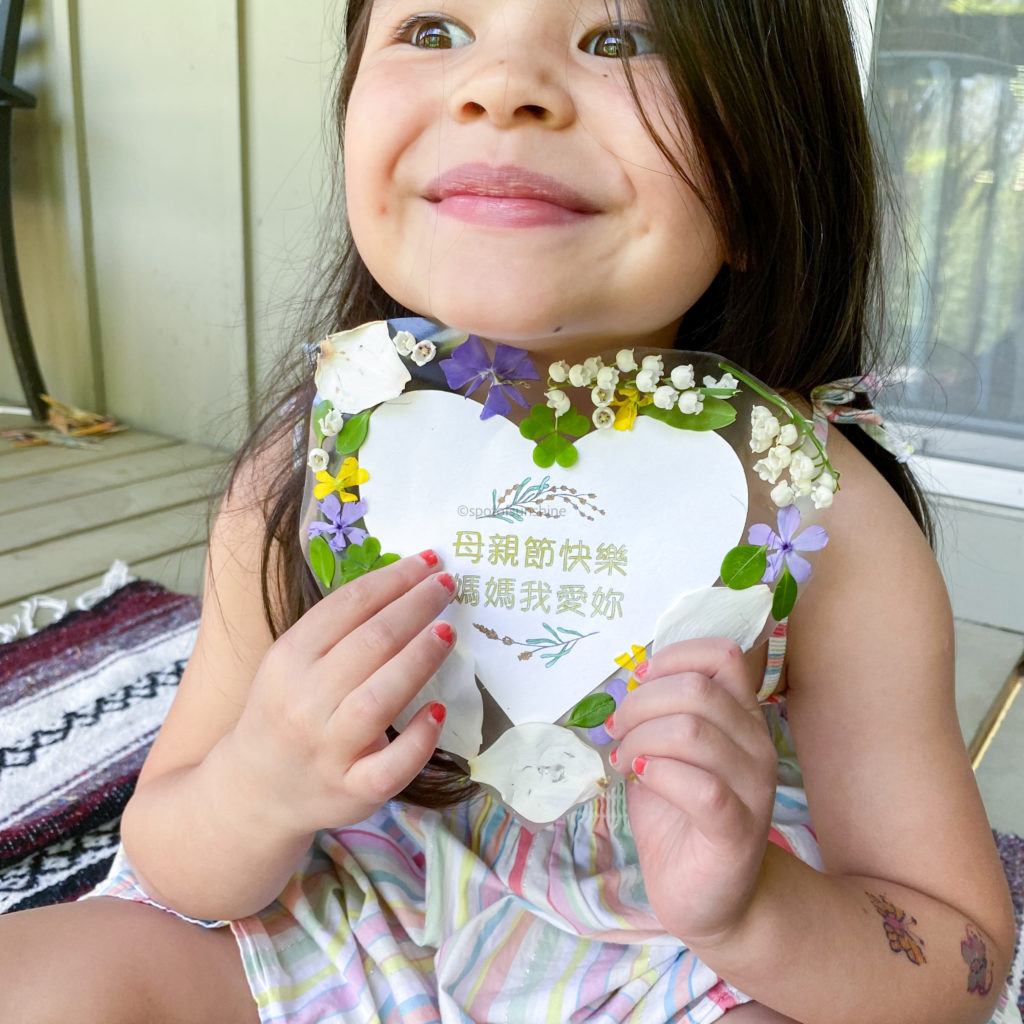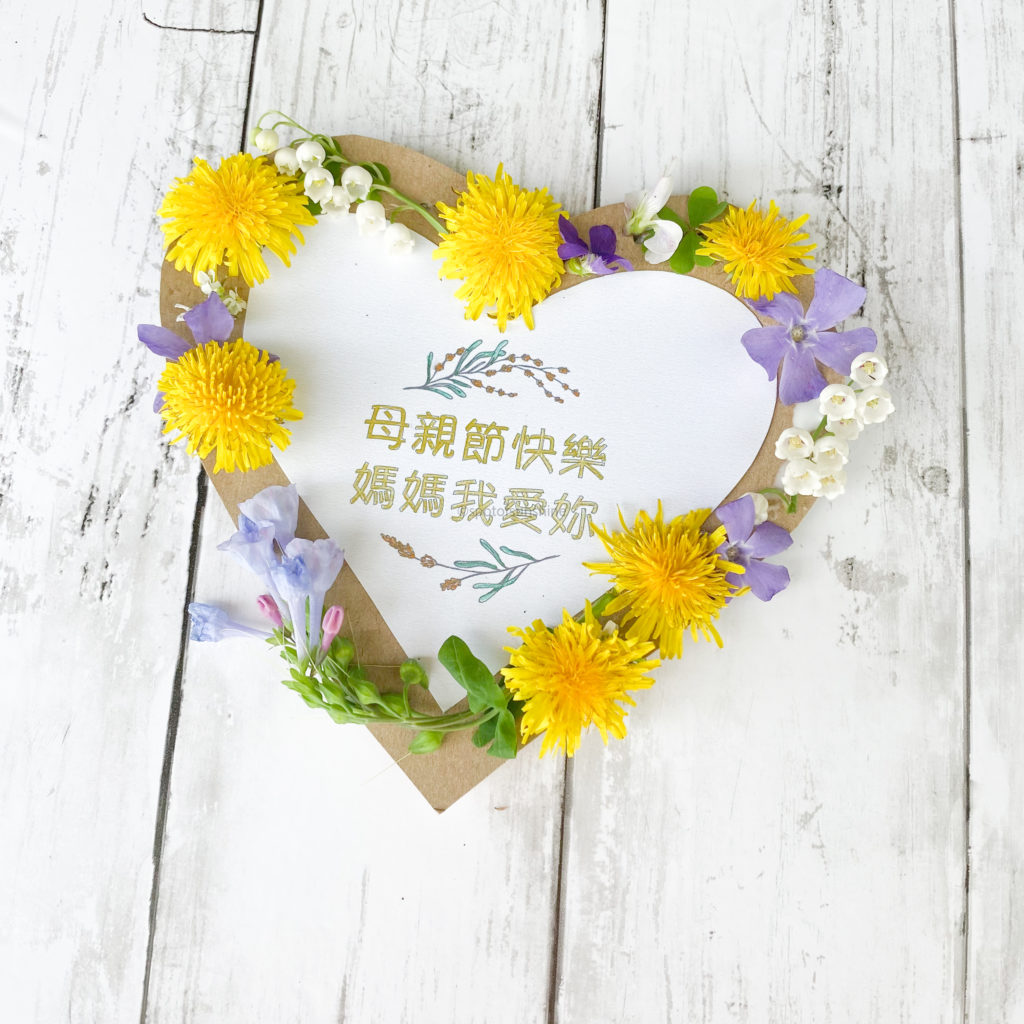 Be sure to tag me @spotofsunshineChinese if you do use my printable! I'd love to see your creation!
Wishing you a very happy mother's day!
How the Chinese Celebrate Mother's Day
Mother's day is a big thing in Chinese speaking countries. It aligns with the importance of filial piety, honoring parents and elders.
Children may do a variety of things to celebrate such as taking their moms out for a meal, give them carnations or other gifts.
Access Printable Mother's Day Card
To access the free printable Mother's Day card, register below. After confirming your email, you'll receive a password to access the printables.
If you've already registered, click here to get to my printables page.
If you have any problems, please feel free to contact me.
Thank you for stopping by! Happy Mother's Day!
More Chinese Mother's Day Resources
More Resources to Help You Have Fun Teaching Your Kids Chinese!
Don't Do It Alone!
For more support for your bilingual journey from likeminded parents, please join us at Christian Parents Raising Bilingual Children in English & Chinese.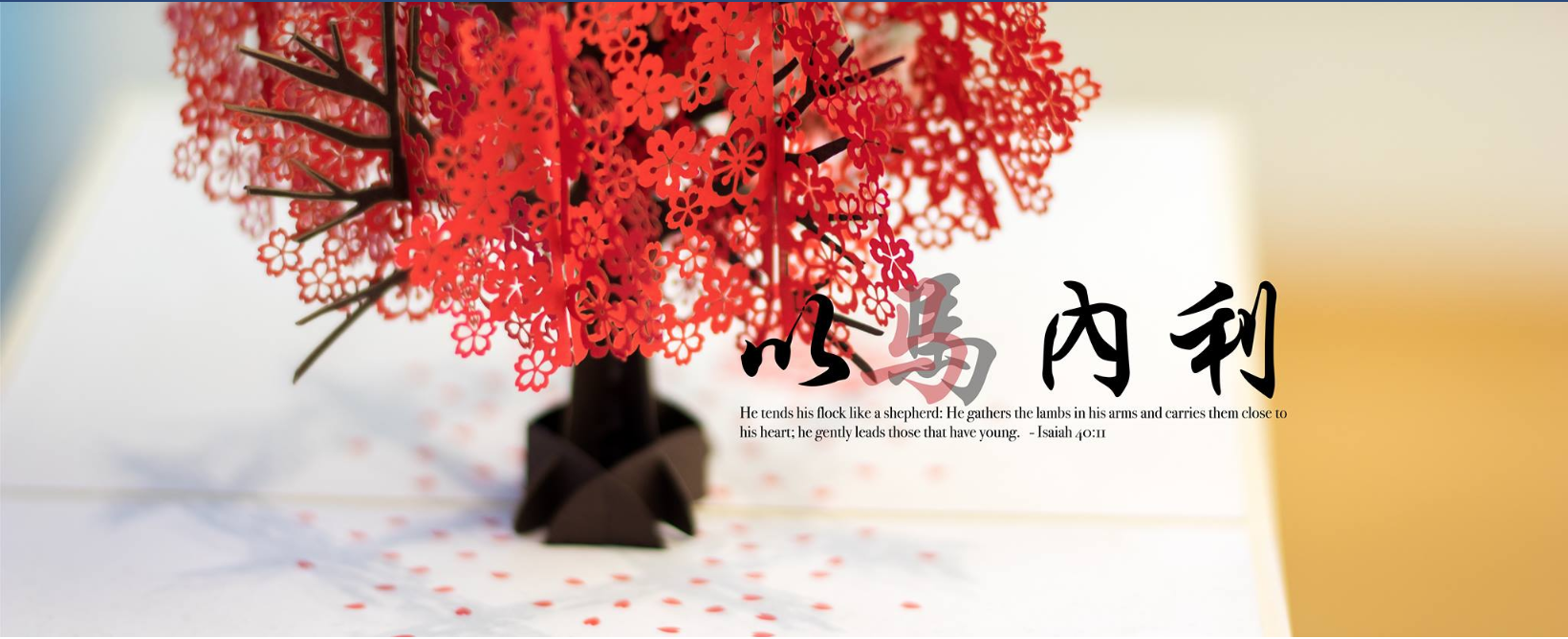 Other great FaceBook groups for parents raising bilingual kids:
Follow me on my FaceBook Page & my Instagram accounts where I share fun Chinese activities (@spotofsunshineChinese) we're doing.