Improve your Chinese as a busy parent, is that even possible?
Although it may feel nearly impossible, here are 7 easy and fun ways to do just that!
When we moved back to America from Taiwan, I switched from speaking English to to Mandarin Chinese with our daughter.
I wasn't sure if I was saying things correctly most of the time. The once easy normal everyday conversations with our daughter felt challenging and awkward.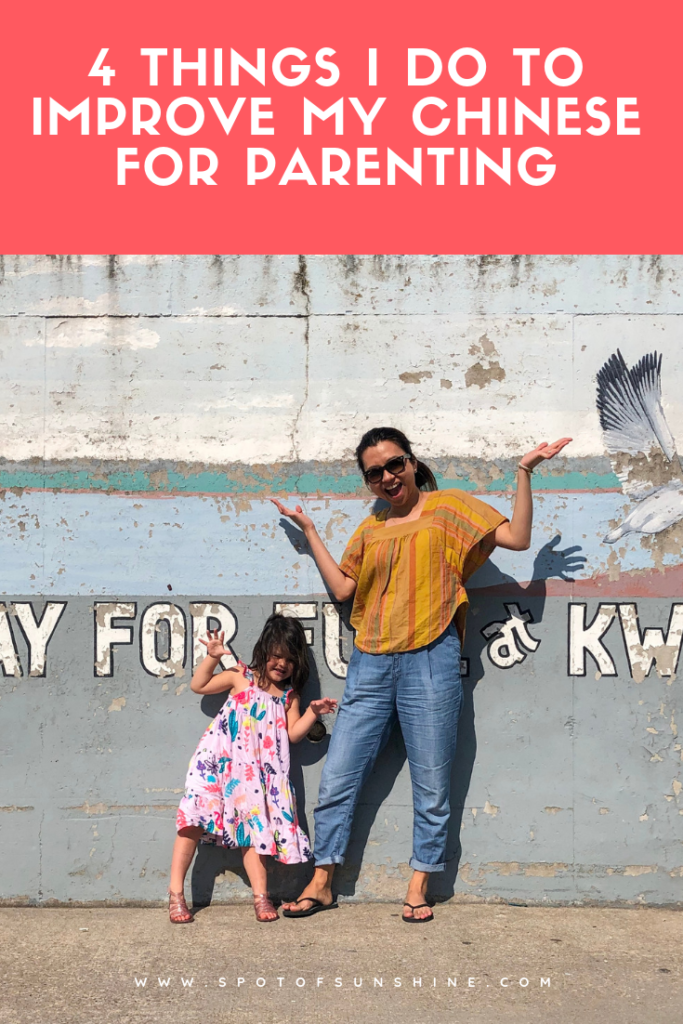 On top of it all, I was having a hard disciplining our daughter in Chinese without slipping into the harsh phrases I heard growing up. I knew I needed to be intentional in learning more gentle parenting phrases in Chinese. 
At first I simply tried my best with the Mandarin I knew, but slowly I found resources and techniques to bolster my Chinese parenting vocabulary that aligned with our parenting style. 
Below are 7 doable techniques for busy parent to improve your Chinese. I mostly take around 15-30 minutes each time, one to two times a week listening or watching to the following resources while I'm doing chores around the house or while I'm getting ready. 
I hope these resources help you in your Chinese bilingual parenting journey! 

1. Watch Chinese Shows with Parent Child Interaction to Improve Your Chinese as a Busy Parent
In my mind, watching a show is the easiest way for busy parents to improve your Chinese. I mean I can sit back relax after a long day, enjoy a show and improve my Chinese at the same time. What more can a mom ask for? 
I noticed my parenting Chinese improved after watching parent child interactions in the Taiwanese drama Autumn Concerto (下一站幸福)on Netflix (it's also available on Viki)
(*spoiler alert) In the second half of the show, there's quite a bit of interaction between the mom and her son. 
Other Chinese Shows with Parent-Child Interaction
妈妈是超人/Mommy is Superwoman
This is a fun reality show that follows Chinese/Taiwanese celebrity moms interacting with their children. I was able to pick up a lot of very useful phrases through this one. 

爸爸去哪儿/Where Did Daddy Go?
Another reality show following celebrity dads as they go on adventures with their children. This would be perfect for dads! 
2. Buy Chinese Reference Books Teaching English Parenting Terms
When my husband was learning Chinese, he bought English learning reference books written in Chinese. Since we were living in Taiwan at the time, there were way more English learning reference books available.  
When faced with the dilemma of picking up more Chinese parenting terms I was unfamiliar with, I did the same.
There are a TON of books to help Chinese native speakers learn English parenting terms. These are perfect because they're intended to help Chinese native speakers teach their kids English or adjust to living overseas in an western environment. 
There are a wide variety to choose from. I ordered two from books.com.tw. One is more simple (on the right, title: 每天五分鐘親子英文)and the other more complex (title: 美國家庭親子英文).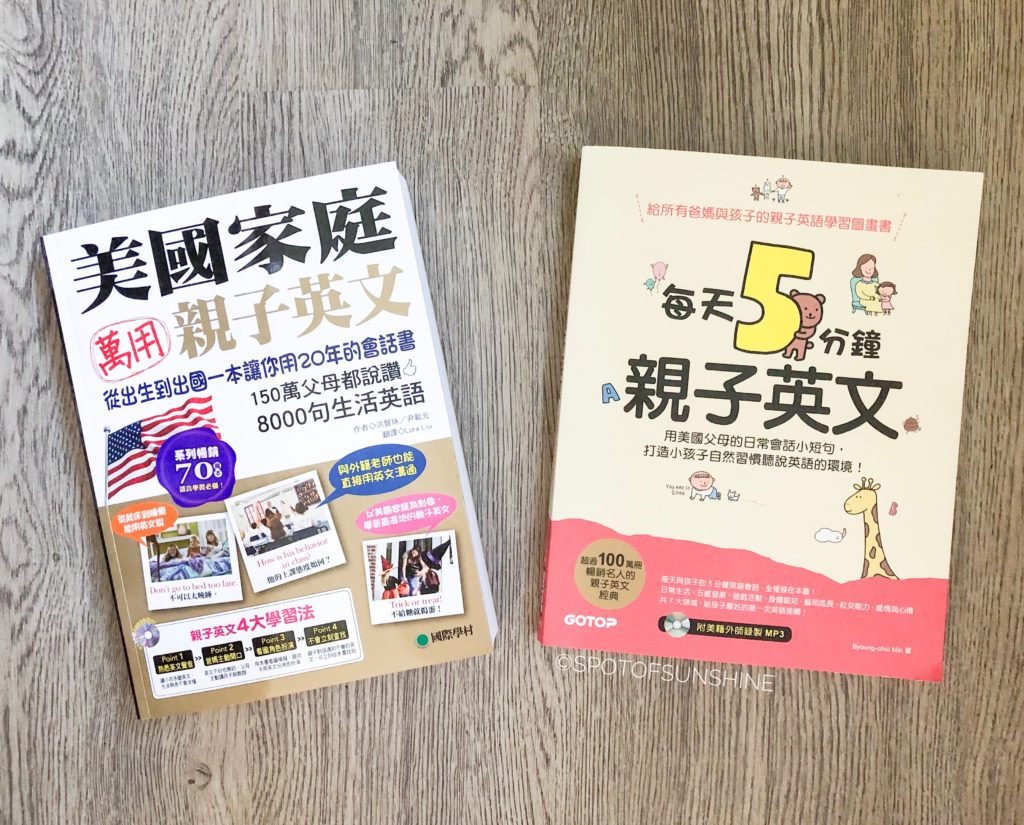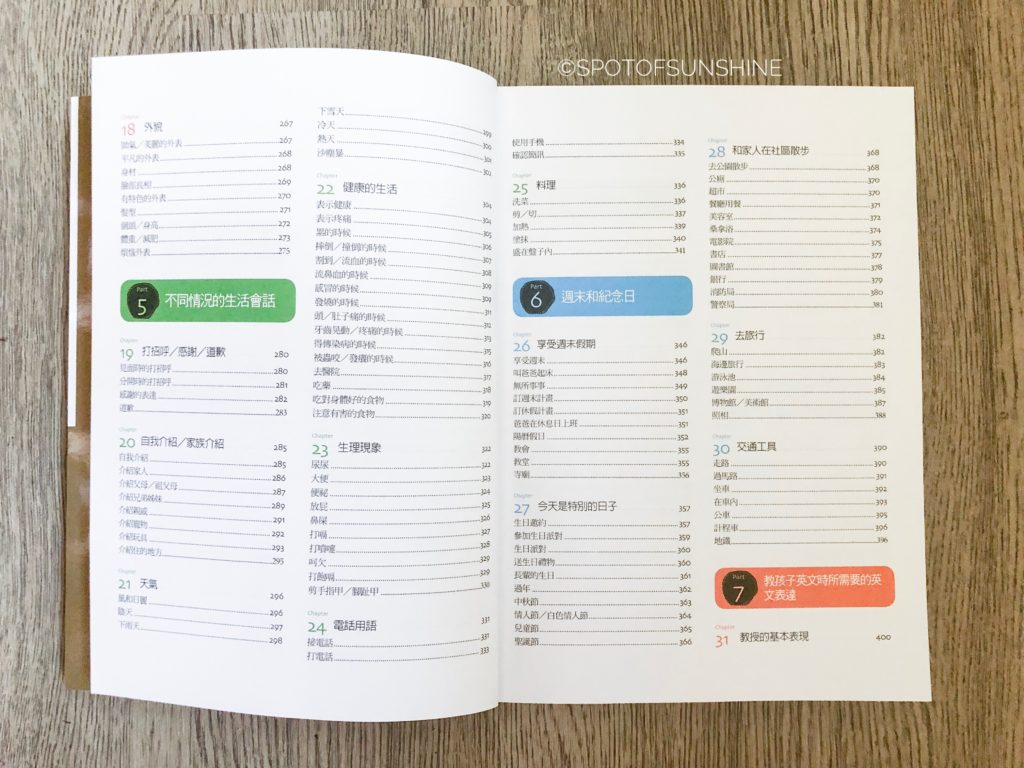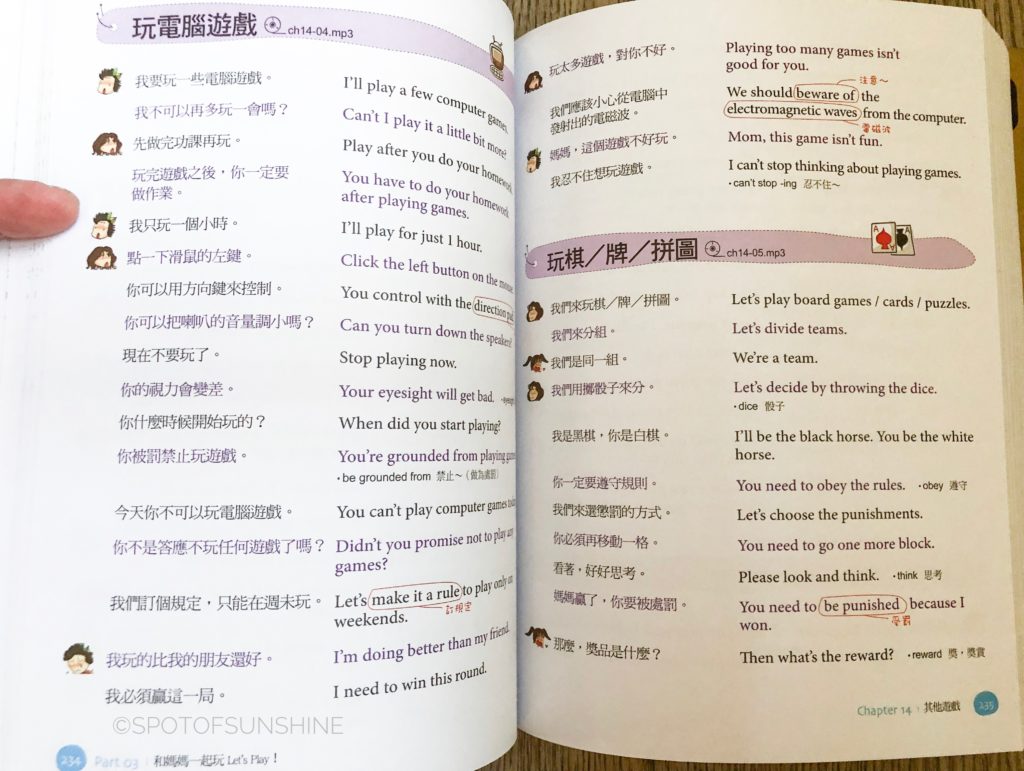 I like how both books are organized into different social contexts and western holidays as well. 
Both books come with a CD-Rom of MP3s but sadly it's all in English. The downside of these books is that they don't include pinyin or zhuyin since they're intended for native speakers.
Click here to find all that's available on books.com.tw/博客來. There are LOTS to choose from.
Below are sample pages from the more simple book. Please excuse my paint stained fingers. I've been painting our trim :P.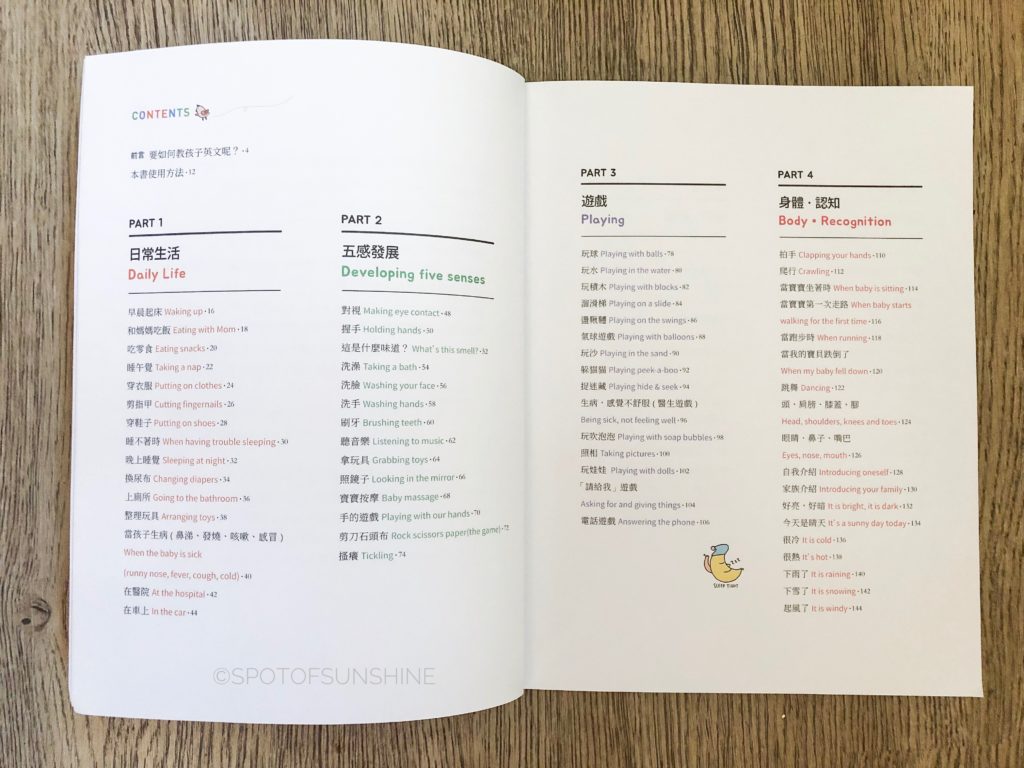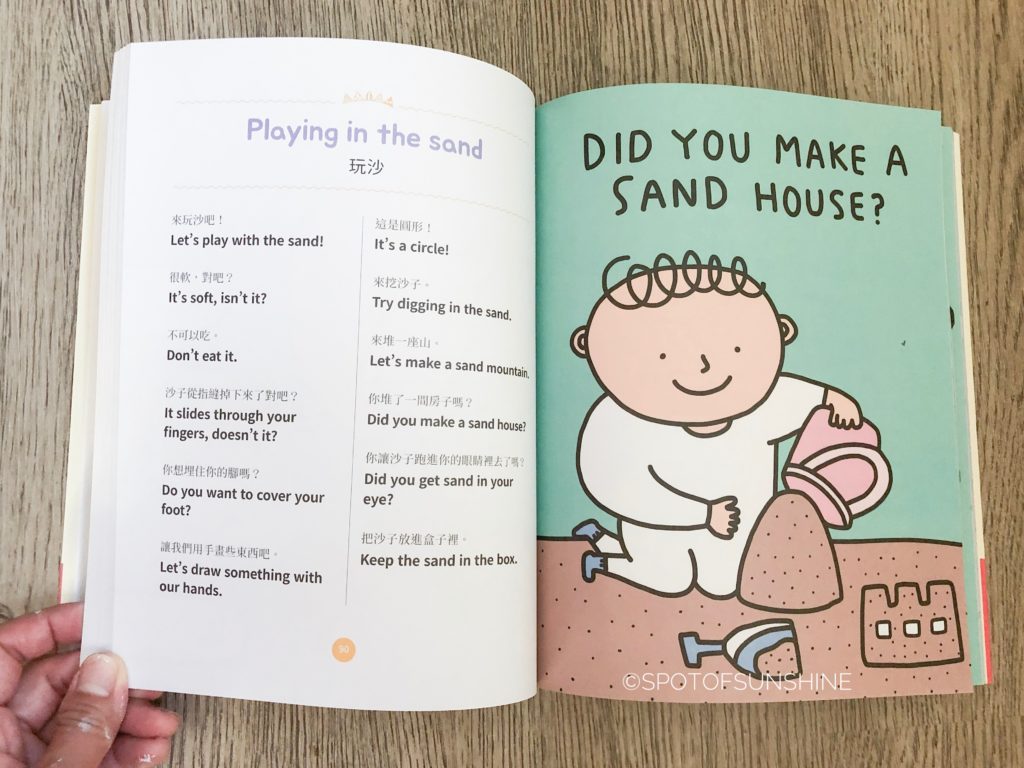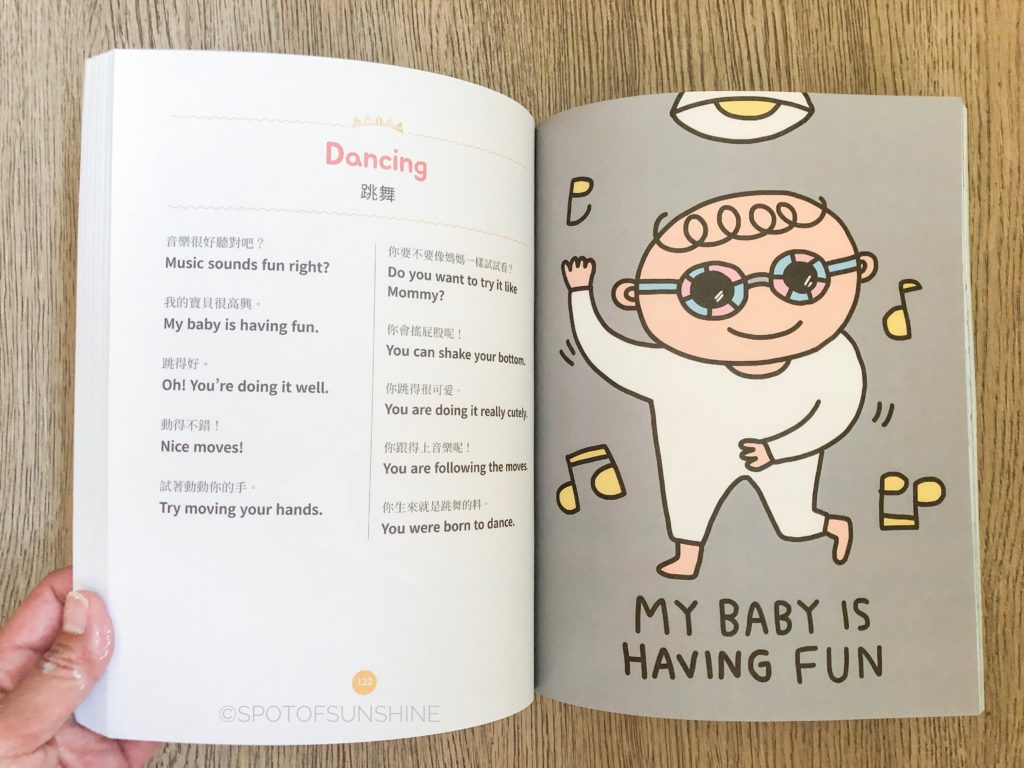 3. Buy Chinese Translation of Parenting Books that Align with Your Values
If you're comfortable with reading Chinese, then another thing you can do to pick up Chinese parenting vocab is to purchase Chinese translation of English parenting books that you like. 
These books will include lots of helpful parenting terms such as what to say when you're correcting or redirecting your child. 
You can find them by simply typing in the name of the author or title in English then add the characters, 中文 in google search. 
You can also do the same on books.com.tw. I was able to find two books I plan on purchasing and reading through this method:
Some other popular parenting titles available in Chinese:
4. Watch Mandarin Talk Shows on Parenting
Another easy way to pick up Chinese parenting vocab is through watching shows that teach on parenting in Chinese.
Below are a few I've found helpful and entertaining.
This new Taiwanese show starring basketball player/celebrity dad 黑人/Blackie Chen with twin boys. He's married to Fan Fan, a well-known Taiwanese singer.
In the show, celebrity parents discuss various (often entertaining) topics. It's a fun show to watch.
A Taiwanese parenting channel with experts and pediatricians giving helpful advice. 
I like their five minute quick parenting tips series. They're nice and concise. 
Even though your parenting style may differ, this would be a great way to pick up some Chinese parenting terms.
Danny Silk: Loving Our Kids on Purpose Conference at Bread of Life Taipei
Danny Silk is an author and teacher who focuses on teaching Christian parenting techniques rooted in love and logic.
He's my go to for parenting my daughter right now. I love how he focuses on teaching parenting to train children how to use the freedom they have while they're in your home to prepare them for their future.
He also focuses on helping parents cultivate a loving relationship with their children.  
I can't say enough good things about him. 
There are many great videos to choose from 親子天下's YouTube channel. They're a Taiwanese Parenting magazine that shares lots of great content created for parents. 
Watching dramas is a fun and easy way to improve your Chinese as a busy (and oftentimes tired) parent.
Here are some my husband and I enjoyed. All are available on Netflix.
Recent updated version of the 90s classic that took Asia by storm.
Featuring the same main actress as the new Meteor Garden, "A Love So Beautiful" is a sweet coming of age love story.
Funny and laid back romantic comedy 
Some other fun Chinese dramas:
6. Listen to Chinese Parenting Podcasts
Here are some fun podcasts to either learn Chinese or to help beef it up while entertaining you.
Lily, a Taiwanese occupational therapist mom of two interviews various parenting experts in a a low key and fun way. 
This is my favorite podcast. It's super relatable, entertaining and educational.
Mandarin speaking moms of Silicon Valley share their stories and interview interesting people of various backgrounds. 
They have a fun episode on raising their kids bilingual and other episodes focused on parenting that would be useful.
Podcast created by the publishers of well known Taiwanese parenting magazine with the same name.
Covers many relatable and helpful parenting topics.
7. Follow Parenting Influencers from Asia
Most of us are already on social media, why not follow Mandarin speaking parenting influencers?
Here are two that I enjoy following. They're both fun and down to earth.
Super popular and adorable family of six. The mom is Taiwanese and used to be a fashion influencer. The dad is Italian-Zimbabwean. I love watching their daily adventures. Plus, most of their videos are bilingual. The parents will switch back and forth from English to Mandarin. There's also Chinese subtitles to help you improve your Chinese reading skills.
They also have a YouTube channel
This cute Taiwanese family of five share their daily lives and all the trouble their kids get into. The parents used to be in a band and a song they wrote went viral.
Lots of great and fun content to help you improve your parenting Mandarin vocabulary!
They're also on YouTube.
I hope these 7 simple ways of improving your Chinese as a busy parent helps! If so, please share it so other parents can see this too!
Chinese Learning Resources