Don't live in a city where Chinese children's books are readily available in your local library? Did you know that you can still get access to Chinese children's books from your library?! Even Sagebooks (not the complete set though, if you do find it please share!)!?
Below are step by step instructions on how to do it!
Special thanks to Jeannie for showing me and other parents how in the first place!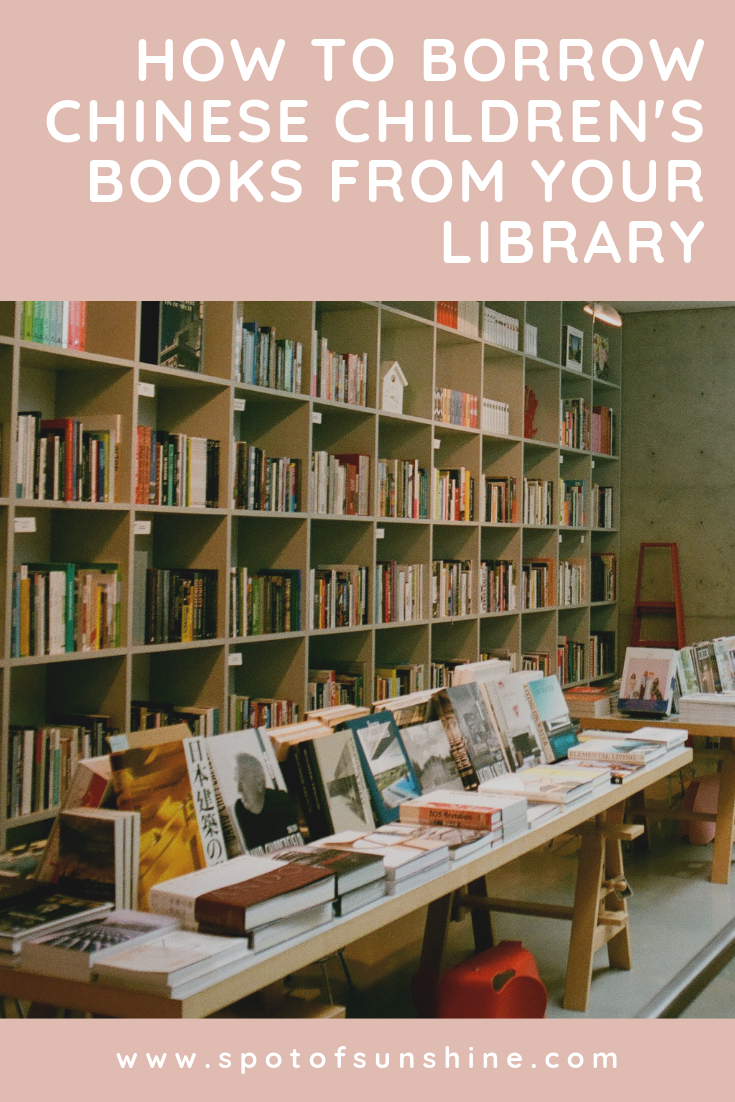 Instructions for Checking out Chinese Children's Books from Your Library
Step 1: Go onto your local library's website and sign into your account.
Step 2. Find the word LINK on the site. You may need to scroll down on some sites. Since each library's website is different, below are three examples of where you may find LINK.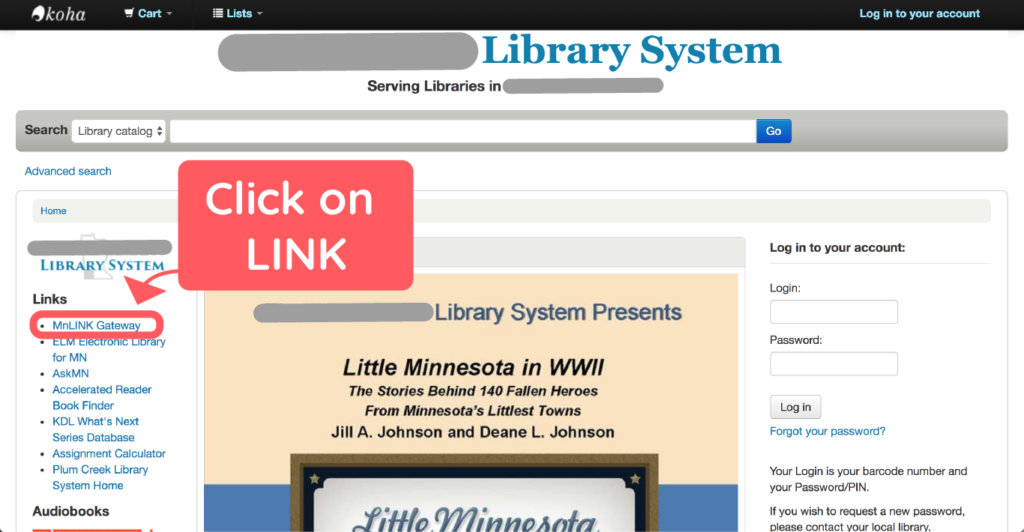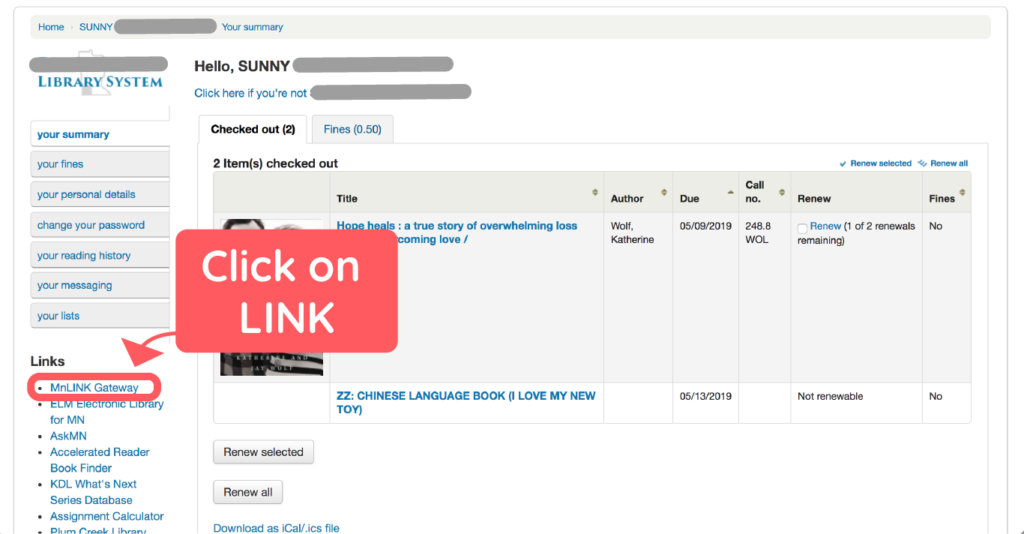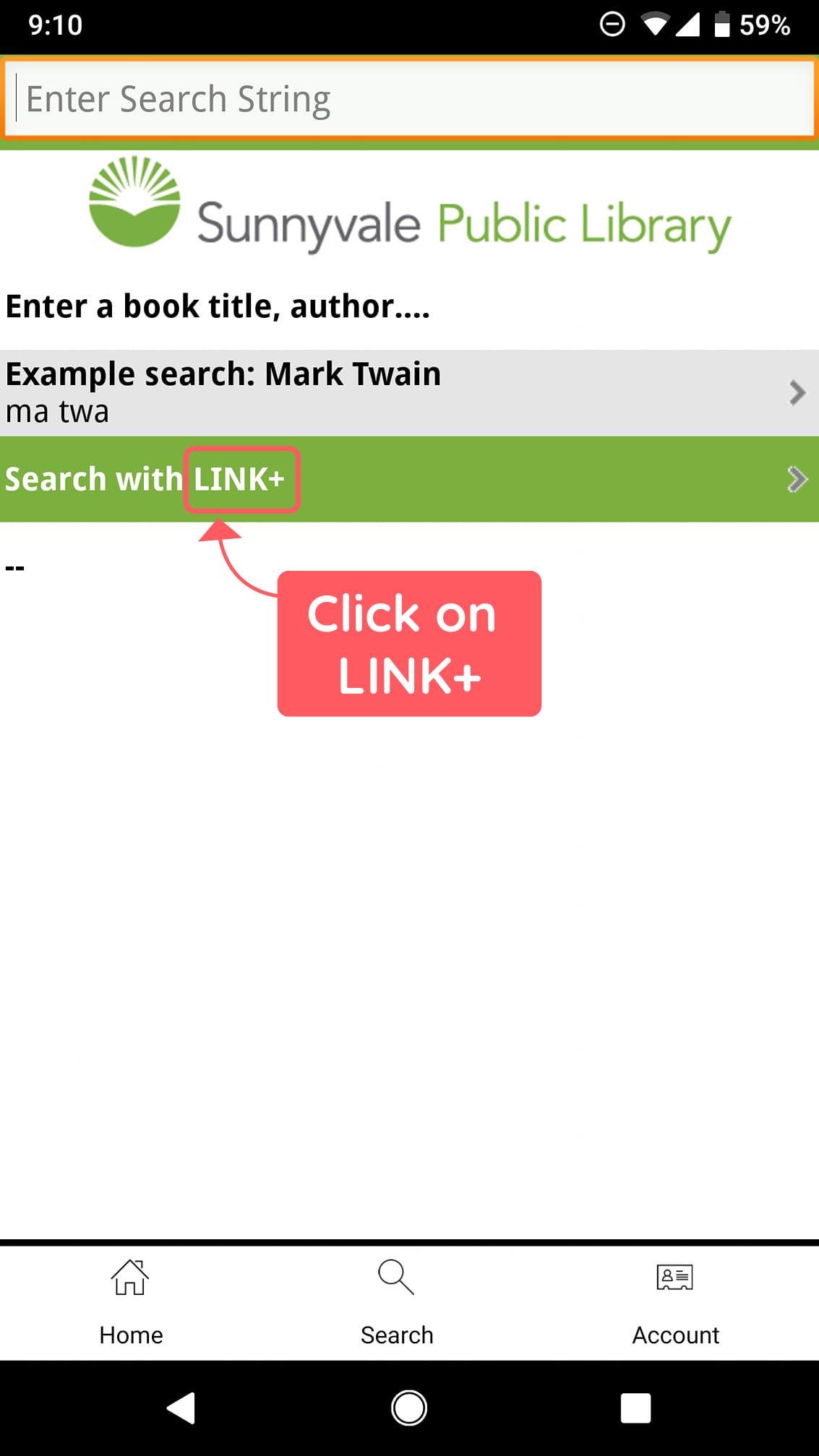 Step 3. Click on the books tab or type in the title/author you're looking for in English or Chinese. You can even search by using ISBN numbers.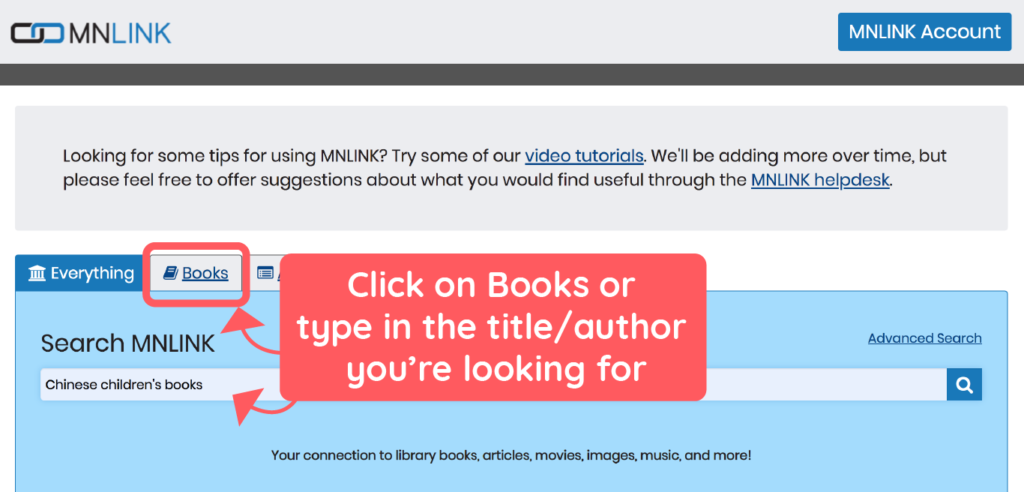 Step 4. If you're using English titles or author to search for books, you can narrow down the results by selecting Chinese under Languages and Juvenile Literature under Topics. I found some Harry Potter books in simplified Chinese. Jeannie even found Sagebooks textbooks! *To know if a title is simplified or traditional, check the Chinese title.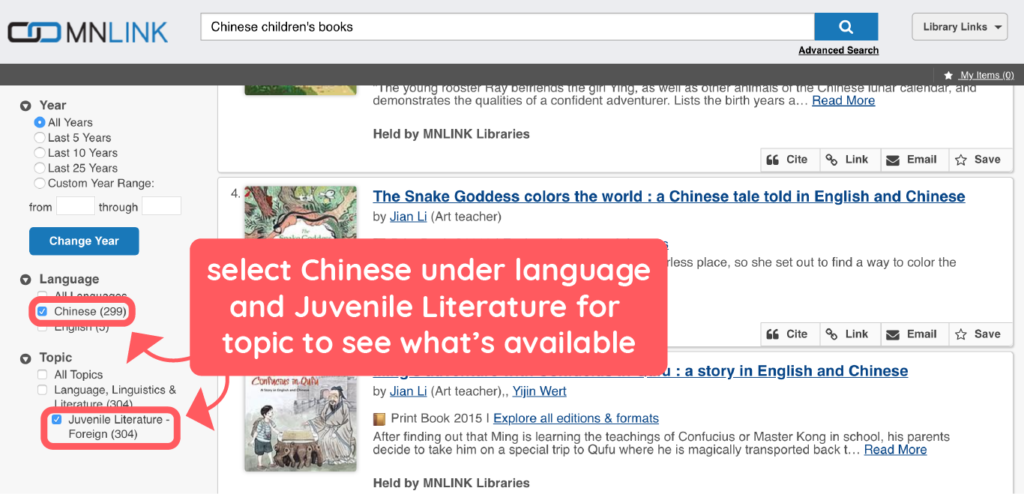 Step 5. You can also widen your search by selecting Libraries Worldwide if the title doesn't come up within your state. I was able to find Pete the Cat (皮皮貓-traditional Chinese name for the series or 皮特貓-simplified Chinese name for the series) and Elephant & Piggie (大吉象和小豬寶 traditional Chinese title for the series, or 小猪小象-simplified Chinese title for the series) books for my daughter through LINK.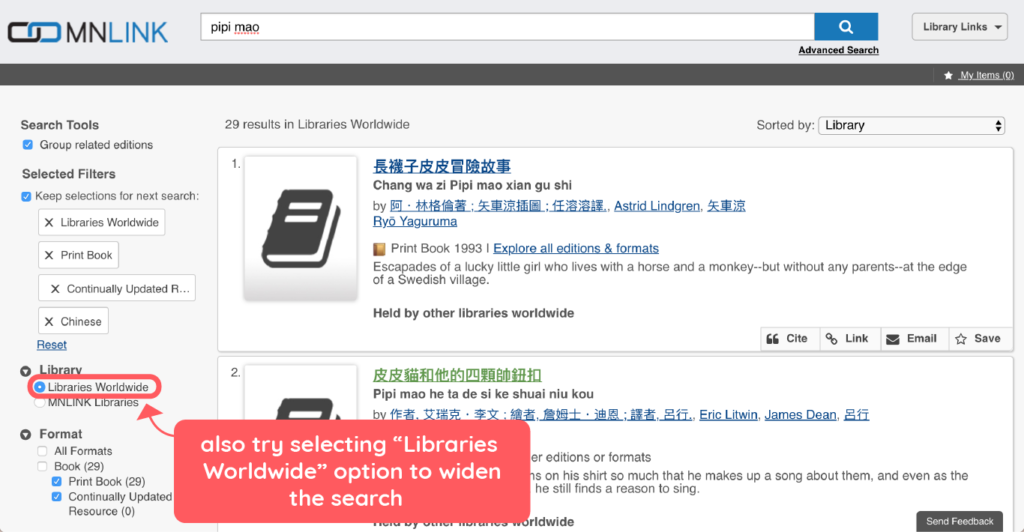 Step 6. Click on the title you want to reserve.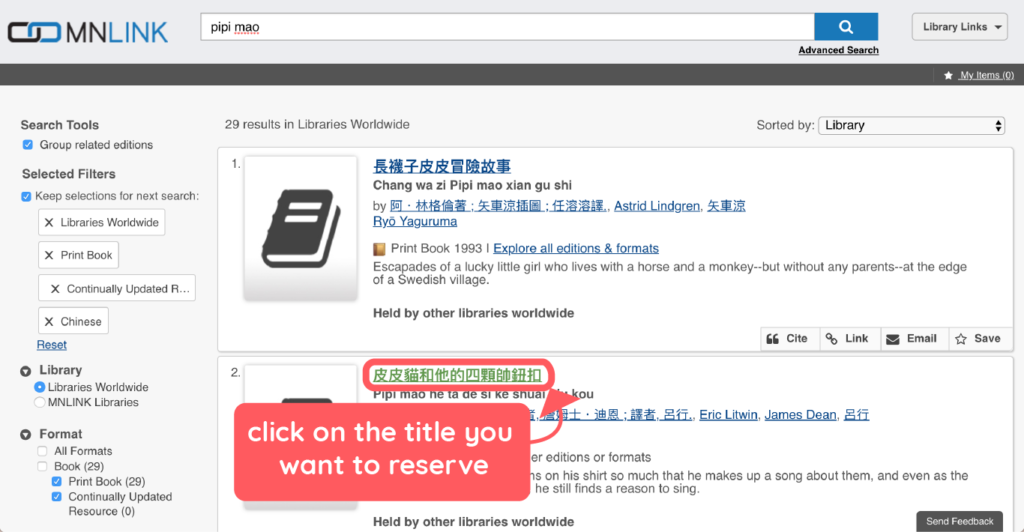 Step 7. Click on the reserve button, a prompt will pop-up to have you enter your library card and password. You've now reserved the item and your library will contact you once it's available for pick up. The downside is that at least for our library, it can take up to a month for the book to arrive. But I do live in rural Minnesota so it will most likely not take as long for you. Sometimes I've also had to reserve the title one more time. The other downside is that you can't renew these items, but you'll still get to check it out for three weeks.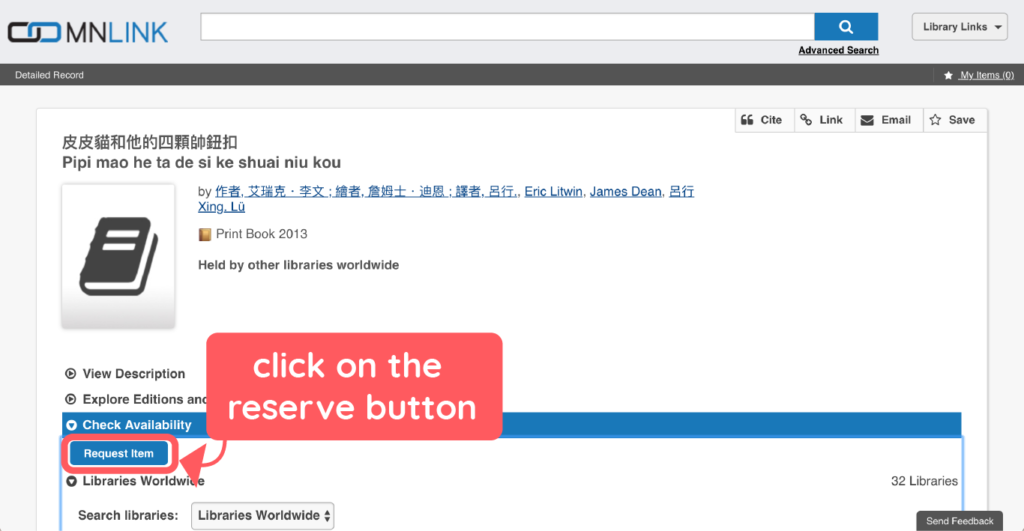 Step 8. When you're signed into your LINK account, you can also check the status of your requests/reservations.
Happy Reserving!
So….what are you still doing here? Go reserve as many FREE Chinese children's books as you CAN! But before you leave my blog, excited for the new world of possibilities this has opened up for you…..I'd appreciate you showing some love by sharing my post with those you think would find this uber helpful. 謝啦 (Xiè la)!
Some parents have shared with me that this is not available on their library's website. You may need to contact someone at your library or go in and talk to someone to find out if it is available. I've heard that it may be called something else at different libraries.
Another suggestion, is to go into a different library in your area that you know has Chinese children's books. You can borrow books from different libraries within your state using your library card. I drove up to a larger town and was able to borrow lots of books. These can be returned to your local library, you don't need to drive back to the same one.
Also, I know purchasing Chinese books for your children is a hefty investment. If you have other ways to keep costs down while stocking your home library, please share below!
More Resources to Help You Have Fun Teaching Your Kids Chinese!
Don't Do It Alone!
For more support and to commiserate with likeminded parents, please join us at Christian Parents Raising Bilingual Children in English & Chinese.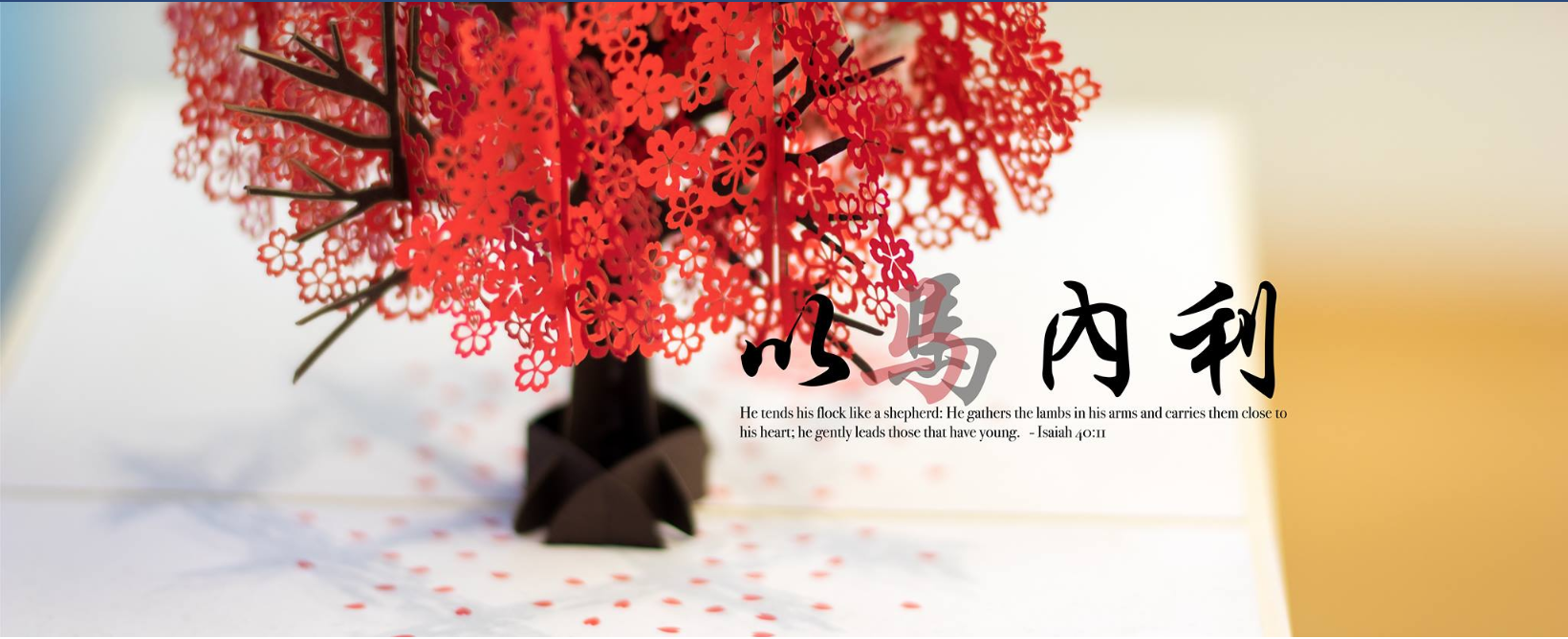 Other great FaceBook groups for parents raising bilingual kids:
Follow me on my FaceBook Page & my Instagram accounts where I share fun Chinese activities (@spotofsunshineChinese) we're doing and encouragement for your heart rooted in Christ (@spotofsunshine).