Maomi Stars Chinese app makes learning the first 400 Chinese characters fun for kids and easy for busy parents.
Although there are more and more Chinese learning apps geared towards kids, not many offer traditional Chinese or Cantonese audio option. Maomi Stars is one of the few that offers both options.
The app was created by moms raising bilingual kids. You can tell that they bring a lot of insight from their own personal experience teaching their kids Chinese.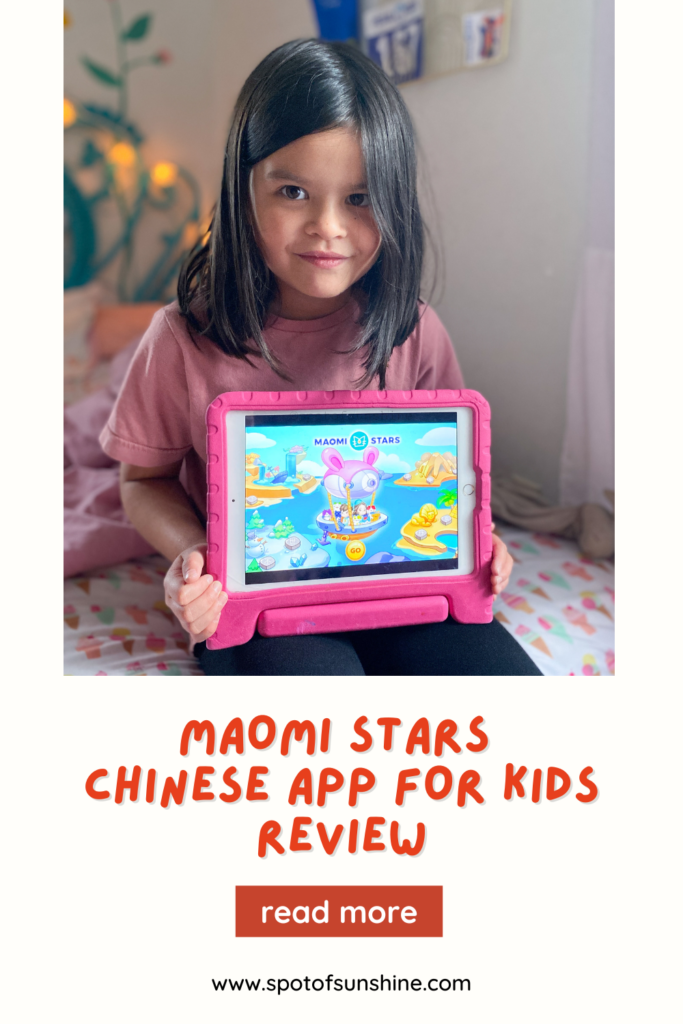 Maomi Stars Chinese app uses engaging games giving kids the opportunity to earn points by recognizing, reading and writing characters.
Keep reading to find out everything you need to know about the app to see if this would be a good resource for your family's Chinese learning journey.
Maomi Stars Chinese App: Everything You Need to Know
Age Recommended
4-7 years old
What it Teaches
Maomi Stars teaches kids 400 Chinese characters through interactive games focused on improving listening, speaking and reading.
The characters are divided into categories such as numbers, people, calendar and comparison words etc. Parents can select which category they want their kids to work on.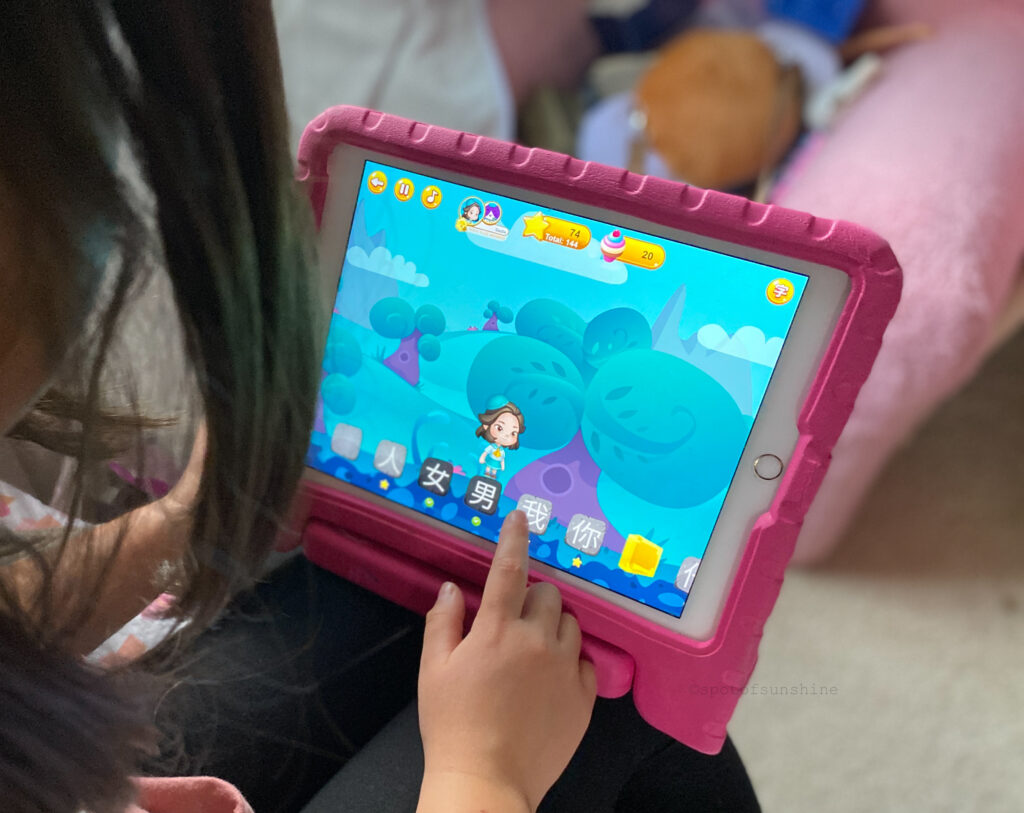 The game is divided into two sections: character learning (listening, speaking and reading games) and review (where kids earn gems for their cats by selecting the correct character).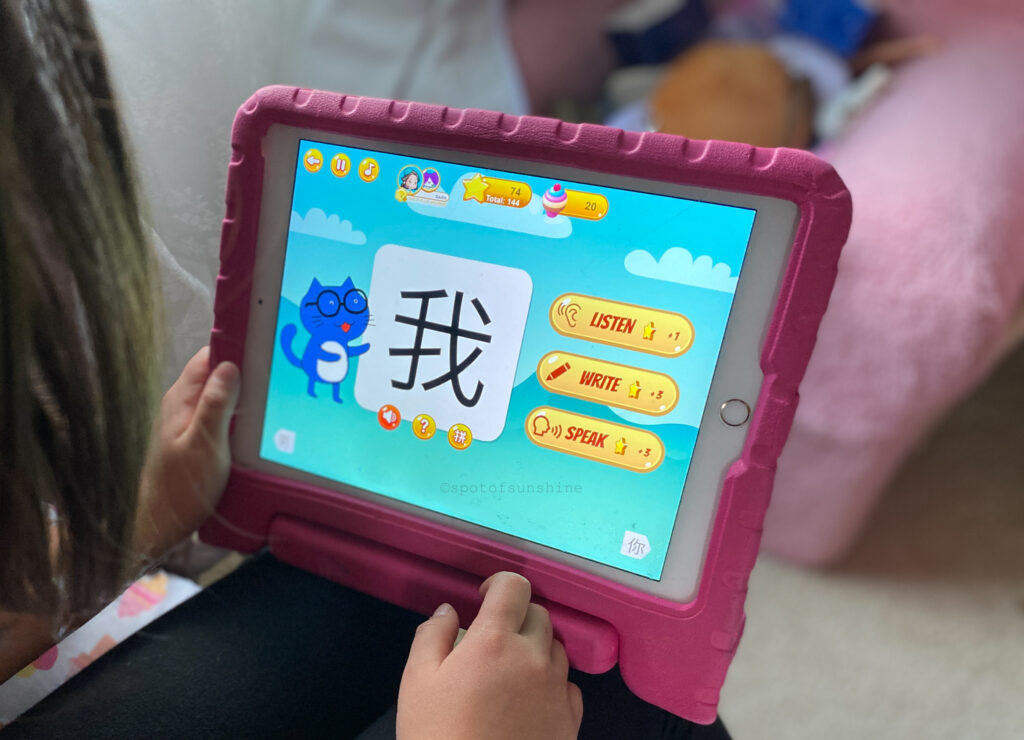 For listening practice, players listen and tap the correct character three times.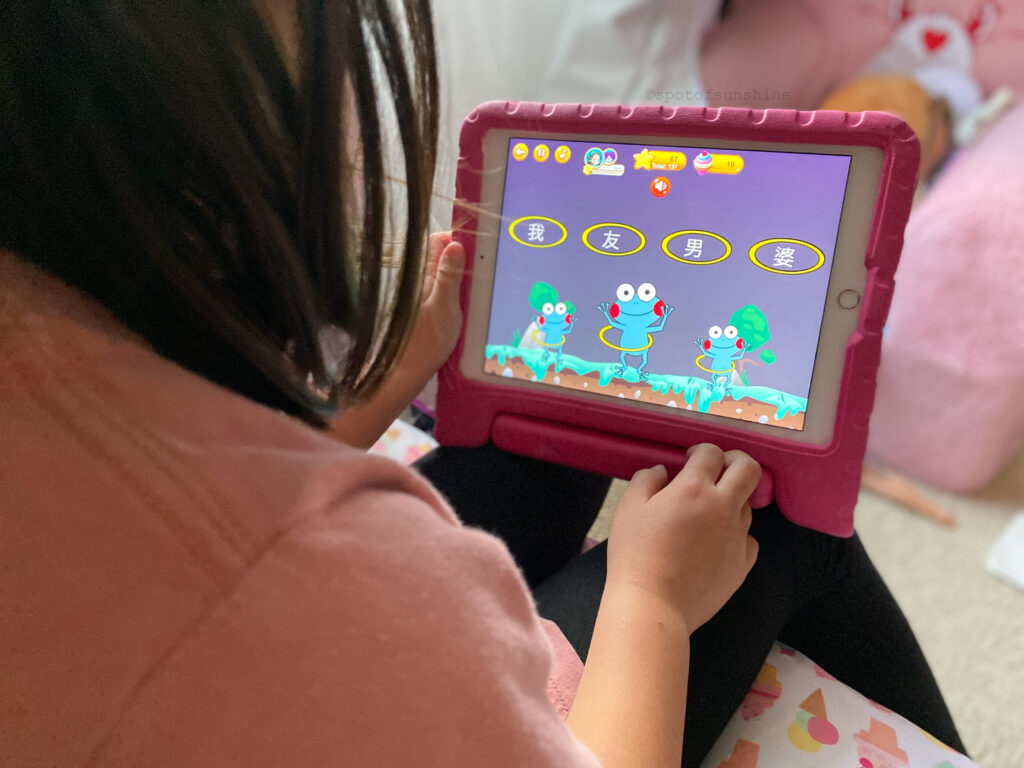 For writing, kids are first shown how to write the character stroke by stroke (it stops after each stroke for the player to write it). Then the second time, the player needs to write it on their own. If the child forgets the stroke order, they can simply tap on the question icon for a hint.
This is a sponsored post. All reviews and opinions expressed in this post are based on my personal experience with the app.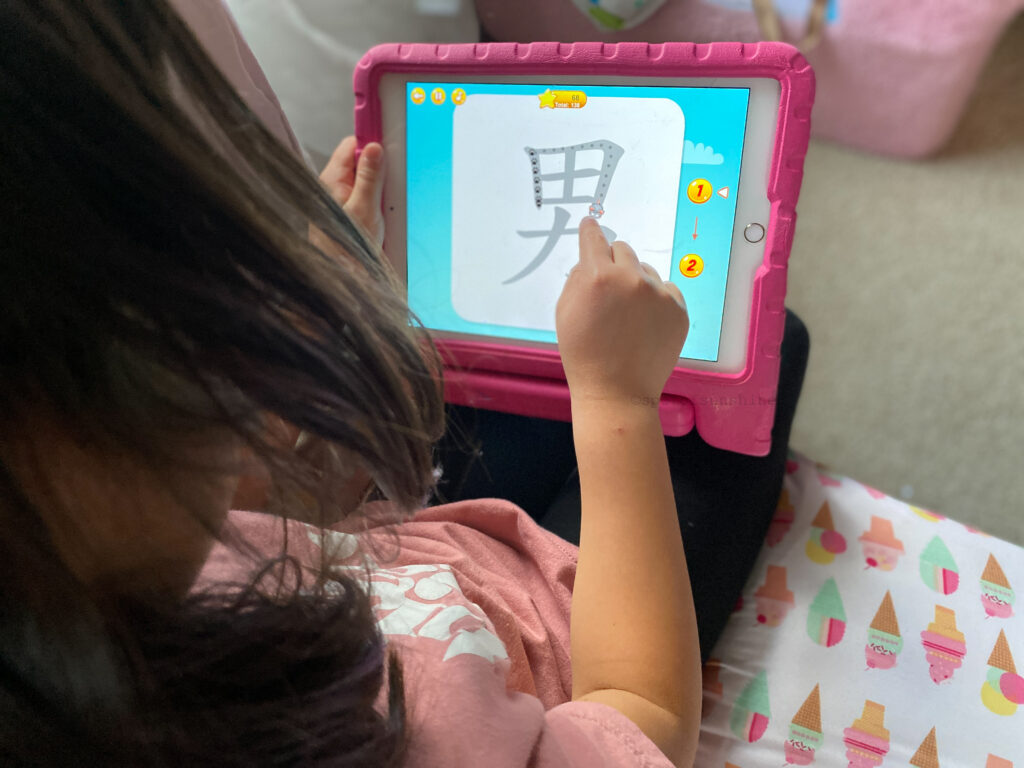 For speaking practice, kids press a button to record themselves saying the character to kill the bacteria that appears. They do this three times in order to pass.
I haven't seen many apps out there with this option. I love that they included this because the point of learning a language is to be able to communicate not just recognizing characters. So giving kids an opportunity to practice saying the character out loud is crucial in my mind.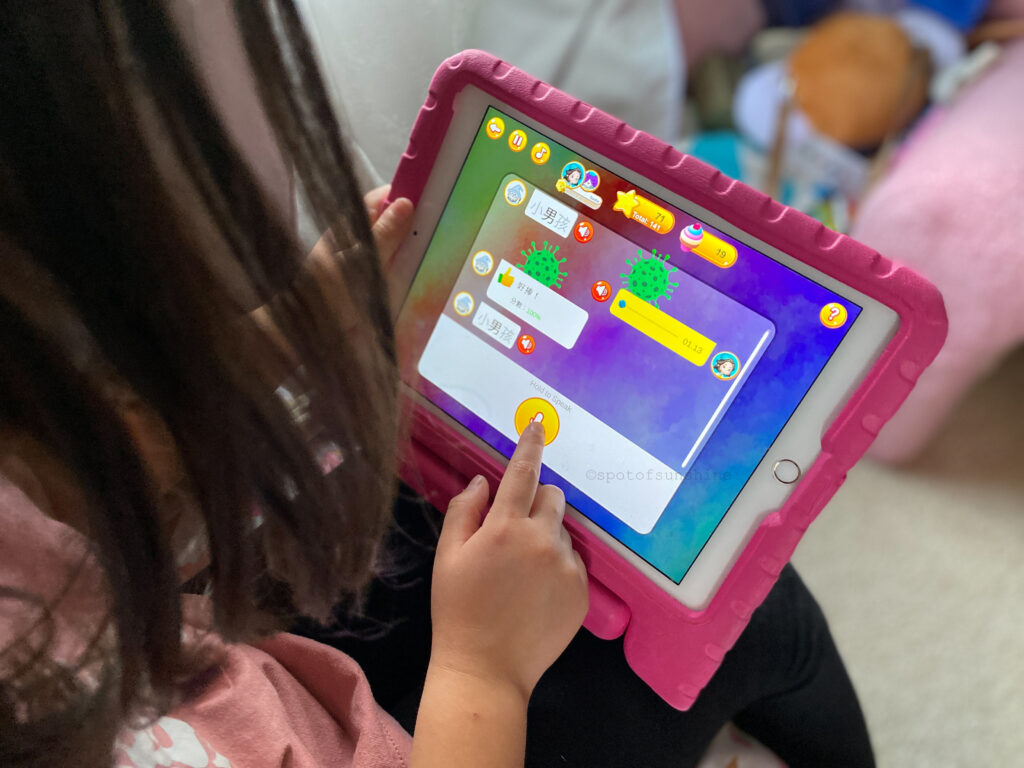 If at anytime you would want your child to get more practice in any of the categories, you can simply tap on listen, write or speak to play again.
Cost of the App
The app does provide free access to the first 40 characters. A great way to let your kids try it out and see if they would like it.
If you want full access to everything Maomi Stars app has to offer, there are three membership options: $7.99 (USD), $8.99 and $14.99 per month.
As usual, the higher amount means more access a player has to the available options.
Where to Download Maomi Stars Chinese App
Click here to download on the Apple App store or here to get it on Google Play.
What We Love About Maomi Stars Chinese App
Non-Chinese Literate Parent Friendly:
This app is very user friendly and geared towards overseas families raising bilingual kids. Parents who don't read Chinese or don't understand Mandarin/Cantonese can still easily navigate the app for their kids.
The settings are all in English which is something I've heard other parents having trouble with navigating other Chinese learning apps for kids.
Also directions in the app are often given orally (in Mandarin or Cantonese) and English text.
Multiple Language Options:
Not only do users have the option of traditional or simplified Chinese, they also have the added option of Mandarin or Cantonese which is so rare! I can only think of one other app that has this option.
For a review of the app from a Cantonese mom's perspective (Claudia Kimura), click here. Claudia points out in her review that this app is unique in that you can choose simplified Chinese with Cantonese audio.
Users also have the option of choosing the language the guide (Kitty Master) in the game speaks (English, Mandarin or Cantonese).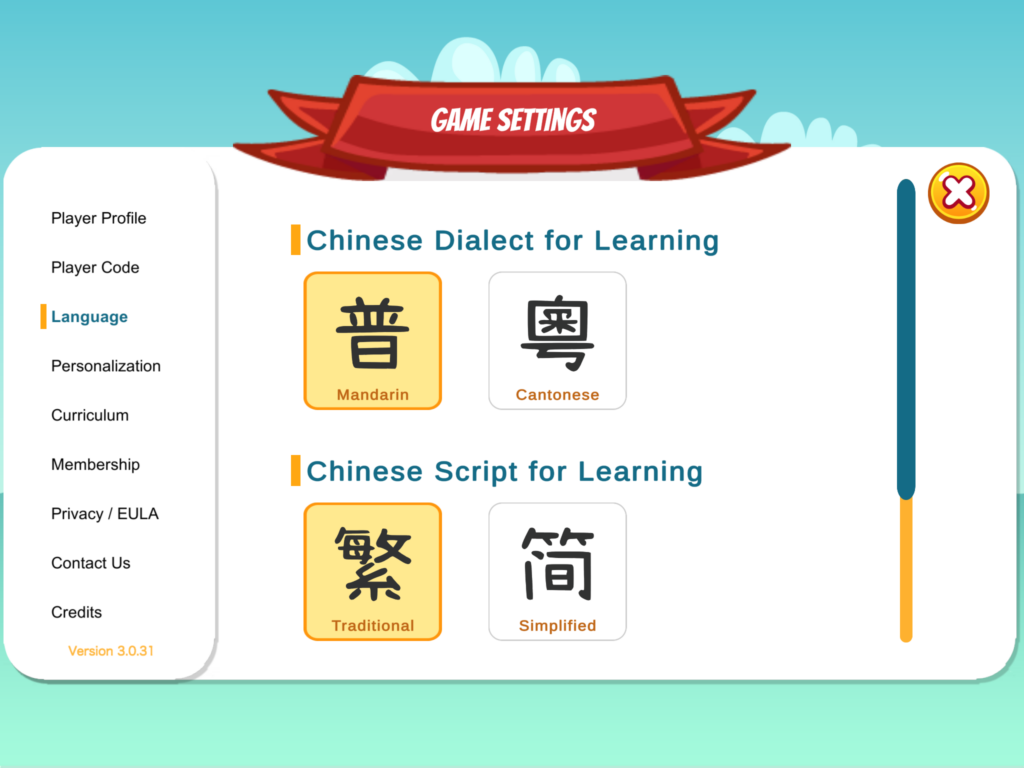 Made with Your Family in Mind:
Watching my daughter play the app and also playing it myself, I found that the creators of the app truly developed this app with parents raising bilingual/multilingual children in mind.
Many of the options such as allowing kids to write characters multiple times, are options I wished other apps offered.
Other additional helpful options include a twenty minute screen time limit (parents can override) and also adding multiple kids on the same account.
Audio from Native Speakers:
I love how the audio used for the app is great quality. Characters are annunciated clearly and slow enough for users to easily understand. The app also uses audio from bilingual kids (cats in the game) for the cat's voices and it's adorable! Plus, being Taiwanese myself, I don't mind that they used Taiwanese speakers for the audio which is rare in the Chinese learning app world.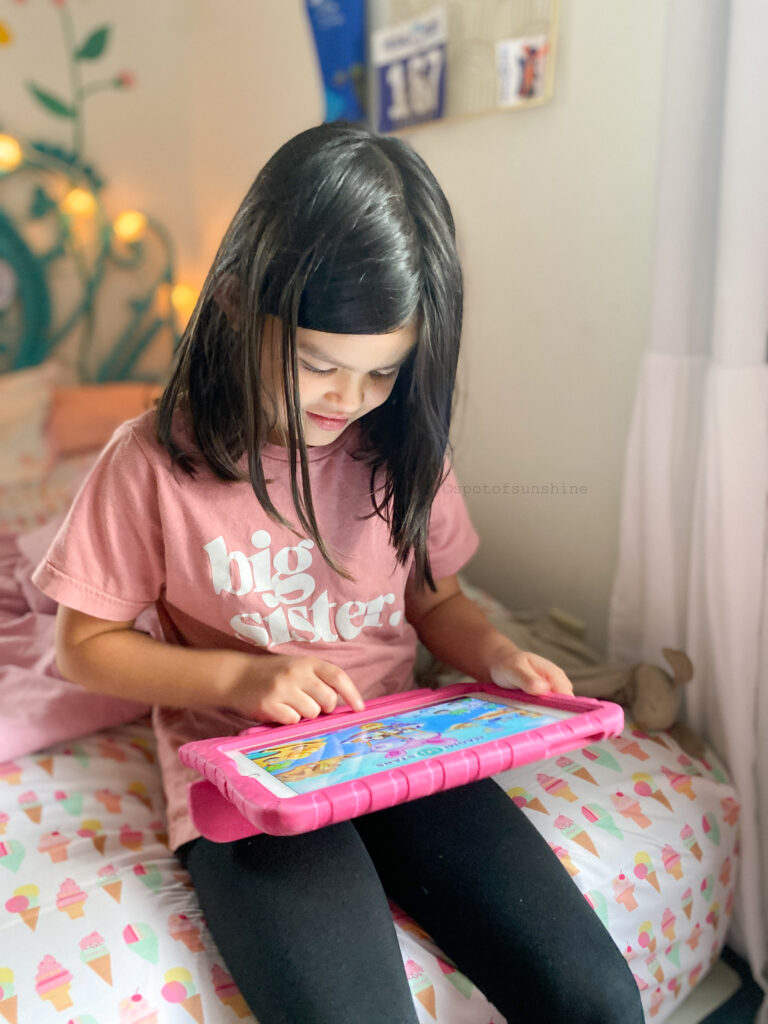 Areas for Improvement
As always, nothing is perfect. An area I feel like can be improved is the speaking section.
At first my daughter had trouble and as a result was getting pretty frustrated with recording her own voice.
This section was slightly glitchy. I'm not sure if it's due to the age of our iPad (we've had it for five years now) or because of the app itself. But after some coaching, my daughter is now able to navigate that section with ease.
The good thing is, they continue to work on updating and adding new functions to the app.
Last Thoughts on Maomi Stars Chinese App
To wrap it up, I would highly recommend this app if you're looking for a quality Chinese learning app for your child. Whether you're learning traditional or simplified, Mandarin or Cantonese, I would definitely give the a try.
Finally, Maomi Stars Chinese app is a great resource for busy parents. This app is a great way to help your child learn and retain Chinese. If you're looking for ways to entertain your kids in an educational way, this app would be a great addition.
More Chinese Learning Apps for Kids & Bilingual Parents
For more great apps to help you on the bilingual parenting journey, be sure the check out the posts below:
More Chinese Shows and Media for Kids