Taiwan's library is a gem, a place you need to definitely stop by during your visit here especially for those visiting for an extended time.
One of the many advantages of visiting Taiwan is being able to flip through books with your kids to see which ones you should take home or order in the future. Stopping by a library is a great way to go about doing this.
In this post I'll be going over how easy it is to apply for a library card, two reasons why you should get one and our favorite library in Taipei!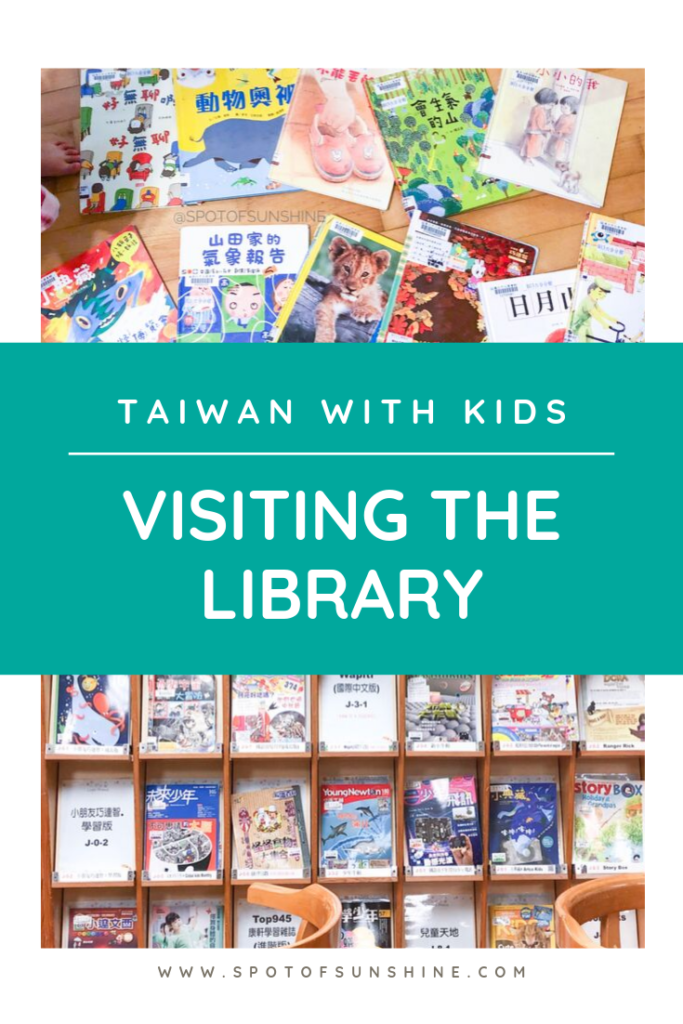 Although bookstores like Eslite (largest bookstore chain in Taiwan) have books for customers to flip through, it's still a limited amount. The majority of their books are shrink wrapped. So unfortunately, unless it's a new title or one they're featuring at the moment, you won't be able to flip through the pages or see if your little ones like the book or not.
So visiting a library and/or getting a library card is the way to go.
How to Get a Library Card in Taiwan
Obtaining a library card is relatively easy in Taiwan. All you need is your passport, fill out the form at a nearby library and voila, you can start checking out books! 
If you have family in Taiwan, you can simply ask to use theirs. Just don't abuse that privilege. 
Libraries in Taiwan no longer give out physical library cards. You'll either be given a barcode image you can keep in your phone or use your MRT 悠遊 card as a library card. So if you have one already, be sure to bring it along when you apply for a card if you prefer to use a physical card.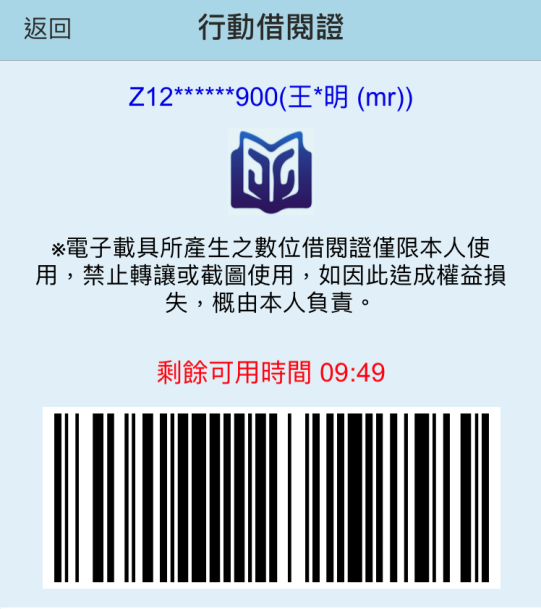 For those using a passport to register for a library card, your card will expire when your visa expires (thanks Jeanne of MamaBabyMandarin for providing this helpful info! Be sure to check out her helpful visiting Taiwan posts as well).
For more info from Taipei's library site including library branches throughout Taipei, click here to be taken to their English site.
2 Reasons to Get a Library Card While You're in Taiwan
1. Preview books and periodicals for free to help you decide on which ones to purchase. Not only do libraries have a ton of Chinese children's books, they also have lots of children's periodicals like 巧虎 and 新小牛頓 plus many others. So far we're really liking 巧虎.
2. Check out books to read during your time here at home and on public transportations and waiting at restaurants. We're on public transportations usually for at least 20 minutes. It's a great way to pass the time. I usually just pack one so my back doesn't break.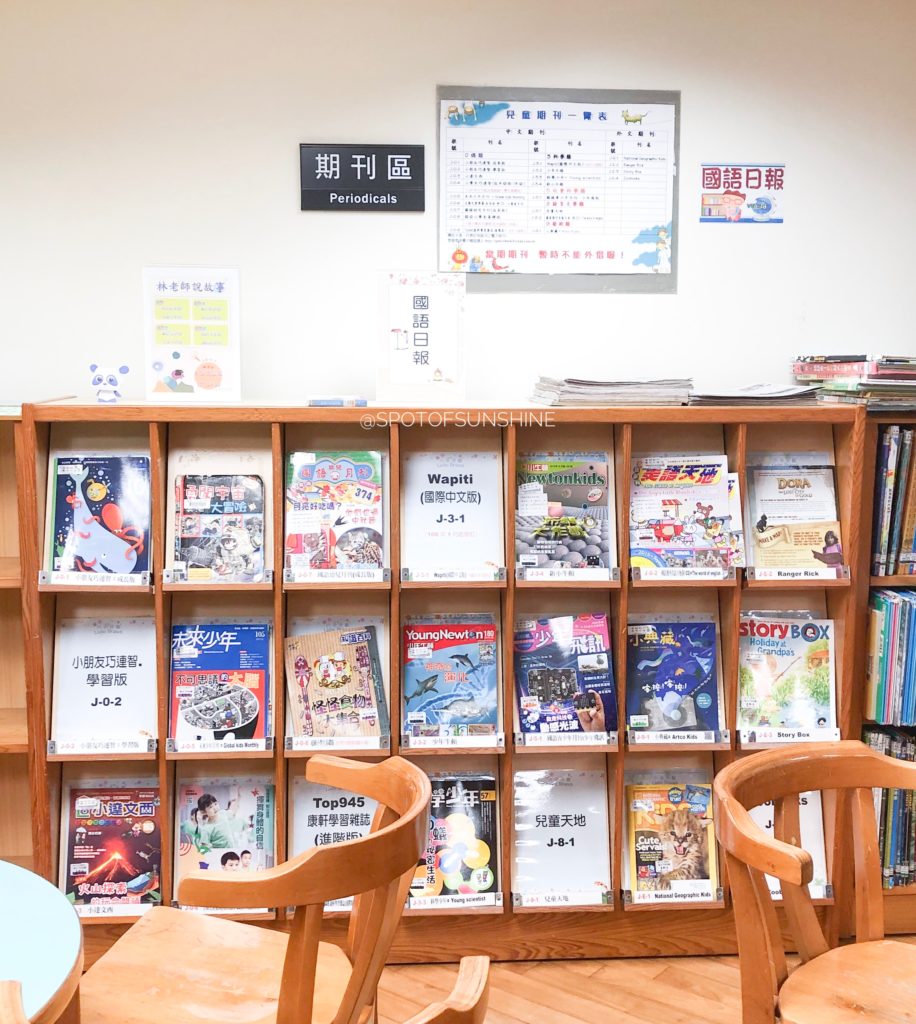 I love the fact that there's a sterilizer in the libraries to zap the books before you take it home. The population density is much higher here which means illnesses gets transferred more easily if you're not careful. That's why there are antibacterial sprays almost everywhere you go and most try to wear face masks when they're sick. These used to freak my husband out when we first arrived in Taiwan (lol). 
These book sterilizers take 45 seconds each time. The instructions on the machine recommends that you don't layer books. So for the amount I checked out (10 books) I had to run the machine twice.  
Beitou Library: Our Favorite Library in Taipei
We love the Beitou library. Not only is it voted one of the most beautiful libraries in the world, it's also the first eco-friendly library in Taiwan. Its children's section is also well stocked although Mama Baby Mandarin shared in her post on this library that the book conditions aren't the best. 
The local library we go to, which is smaller had a good selection with plenty of newer titles. Maybe since the Beitou library is pretty well known, their books go through more wear and tear?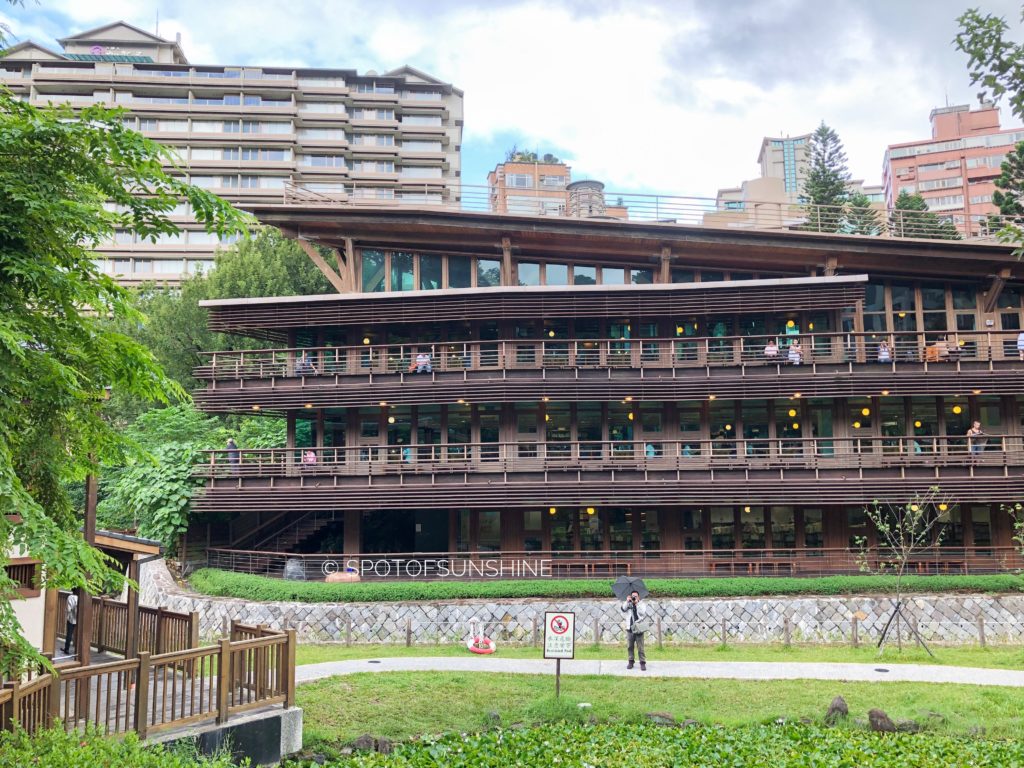 We had a great time there checking out this library and also visiting the surrounding sites. 
My grandparents used to live in Beitou/北投 so it was also fun to take my daughter to where I used to play as a child.  
I highly recommend doing a day or a half day trip to Beitou.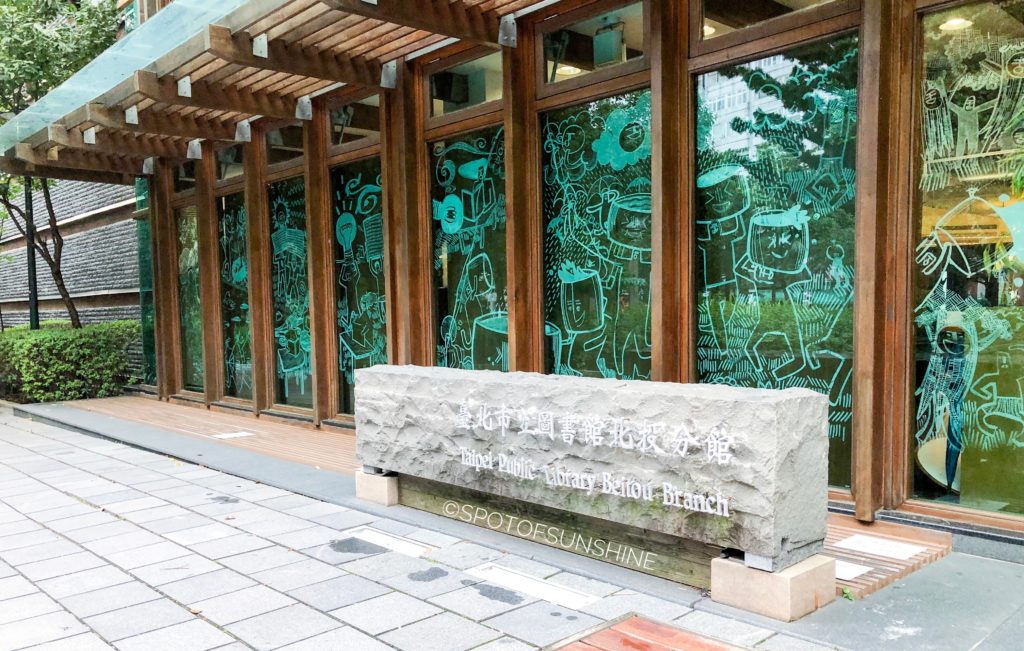 Beitou Library Visiting Information:
Address: No. 251號, Guangming Road, Beitou District, Taipei City, 112
MRT Stop: 新北投/Xinbeitou. Distance from MRT station, about 10 minute walk
Hours:

Tuesday-Saturday 8:30A-9P
Sunday-Monday 9A-5P
Other Great Resources for Visiting Taiwan with Kids